In his latest address to the nation, Malaysian Education Minister Datuk Dr Radzi Jidin has officially announced that all students are to return to physical classrooms, starting 1st May 2022. This move is in line with the further loosening of general COVID Standard Operating Procedures (SOPs) that were previously announced by Health Minister YB Khairy Jamaluddin yesterday (27th April 2022).
All students to return to school by 1st May
According to Radzi, this will also mean that all teaching staff will be required to return to school for face-to-face classes, regardless of their vaccination status. In light of this change, the previous group-based rotation system implemented by the Education Ministry will be scrapped, and school attendance is expected to return to how they were before the pandemic.
"We will be reopening the education sector as much as possible while ensuring the students are safe," he said today (28th April 2022).
Additionally, students will also be encouraged to wear their uniforms back to school as the country enters a new phase of normalcy. Uniforms will not be made mandatory until 12th June. While face masks have been made optional when outdoors, students are still required to keep them on when in classrooms. In the case of young children, Radzi still encourages that they keep their face masks on when outside. Physical distancing however, will no longer be mandatory.
Schoolteachers will be exempted from wearing a face mask while teaching.
As for recess and lunch, school students will be allowed to dine in canteens and cafeterias once more. But in the event that the premises are too crowded, schools may opt to enforce a rotation basis to prevent congestion.
Students or teachers who exhibit COVID symptoms must immediately conduct a self-test
Should students exhibit symptoms of COVID-19 when in school, they are to be isolated and be given a self-administered COVID test. If the test results show that they are negative, the student will be allowed to return to class with a face mask on. However if the test result comes back positive, school authorities must immediately inform the student's parents and have them taken home.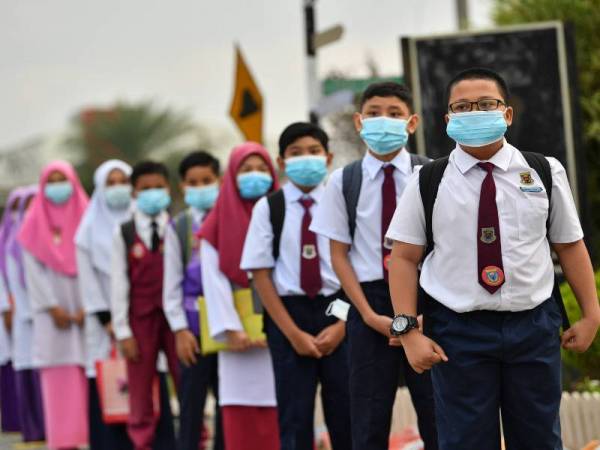 Similarly, teachers who exhibit symptoms of COVID-19 will also need to undergo a COVID self-test. If their results return negative, they may resume teaching with a face mask on.
Sporting events, inter-school competitions will resume as normal
On the topic of sporting events and inter-school competitions, Radzi says that they will be allowed to resume as normal, provided that none of those in attendance test positive for COVID.
For students living in boarding schools, activities such as routine outings or opportunities to spend nights at home with family will be permitted. Parents will also be allowed to visit their children at school premises as usual.
In the case where children fail to turn up at school, parents are required to submit a written letter to explain their absence. Students are only exempted from school if they provide a legitimate reason for their absence, such as testing positive for COVID-19.
Tap here to give us a 'Like' on Facebook and stay up-to-date on the latest news!