Just recently over the weekend, the Malaysian internet space was abuzz with the story of how a netizen had run into an elderly 68-year-old 'Grab rider atuk' who despite his age, was still hard at work making rounds as a food delivery rider. The encounter, which has since touched the hearts of many locals, has even inspired a small initiative to help seek out for the senior citizen in hopes of offering assistance in whatever capacity possible.
68-year-old Grab rider atuk still hard at work
But many have wondered as to why it is that an elderly man would still be working long hours well into his golden years, when he should be enjoying his retirement instead. Well in a follow-up to the original video by TikTok user @danielashraf1370 also known as Mr Daniel Ashraf, the elderly atuk reveals that he is still hard at work trying to earn a living as he isn't just supporting himself, but his own adult children as well.
Please sumbangkan seberapa yg boleh untuk atok ni. Semoga atok dipermudahkan segala urusan. No akaun atok ada dalam video pic.twitter.com/GdLysFGEJv

— ⚡️Hasif⚡️ (@hasifzul) November 19, 2021
After his initial encounter had gone viral, Mr Ashraf took it upon himself to keep an eye out for the elderly man in hopes of being able to provide more information to netizens who were looking to render help to him. And with some effort, he did manage to eventually find the elderly gentleman before sitting down with him to learn more about his circumstances.
Still working to help support his adult sons 
In conversation, the atuk, now identified as Mr Zakaria Abdul Wahab, explains that he continues to work well into his sixties as he was trying to help support his adult children, whom he says are still living under the same roof with him. He says that despite the fact that they are able-bodied and can fend for themselves, his two sons have yet to find any means of gainful employment.
"I have to pay for everything, even cigarettes."
"My daughter is already married. But my two sons are still living with me." he explains.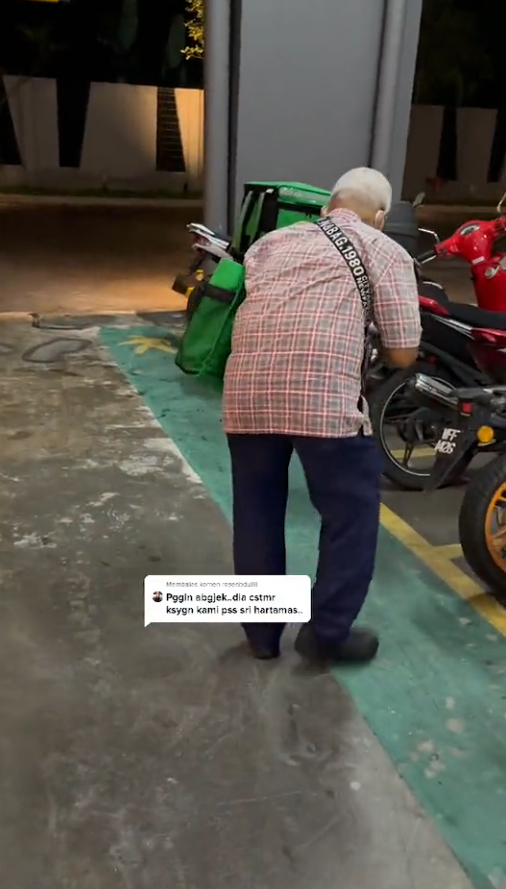 According to local Chinese paper Sin Chew Daily, Grab Malaysia is already in the process of trying to reach out and contact Mr Zakaria to provide him with assistance. When asked about the age limit regarding food delivery riders, a representative explained that Grab Malaysia employs riders between the ages of 18 to 69-years-old.
The original video has since amassed over 1.5 million views. Those who are looking to provide financial assistance to Mr Zakaria may do so via the following bank account, according to Mr Ashraf:
Name: Zakaria Abdul Wahab
Account number: 1418229000045927
Bank: BSN
For more stories like this, follow us on Facebook! 
Also read: M'sian man encounters 68yo atuk working as Grab rider to survive, netizens rally to offer help