A horrifying accident involving three vehicles that took place along the North-South Expressway in the early hours of this morning has claimed the lives of 5 victims. According to local Malay paper Sinar Harian, the crash had occurred sometime around 12.52am today (12th May 2022) northbound along the Kilometer 246 mark, close to the Menora Tunnel.
Horrific accident along North-South Expressway claims 5 lives
Early findings by the authorities indicate that all five deceased victims had been travelling in the same car at the time of the accident. Trapped in the wreckage and unable to escape, the five individuals were burnt alive after the severity of the crash led to a fire breaking out.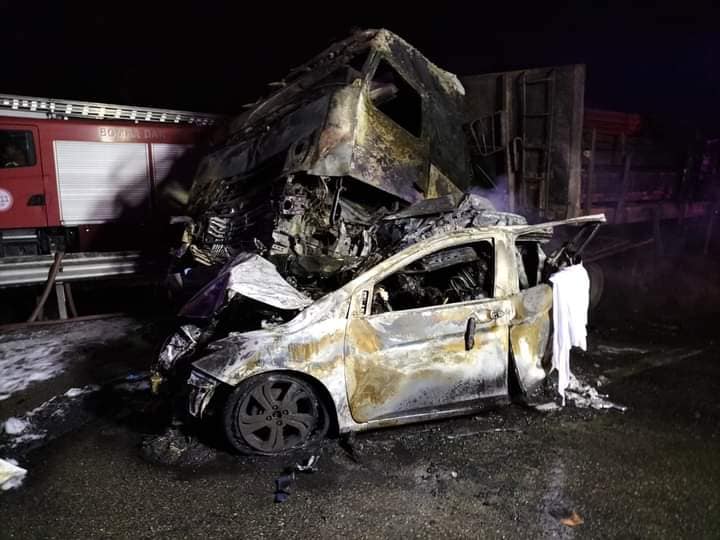 Kuala Kangsar Fire and Rescue Station fire chief Ahmad Izuwan Zakaria said that as of 4.00am this morning, first responders were still attempting to extract the bodies of the deceased from their vehicle.
In an update from news agency Astro Awani, the victims of the accident have been identified as students from Universiti Sultan Azlan Shah (USAS). They include Muhammad Nasrun Aidol Munir Akbar, 22, who was the driver of the car, Ahmad Naim Najmi Ahmad Hafizan, 21, who was the front passenger, and Iqbal Hasnun Halimi, 23, Muhammad Nabil Haikal Muhammad Fariz, 19, dan Ahmad Akmal Ahmad Mokhlis, 20, all of whom were seated in the backseat.
"The five victims were the driver and passenger of the car and were pronounced dead at the scenne by medical officials," he said.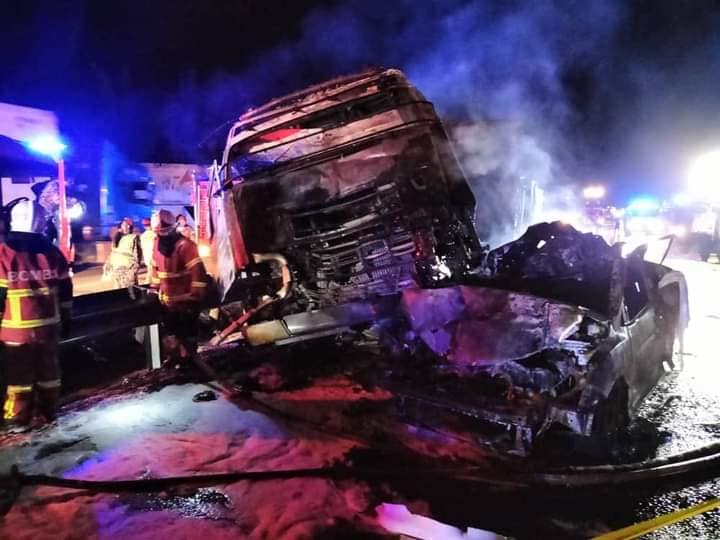 Quoting a representative from the Perak Fire and Rescue Department, Harian Metro reports that the accident involved two trailers, one which had been transporting iron rods and another mosaic tiles, as well as the sedan occupied by the five deceased victims. The fire was said to have destroyed 90-percent of both the sedan and the trailer truck that had been transporting iron rods.
Trailer drivers managed to escape unhurt
The trailer transporting mosaic tiles on the other hand, only sustained light damage from being rear-ended. Drivers of both trailers managed to escape from the crash completely unscathed. Rescue operations were assisted by the Meru Raya, Kamunting and Ipoh Fire and Rescue Stations respectively.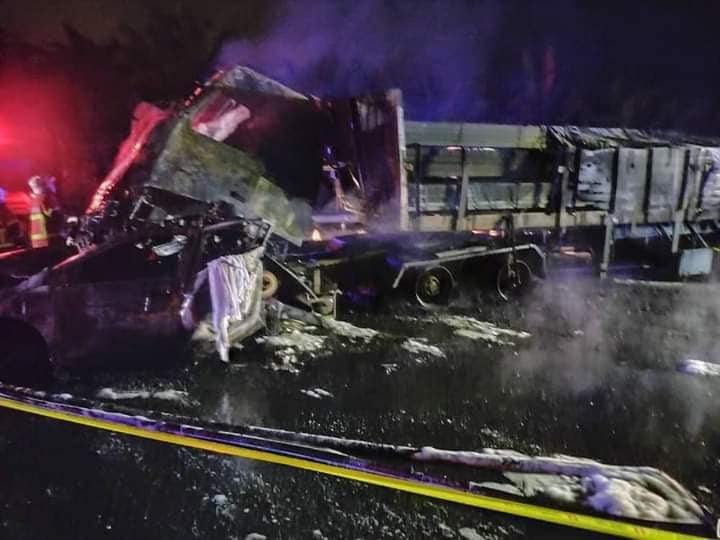 According to traffic updates from highway operator PLUS, who operates the North-South Expressway, the accident caused all northbound lanes of the highway to become obstructed, in addition to the rightmost southbound lane of the highway. As of 9.03am this morning, the leftmost lane along the northbound stretch of the highway remains closed for cleanup works, causing an 11km traffic congestion.
Tap here to give us a 'Like' on Facebook and stay up-to-date on the latest news!