The discovery of cancer in a person can bring utmost sadness to the patient and his/her loved ones. However, it is nothing compared to someone who is already diagnosed with Stage 4 cancer, and to be proclaimed that their days are numbered.
Melvin Chew, the administrator of the Facebook group, Hawkers United came across a post that described the story of two elderly hawkers. The husband who has Stage 4 cancer, helped his wife to set up a food stall so she can support herself after his passing.
Helping wife to sell Katong laksa and fishball noodles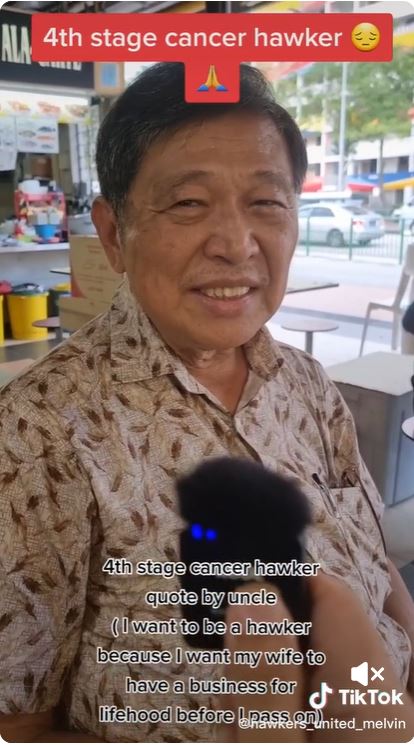 Mr Soh has been battling cancer for 12 years, and sadly lost some of his organs throughout the process. According to Kristen Choong, he has lost one kidney, pancreas, and part of his liver. Moreover, chemotherapy proved inefficient for him; therefore he is depending on supplements in the meantime. What made the situation more disheartening was that his doctor predicted he only has a year left to live. 
Knowing that his days are numbered, Mr Soh seized the moment to set up a hawker stall for his wife so she can earn a living when he moves on. When the wife was asked why she became a hawker, she replied that she did it to make ends meet.
"My husband is sick, so if I don't work, how am I going to survive?" she said.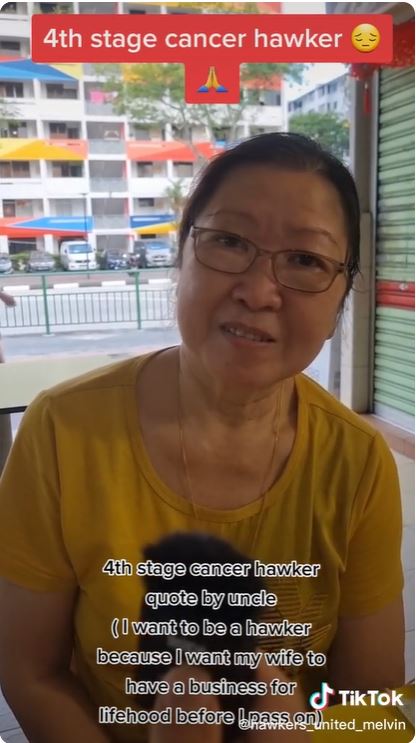 She added that she works 12 hours a day, from 8:00 am to 8:00 pm. When Melvin asked her whether it is tough for her, she responded that operating a business is never easy and that she needs to wake up early every morning to prepare the shop. 
Living life to the fullest every day 
Currently, Mr Soh continues to fight his illness while spending time with his wife every day. He only wishes to "live longer", and to help his wife's business for as long as possible.
His story and determination have inspired many people to visit their stall. After Melvin posted about his story on Hawkers United, Mr Soh said his business has since then improved, with many people from Singapore and Malaysia coming to try out their food.
Moreover, Chew complimented their Katong laksa because of its homemade laksa paste and big cockles. He encouraged the public to check out Mr Soh and his wife's stall, which is located at Circuit Road Hawker Center.
We salute you, Mr Soh, for your determination and love for your wife! As for anyone who is interested in visiting their stall, details are shown below.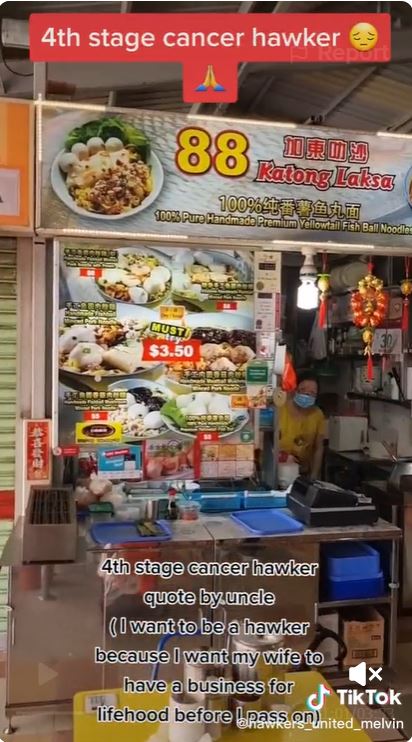 88 Katong Laksa
Address: Blk 79 Circuit Road Hawker Center #01-49
Opening hours: 8am to 8pm
Tap here to give us a 'Like' on Facebook and stay up-to-date on the latest news!
Also read: M'sian man who didn't know about wife's pregnancy comes home to a newborn son after 1.5 years stuck in SG