On what one would hope would amount to the conclusion of the highly publicised Tuas Second Link license plate road rage incident, Singaporean news outlet The Straits Times has reported that both the mother and son duo who were involved have now been detained by Malaysian police. This comes shortly after the woman had shared her side of the story to Singaporean paper Shin Min Daily,
Viral 'license plate lady' and son arrested by M'sian police 
Quoting a statement released by Iskandar Puteri Johor District police chief Rahmat Ariffin released earlier today (July 15th 2022), the duo were arrested at the Sultan Abu Bakar Immigration, Customs, Quarantine and Security (ICQS) Complex on Thursday (July 14th 2022) night. This refers to the Malaysian checkpoint along the Tuas Second Link.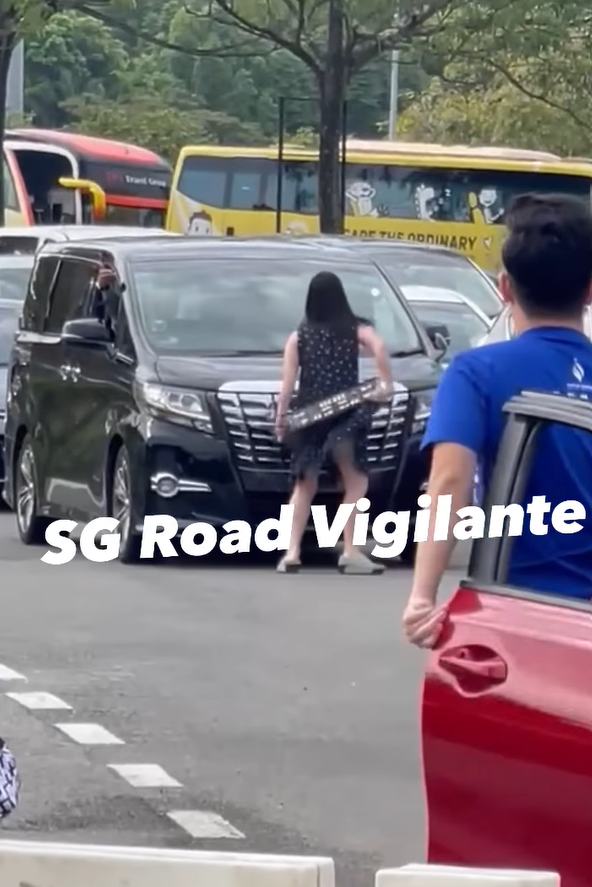 The statement issued also adds that the duo have since admitted to being involved in the viral road rage incident, and were believed to have been dissatisfied over the fact that their car had been blocked, before being scraped during a minor collision with the Toyota Alphard. Now infamously dubbed the 'license plate lady', the woman had been driven by her 18-year-old son into Malaysia to visit some family members at the time of the incident.
Their arrest comes after local authorities here said that they were looking out for them both for causing mischief. Video footage of the woman have gone viral across the local social media space after she was seen alighting from her red Kia sedan to stand in-front of the black Toyota Alphard's way, before subsequently dismantling the MPV's license plate to fling it at the windscreen.
Woman previously alleges that Alphard driver instigated incident
From the woman's account of the entire incident, she claims that the driver of the Alphard had been the one who initially instigated the incident after he had threatened to call her son out to settle things 'one-to-one'. When she alighted from the Kia to reason with the Alphard driver, she alleges that the man refused to communicate before attempting to drive away, which led her to block the path of his vehicle. She also claims to have sustained injuries to her knees as a result.
A separate report was also previously filed with the authorities for the alleged doxxing of the mother and son duo over social media. It is unclear at this point in time as to what charges will be filed against them.
For more stories like this, follow us on Facebook by tapping here!