As you may probably have known by now, Malaysia has officially moved into what is now known as the endemic transition phase. From 1st April 2022, a number of restrictions from the country's COVID-19 Standard Operating Procedures have been loosened, if not abolished altogether. Despite that fact, the wearing of face masks, especially in enclosed public venues, remains mandatory.
Man refuses to wear mask in Ampang supermarket
And yet just recently, a maskless man in an Ampang supermarket was filmed acting in a belligerent manner towards local enforcement authorities who were working there at the time, after he was told that he would have to wear a face mask while in the premises.
Happened at Village Grocer M City Ampang! Men refuse to wear mask and cause a scene! 😷 pic.twitter.com/TFTicBPMQN

— hyoster (@Nandopaws) April 16, 2022
The short clip, which was filmed in what was said to be an Ampang supermarket, shows how the man raised his voice while walking down an aisle, boldly proclaiming that he wasn't wearing a mask. He could then be seen confronting a security guard in the same manner.
"What are you gonna do?" he asks.

And when the guard did not respond, he replied with a defiant "Exactly."
In fact, prior to leaving the store, he had even allegedly raised his middle-finger at the guard, telling him to 'f**k off'. The incident is believed to have happened on 16th April 2022, Saturday.
Netizens call out the man for his behaviour
The video, which has since gone viral over local social media, has led to many Malaysians calling the man out for his poor behaviour and refusal to abide by local COVID prevention measures.

Some have also raised the matter of white privilege witnessed through this incident in Malaysia.

While others have likened him to being a 'Karen', which is a derogatory term used to refer to white women who act in an entitled, self-righteous manner.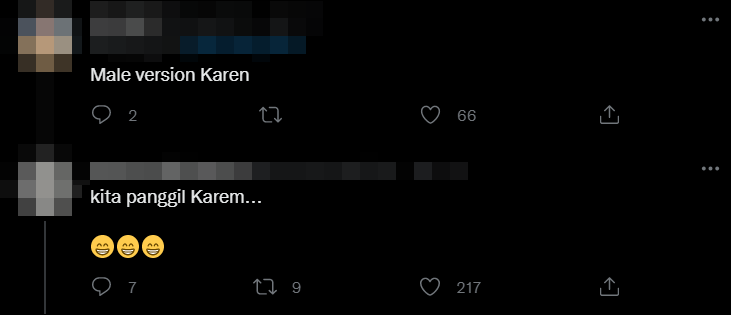 As of present, the wearing of face masks is mandated under Rule 16(1) of the Prevention and Control of Infectious Diseases Rules 2021, and those seen without one can be fined upwards of RM1,000 for the offense. It is unclear at this time if the authorities will be investigating into the incident.
Tap here to give us a 'Like' on Facebook and stay up-to-date on the latest news!
Also read: KLCC Karen wants you to know her name is Kerry, and to open your eyes to your rights