With borders reopening and international travel now returning to some semblance of normalcy, we don't doubt that many travellers are now eager to pack their bags and head off for their next adventure and catch a much-needed break from pandemic-induced stress. However, with that being said, it always important to keep your wits about you when you're in a foreign country, as you'll never know if you'll wind up falling prey to scams or schemes targeting oblivious tourists!
Tourist gets his gold chain stolen in under 10 seconds
Just recently, Belgian traveller Frederik de Vreese took to sharing his own experience in falling victim to one such scheme, after he had been approached and hugged by a woman while sauntering about Bangkok. The 25-year-old, who had been down along the popular Sukhumvit Road filming a vlog at the time, was accosted by a Thai woman who wrapped her arms around him before offering him sexual services.
"Where you go, honey? I go to your room, I go f*** you." she could be heard saying.
And in that brief moment, the woman had managed to fleece away Frederik's gold chain that had been hanging around his neck and escaped without him even realising that it was stolen.
Shortly after, he noticed that it was missing from around his neck and immediately reviewed the footage that he had recorded earlier on. It was at that very moment did he see how the woman had expertly worked the closure of his chain open before pickpocketing it from him.
The thief has since been apprehended by police
According to the Daily Mail, Frederik had lodged a police report over the matter, explaining that the gold chain had been in his family for many years and used to belong to his grandfather. It is also apparently worth 800 euros (RM 3,701.44).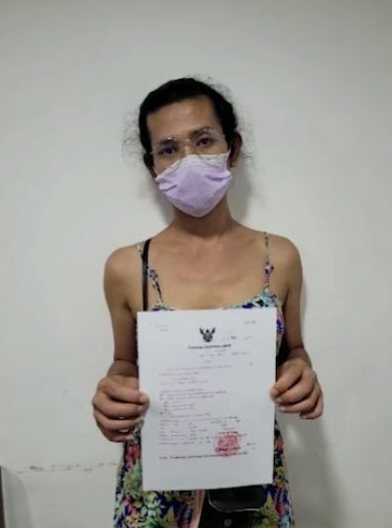 It has been later reported by local Thai news outlet Khaosod Online that the thief in question has since been arrested for the crime. The transgender woman said that she had committed the theft as she had recently lost her job and had to pay off gambling debts. Upon stealing the Frederik's chain, she proceeded to travel via cab to the suburban province of Samut Prakarn south of Bangkok, where she sold the chain off for 26,000 baht (RM 3,277.39). It is unclear if the chain has been recovered.
For more stories like this, follow us on Facebook by tapping here! 
Also read: WATCH: Shah Alam thief casually unlocks car with keyless security system & drives off with it in under 1-minute