Despite continued efforts to help reduce poverty rates in the country, the fact stands that there continues to still be a great deal of people in need who have fallen between the cracks. Desperate to find any means of survival, many of them who live on or under the poverty line are often willing to put aside pride and dignity in order to find a way to make ends meet.
Uncle seen kowtowing to cars to buy his tissues in Kuchai Lama
In the case of one uncle, he was recently spotted by a local netizen hoping to earn a meager living for himself by selling tissues to drivers who have stopped their cars at a busy intersection while waiting for the lights to turn green. In the now-deleted clip, the middle-aged man wearing a green shirt, khaki shorts and white slippers was seen kowtowing to the driver of a Perodua Axia, begging for them to make a purchase.
Bowing down repeatedly on his knees repeatedly to no avail, the uncle eventually gave up and rose to his feet before showing his wares to other drivers along the road in hopes of making a sale. The incident was said to have taken place around the Kuchai Lama area.
Netizen reactions have been divided
Having since spread like wildfire across multiple local community pages on Facebook, reactions to the uncle's desperation have been mixed. Some have urged others in the area who have spotted the man to show him some support, as the tissues were not likely to cost very much and that he was trying to support himself with a small business.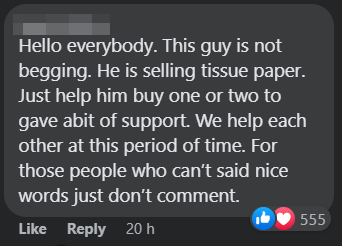 "I would buy some from him. Speaking from a humanitarian perspective, why would a person be driven to such lengths to kowtow in the middle of a street to sell tissues? Especially for those who are middle-aged and Chinese, would they have the courage to do so? In good times, you will often forget how bad things can get. But things turn sour, then you'll know the true nature of hardship."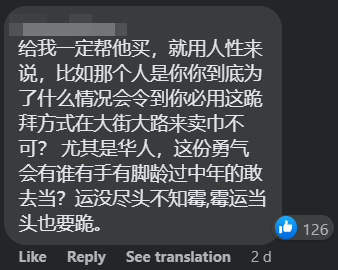 However, others claim that the man may be suffering from mental problems and claims that he is prone to aggressive behaviour. Others questioned why he couldn't get a job on his own, if he is still able-bodied and can kneel.
"I think he suffers from mental issues. One time I stopped my car at a traffic light, he kowtowed to me before approaching my car window to beg for food. I was worried he was going to break my window, so I rolled it down a little and gave him RM2. He then yelled profanities at me as I only offered him such a small amount."
"I met him once. He did that exact same thing next to my car too. I didn't dare to wind down my car window. He then got angry and kicked my car door before yelling at me. An Indian man riding a motorcycle witnessed what had happened and offered him money, but he refused. He wanted me to give him money."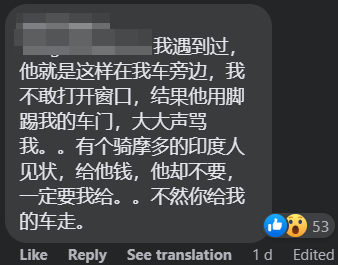 "I met him once at the Velocity area. He had previously tossed his tissues out of frustration when nobody wanted to buy them. You can take pity on him, but leave him be. He will sometimes pretend to cry while kowtowing, but when people don't respond to it, he will get angry."
Tap here to give us a 'Like' on Facebook and stay up-to-date on the latest news!
Also read: M'sian man offers help & money to foreign worker who walked for 3km to buy asthma spray he desperately needed