If you've been behind the wheel across any part of West Malaysia, you will no doubt be familiar with toll-booths that operate via the cashless Touch'n Go smart card payment system, or the SmartTAG electronic toll collection system. Both have been in service since the 90s, and continue to remain a staple at most major road networks in the country before the introduction of RFID.
Touch'nGo & SmartTAG to be phased out in West M'sian highways by stages
Until now, that is. According to the Ministry of Works (KKR), both Touch'n Go and SmarTAG lanes along the North-South Expressway from Juru, Penang to Skudai in Johor will be gradually phased out to make more room for Radio Frequency Identification (RFID) lanes in stages. The move is said to help bring Malaysians a step closer towards the Multi-Lane Free-Flow (MLFF) highway experience, as RFID-enabled toll booths can detect RFID-equipped cars at passthrough speeds of up to 30km/h.
RFID-lanes at highway booths will service Class 1 vehicles, which includes "vehicles with two axles and three or four wheels, excluding taxis". In layman terms, that means private cars such as sedans, hatchbacks, 4×4 trucks, Multi-Purpose Vehicles (MPVs), and vans.
Adopted for use in over 22 major highways, which now includes the NSE, RFID technology relies on the use of a small radiofrequency transmitter sticker that is attached to any part of your vehicle's front, which communicates with an RFID-enabled toll booth to enable seamless, contactless toll charges as you drive.
Kenyataan Media

TRANSAKSI TOL RFID DI LALUAN JURU, PULAU PINANG HINGGA SKUDAI, JOHOR DI LEBUHRAYA UTARA-SELATAN BERMULA 15 JANUARI 2022

– Pelaksanaan lengkapkan jaringan RFID di Seluruh Lebuhraya Pantai Barat Semenanjung Malaysia#kearahkesejahteraanrakyat pic.twitter.com/xUs2RTZL8P

— KKR Malaysia (@MOWorks) December 16, 2021
Currently operated by Touch'n Go Digital Sdn Bhd, the service allows users to link their Touch'n Go e-Wallet with their RFID sticker, which enables toll deductions to be made directly from your e-Wallet's balance.
Drivers advised to switch to RFID as-soon-as-possible
The Ministry reassures drivers that the Touch'n Go and SmartTAG lanes will continue to be in operation for the time being, but have advised those living in West Malaysia to begin equipping their cars with RFID transmitter stickers. If you're looking to manually install them yourself, all you need to do is hop on Lazada or Shopee to order your own directly online.
Upon receiving your RFID sticker, all you have to do is follow the steps below: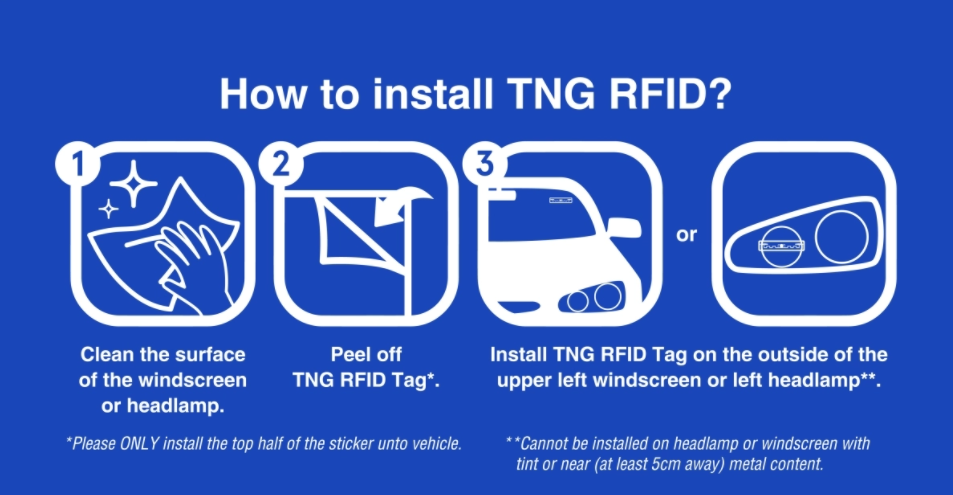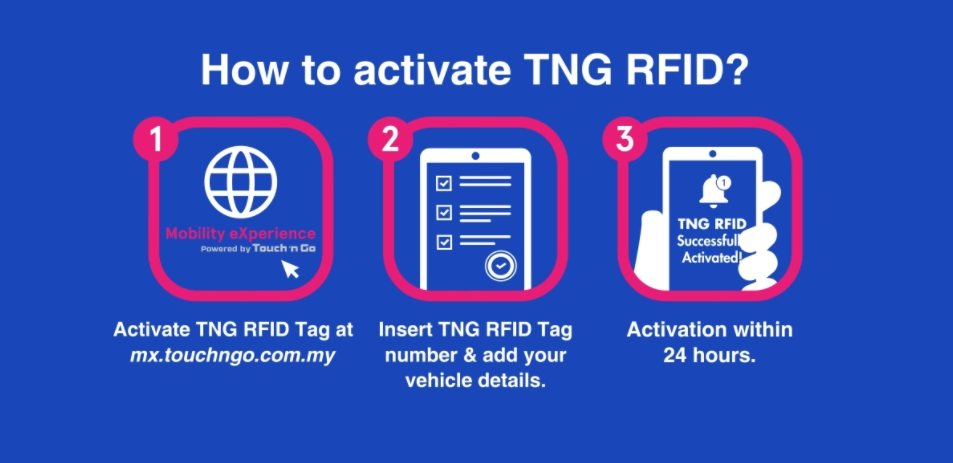 Keep in mind that in order to use the RFID, you'll need to place your RFID sticker on either the upper-left corner of your windscreen or the outer corner of your left headlamp. You'll also need to have an active Touch'n Go e-Wallet, from which your toll charges will be directly deducted from. You can choose to pair your Touch'n Go e-Wallet with a credit or debit card and set it to auto-reload, so you won't have to worry about your balance every month too.
For more news like this, follow us on Facebook! 
Also read: M'sian students pool money together to buy their beloved teacher a RM70,000 car for his retirement!