Chances are if you've ever visited an Indian restaurant or your neighbourhood mamak, you would no doubt have sampled one of the most conveniently affordable and reliably delicious meals from Indian cuisine: dosa. Made of a fermented batter containing ground black gram and rice, dosa is essentially a crisp, thin crepe that is meant to be served hot alongside other accompaniments such as chutney or sambar, tracing its origins back to South India.
Thosai, tose, or tosai? DBP offers clarification for BM spelling of Indian dish
Locally, it is most commonly referred to in a few different spelling variations, of which includes thosai, tosai, or tosei, which all refer to the very same thing. But of course in its home country, the spelling is typically agreed to as being dosa. Yet just recently, the Malaysian Institute of Language and Literature (otherwise known as the DBP, for Dewan Bahasa & Pustaka) took to their social media account to set the record straight as to the correct spelling for the popular traditional Indian dish.
Ejaan Bahasa Melayu: tose#DekadBahasaKebangsaan#BahasaJiwaBangsa pic.twitter.com/FxOLkOa6oA

— Dewan Bahasa dan Pustaka (@DBPMalaysia) October 17, 2022
As shared on their official Twitter account, the DBP points out that the dish should not be referred to by the erroneous spelling of tosai, but rather, tose.
However, it is worth pointing out that this isn't a new addition by any means, as it has long been referred to as such in dictionaries of the Malay language, as evidenced by the entry in the 4th Edition of the Kamus Dewan.
Netizens have divided opinions
With that said, some on social media have pointed out that this was an unnecessary correction for the name of an Indian dish.

"It's thosai. Don't try to get smart and change the spelling of foods belonging to other races."

"Your spelling isn't right. It's a creation of your own that doesn't bring any accurate meaning or depiction. It's distorted all the same. If you don't know, ask those who know, don't make up words as you like."

Others on the other hand, pointed out that the spelling is only meant to apply to Bahasa Melayu, and help others ensure consistency of the dish's spelling in a formal context.

"The spelling that they are trying to unify is not done so they can look smart in front of others. Imagine if someone writes an essay in SPM about food, this would help avoid confusion on which spelling they should use." 
"Right? This is just so they can make it consistent, as the usage has become broader. For example the Arab word (solat), how should it spelled? Solah, or solat?"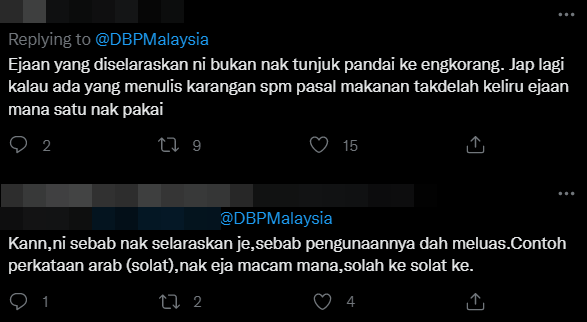 Tap here to give us a 'Like' on Facebook and stay up-to-date on the latest news!
Also read: "Mai-lo" or "Mee-lo": Milo Business Executive Officer reveals the real pronunciation of the brand's name