It goes without saying that every Malaysian's childhood is well-acquainted with the beloved chocolate malt drink brand, Milo. Many have enjoyed this beverage growing up, be it in a cup or served from a Milo truck. However, there has always been a ceaseless argument among Malaysians about the true pronunciation of the brand "Milo", and now we can finally end this debate.
"Mai-lo" or "Mee-lo"?
On Malaysia Day, TikTok user Chris MJ finally put the nation's discussion to rest after he uploaded a video revealing the true pronunciation of the word "Milo". He asked the Business Executive Officer of the brand, Ng Su Yen the million-dollar question.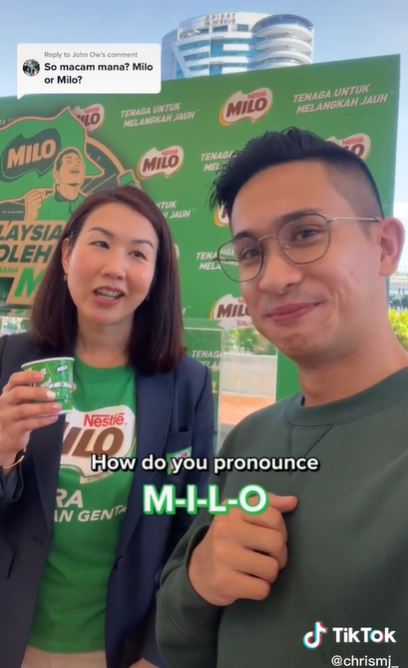 "How do you pronounce M-I-L-O?" he asked.
And the correct answer is… "Mai-lo"!
The brand was named after Milo of Croton, a mighty Greek wrestler who possessed legendary strength during the 6th Century BC. This depicts the beverage's purpose of providing all children with the nutrients and vitamins they need to become stronger.
Many refuse to accept that "Milo" is pronounced that way
As expected, some netizens were horrified upon learning this revelation as many grew up pronouncing it as "Mee-lo". Some were still adamant that that is the true pronunciation, and they will remain that way.



Nevertheless, Milo remains an iconic drink in Malaysia that has accompanied us growing up. We all remember the nostalgic times when our mothers would make us one cup to drink before to heading to school in the morning.
Have you been pronouncing it right all this time?
Tap here to give us a 'Like' on Facebook and stay up-to-date on the latest news!
Also read: M'sian mother of 4 jailed for 14 months after stealing two packets of MILO worth RM73 in Terengganu