For many of us who keep pet animals at home, we are all familiar with the nature by which we treat these domesticated animals. Often considered a part of the family, these creatures are loved and coddled, with owners building deep bonds alongside their furry friends. However, there are instances where these animals are not as well-received by others, which has led to instances of foul play to occur among not just stray animals, but even domesticated pets by means of poisoning.
M'sian netizen's pet dog suddenly suffers from a seizure while out for a walk
In a lengthy Facebook post that was shared by netizen Ms Ewan Wan, she recounts her heartbreaking experience in discovering how her beloved pet dog, Chili, may have been the victim of an insidious poisoning incident in her neighbourhood. According to Wan, the untimely incident had taken place on 8th December 2021, at 8.45am in the morning when she had been taking Chili on their usual morning stroll outside Central Park One Utama.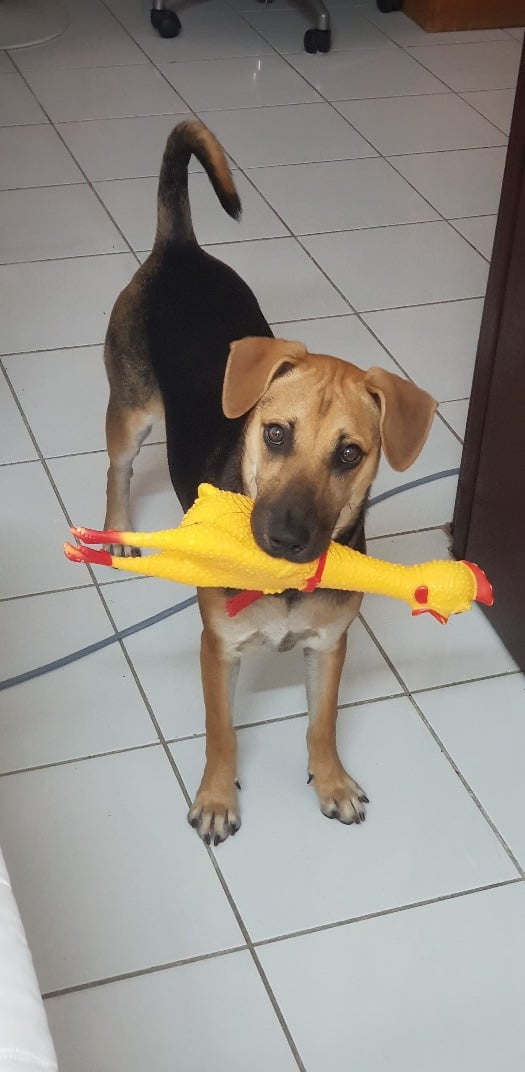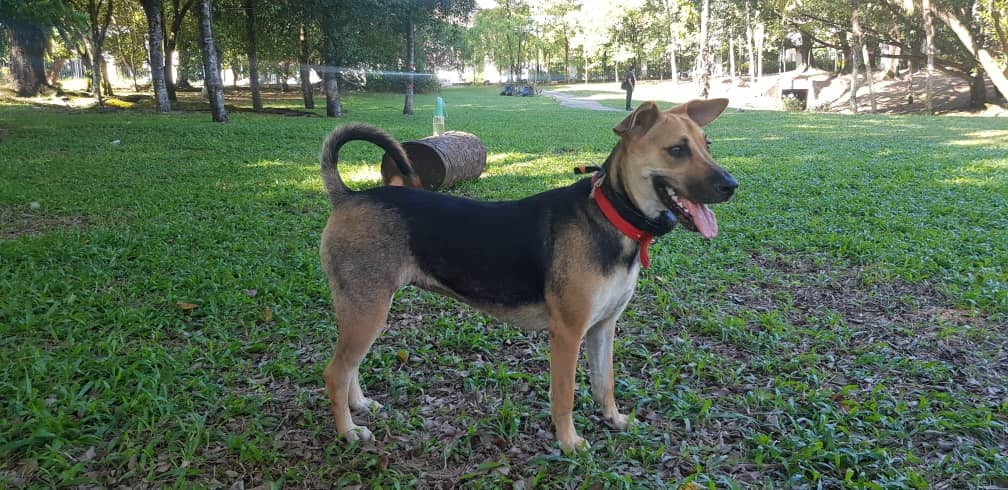 Accompanied by her husband at the time, all seemed to be well until about 10-minutes in, when Chili had suddenly seized up before breaking into spasms and falling over onto the ground. Upon touching her, Wan noticed that Chili's body had gone completely stiff and she began foaming at the mouth, before her eyes rolled back into her head. In a state of panic, Wan and her husband both rushed their puppy to the nearest veterinary clinic.
Vet attempted to treat Chili, but to no avail
Upon their arrival, the vet told them that Chili was already dying. But in spite of that, they continued to do their utmost in an attempt to save the dog's life. In the midst of their work they asked Wan if Chili had experienced cramps or any health ailments since she was a puppy, to which Wan responded with a resounding 'no'. She adds that Chili had always been taken for a monthly checkup as well.
To her horror, the vet told Wan that based upon their experience, it was likely that Chili had consumed an incredibly potent poison earlier in the morning which resulted in her critical condition. This was especially notable as Chili had suffered from three seizure episodes in under 30 minutes.
Over time, Chili's heartbeat weakened and she lost consciousness. And despite the vet's best efforts to perform CPR on Chili for over 10 minutes, she eventually succumbed to the poison and passed away.
Dog may have been poisoned
Given the fact that the puppy's cause of death was attributed to poisoning, Wan decided to investigate around her neighbourhood to determine if there was any way that her pet dog would have come into contact or consumed any poisonous substances. And from their search, they eventually came to suspect that their next door neighbour might have had something to do with Chili's death, after Wan found three small bowls containing bright pink tablets nestled in a small garden area outside their home.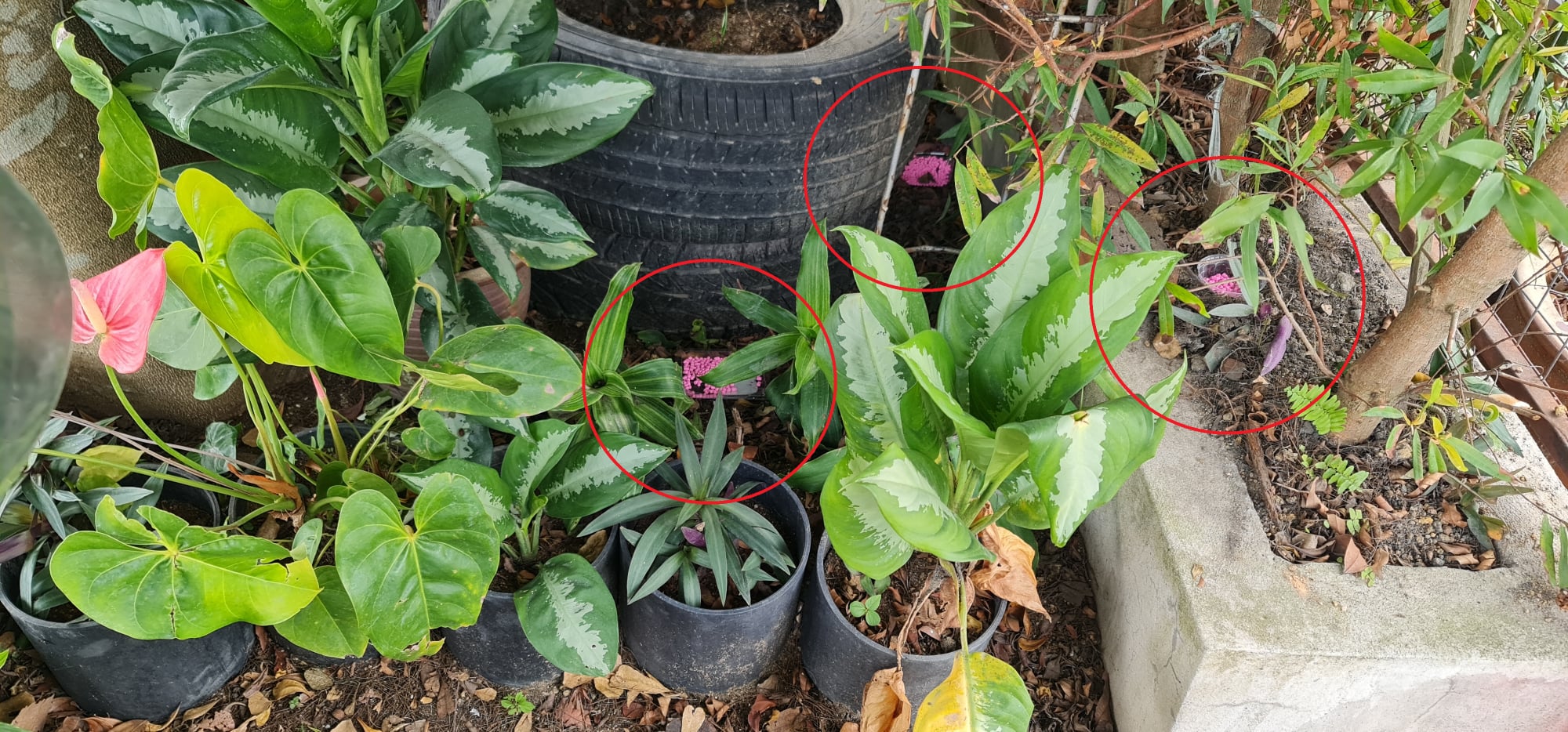 While it was by no means conclusive proof, Wan notes that over the past 20 years of her having kept pet animals, they had always died abruptly by poisoning. However, she never had enough evidence to make such a bold claim. With the circumstances at hand, Wan decided to lodge a police report over the matter.
Always contact the authorities if you suspect something amiss in your pet's death
And while she had expected the authorities to be dismissive at first, she was surprised to find out that the police immediately informed them that the act constituted as a criminal case, as the act had resulted in a deliberate killing of an animal which carries a criminal charge. In fact, those who have suspected that their pets have died as a result of foul play are advised to contact their local Municipal Bureau.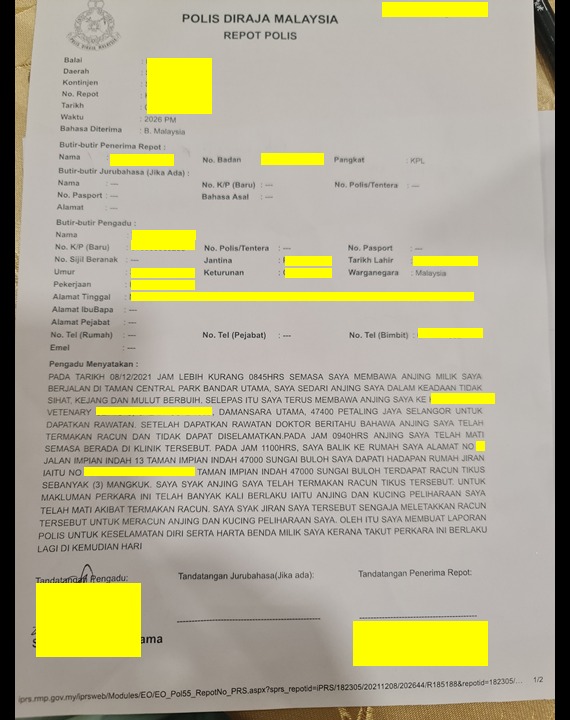 In her experience, Wan said that she spent about 3 hours completing her report with the police before they arrived at her home in the evening to collect evidence, including one of the bowls containing the alleged poison.
"I just want to tell you if you have a situation similar to mine, please be sure to call the police and send your pet for a forensic report." she said.
And as for the financial expenses in lodging a report, Wan assures that it will be covered by the police's forensics department if the evidence obtained is found to be conclusive. Additionally, she points out that according to the 2015 Animal Welfare Act, those who are found to have abused or killed innocent animals are liable of facing a fine of anywhere between RM20,000 to RM100,000 and/or a jail term of up to 3 years.
Additionally, she advises pet owners to always contact the authorities where possible, instead of taking things into their own hands in matters like this.
For more stories like this, follow us on Facebook by tapping here!
Also read: Poisoned stray dog that nearly died is saved by quick-thinking M'sian who nursed it back to health