The Deepavali festivities, which fell on 4th November 2021 this year, have been celebrated with much fanfare among the Indian community. This is especially the case in light of the relaxed restrictions for interstate travel, allowing for families to reunite once more. But Deepavali this year held a different kind of significance for a caregiver, who forwent the Festival of Lights to help save an elderly woman from floodwaters.
Caregiver cancels Deepavali plans to save senior citizen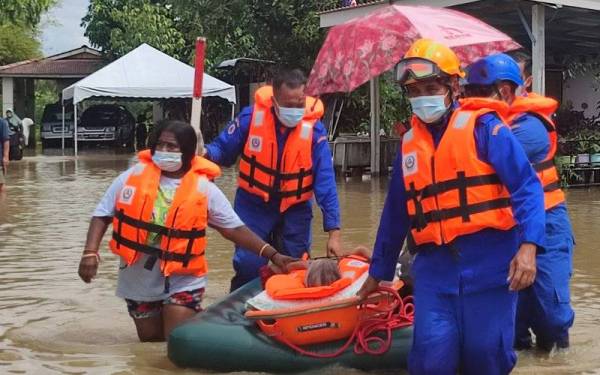 57-year-old Ms P. Devika, who works as a caregiver, decided to cancel her Deepavali plans with her husband after realising that an elderly woman under her care would be put in immediate danger due to the ongoing floods that have occurred in Kedah. Speaking with BERNAMA, she said that she was initially supposed to have been traveling to Kuala Lumpur.
But upon learning that her ward, 76-year-old Supiah Musa, who is partially paralysed, was trapped in her house due to rising flood waters, she made immediate arrangements to help relocate the elderly woman from her Taman Tanjung Bendahara home. Living one kilometer away, Ms Devika contacted the Malaysian Civil Defense Force (APM) for help to move Ms Supiah to her home instead.
She braved floodwaters to help save the elderly woman
Harian Metro reports that Ms Supiah had contacted Ms Devika earlier during the day and had sounded to be in a state of panic. Feeling an immediate sense of concern and unease, she rushed over to the elderly woman's home, where flood waters had already risen to roughly 0.3 metre.
Ms Devika had been hired to help care for Ms Supiah for over four years. As a caregiver, she would visit Ms Supiah's home four times a day to help feed and bathe the elderly woman, who also suffers from diabetes and high blood pressure.
Granted permission by Ms Supiah's adopted son, the evacuation took place after the authorities received an SOS call at around 1.00pm, said Kedah APM operations and disaster division officer Muhammad Hilmi Yakob.
"We then sent a four-wheel drive and an ambulance with five personnel to the location. We immediately evacuated the senior citizen as the water level in the area had reached about 0.5 metre high," he said.
For more stories like this, follow us on Facebook!
Also read: How much would you pay for Siakap fish? This Langkawi restaurant charges RM1,196.