Yesterday (27th April 2022), it was reported that 34-year-old Malaysian Nagaenthran K. Dharmalingam was executed in Singapore, after the High Court had dismissed his mother, Mrs Panchalai Supermaniam's, final legal challenge against his sentence and upheld their decision to pass the death penalty on his case. Nagenthran was detained at the Woodlands Checkpoint in 2009 when he was caught attempting to smuggle 42.7 grams of heroin into the city-state.
He was 21-years-old at the time, and was incarcerated for over 11 years on death row in Changi Prison before being sent to the gallows. A wake was held for him at 38, Sin Ming Drive at 1.00pm, and was attended by over 100 people consisting of family members, human rights activists, and other members of the public according to The Star.
Nagaenthran was brought home to Perak early this morning
His body was then returned to his home state of Perak in the town of Tanjung Rambutan early this morning, where the family lives. As reported by The Vibes, mourners had poured late into the night to pay their final respects to Nagaenthran, who was fondly referred to as 'Boy Anne' to those closest to him.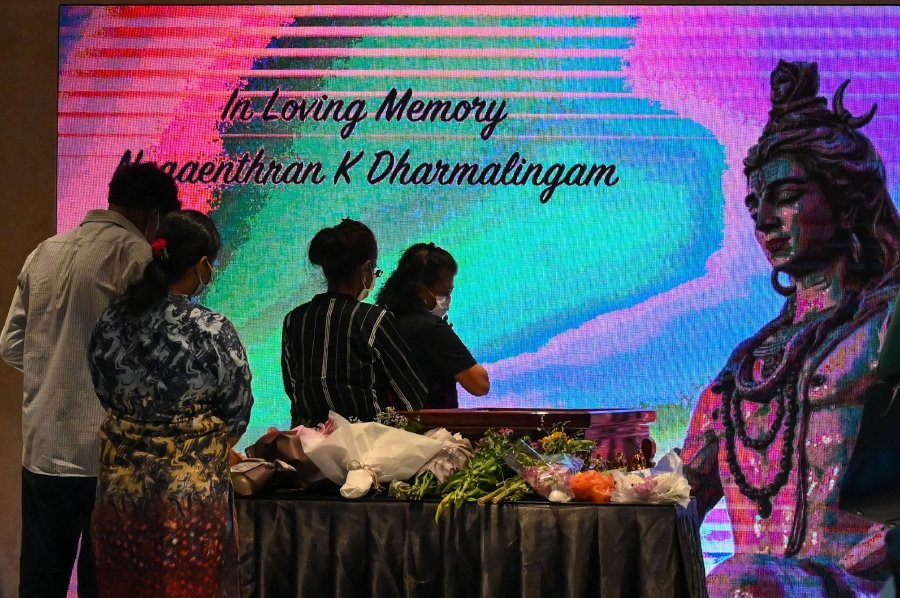 In speaking with the Malaysian news outlet, Nagaenthran's eldest sister Sarmila Dharmalingam said that the family felt only sadness at the fact that he had returned home as a dead man. She adds that her mother, Panchalai Supermaniam, was awash with grief and had been crying since yesterday morning. The Sydney Morning Herald said that Nagaenthran's family was allowed to spend two hours with him in the basement of the courthouse complex prior to his execution, divided by a screen without physical contact.
"The funeral is on Friday, so she [their mother] needs to rest to greet relatives who turn up." Sarmila said.
Sister requests politicians not to attend his funeral
She has also requested politicians not to attend the wake, stating that 'they all come for publicity'
"We don't need their help. We don't want any politicians to come. We have struggled for years but no one came to help us.

"With donations from Singaporeans, we have funds to manage everything."
Nagaenthran's execution comes after human rights activists and lawyers had exhausted every possible legal avenue and recourse, in hopes of appealing for clemency on his behalf. His case initially attracted worldwide attention after he was certified to only possess an I.Q level of 69, a level often recognised as an intellectual disability.
While advocates maintain that he could have been coerced into committing the offense, his trial judge ruled that he was on the borderline of having a functional intellect and knew what he was doing at the time. The courts also ruled that there was no admissible evidence to support the claim that indicted a decline in his mental faculties.
Tap here to give us a 'Like' on Facebook and stay up-to-date on the latest news!