It can be unanimously agreed by both prospective and new parents alike that raising a child can be a pretty costly affair. And this is especially true when they are still at their infancy, what with the cost of baby formula, diapers, and of course, child restraint systems (CRS), otherwise known as child car seats. The last bit is especially important for parents who commute by car with their children, as reliable research has always indicated that the use of child seats in cars helps reduce the risk of injury in a crash by up to '71–82% for children when compared with seat belt use alone'.
Parents can officially apply for child car seat subsidies from the government from March 2022 onwards
With that being said, a child seat of good quality can cost a pretty penny, which might make them just a little out of reach for certain families. And while buying a used one is always an option, parents will be glad to know that the government has also taken initiatives to ensure that the use of child car seats becomes more commonly adopted with the official launch of the Child Restraint System (CRS) subsidy this month (March 2022)!
As per the announcement made during Budget 2022, the federal government has earmarked over RM30 million for the explicit purposes of allowing parents to enjoy a 50% subsidy off the retail price of a brand new child car seat.
How will the subsidy work?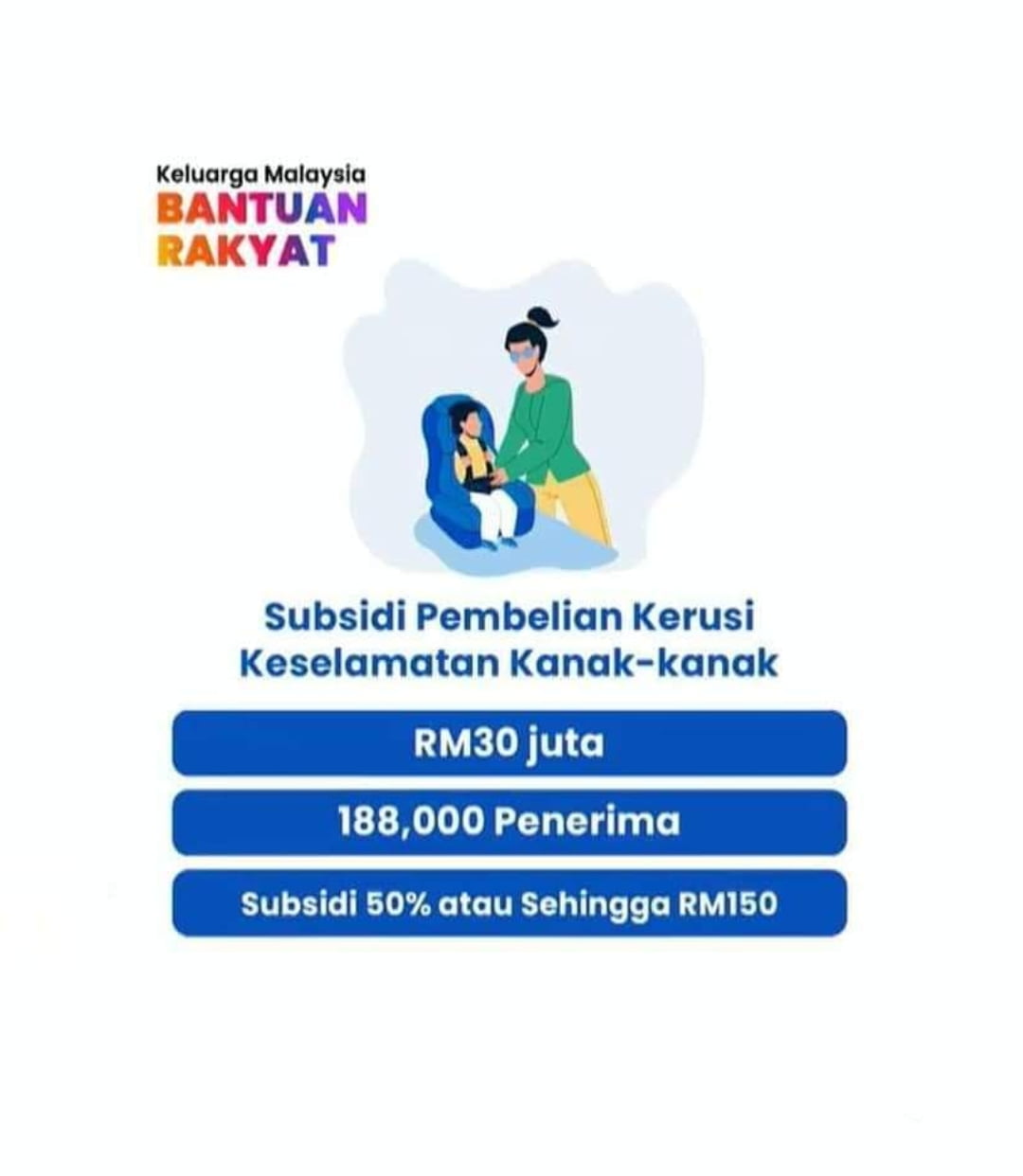 Essentially, parents who purchase car seats that cost less than RM300 will be granted a 50% subsidy off the full retail price of the child car seat. Whereas parents who purchase child car seats above RM300 will be granted a RM150 subsidy instead.
The subsidy is especially targeted for families that fall under the B40 income bracket who may not necessarily be able to easily afford the purchase of a brand-new child car seat.
Who is eligible for the subsidy program?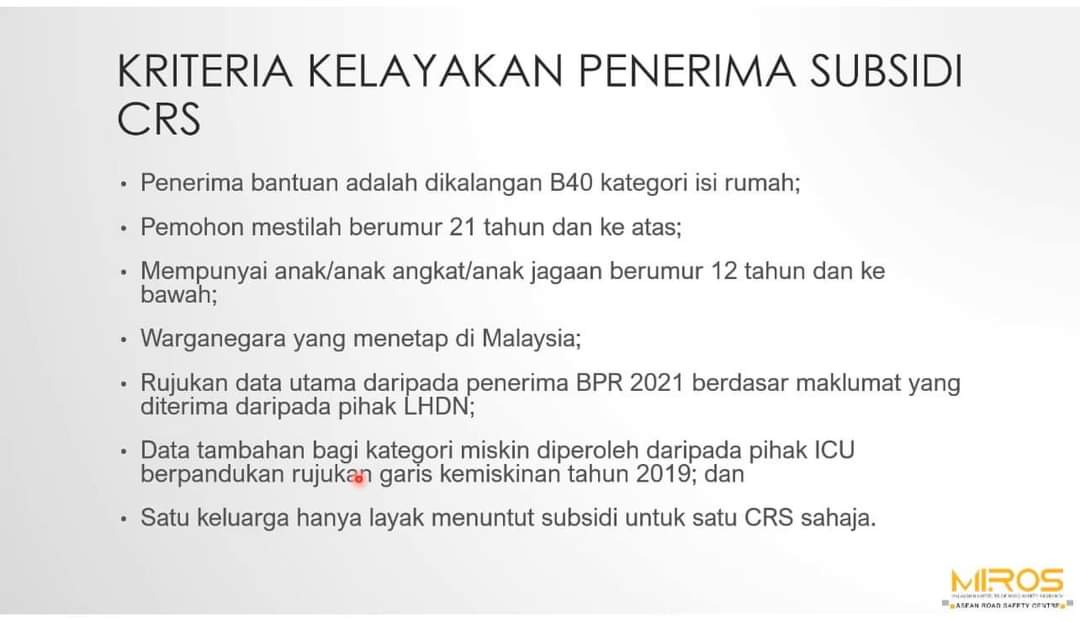 In order to be eligible for the subsidy, parents will first need to make an application through the official portal by clicking through this link.
Eligibility criteria are as follows:
Applicants must be over the age of 21
Applicants must be from the B40 income bracket
Applicants must have a child/adopted child/foster child who is under the age of 12
Applicants can be either married or a single-parent.
Applicants must be Malaysian citizens
Only one family can redeem one subsidy application at any time
Key data reference from BPR 2021 recipients based on information received by LHDN/e-Kasih ICU
By the government's estimates, as many as over 180,000 recipients are said to be eligible for the subsidy program.
What is the application process like?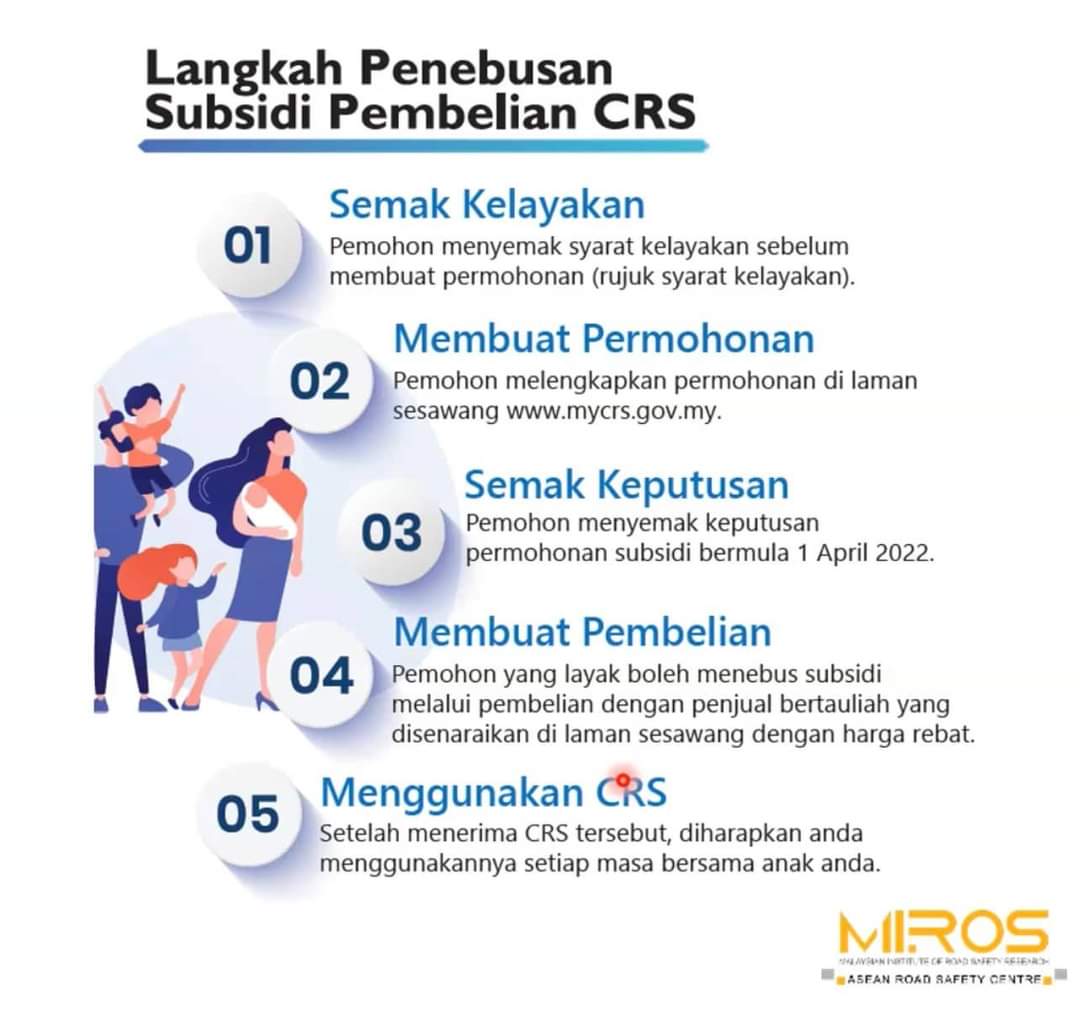 The application process for the subsidy is relatively pain-free, with applicants being able to do so by visiting their site and registering online. Once they have submitted their application, applicants are advised to routinely check the site for updates on approval. Once the subsidy has been approved, all they need to do is purchase an eligible child restraint system (CRS) through the participating retailers under the program listed on the site. That's it!
Application date closes on 30th September 2022. Applicants who have submitted their applications before 31st March 2022 may begin checking on the status of their approvals by 1st April 2022. Submissions made after 1st April 2022 will receive a notice of approval in 3 working days.
For more news like this, follow us on Facebook by tapping here! 
Also read: M'sian doctor shares heartbreak caring for child pregnancies as young as 12yo