It's safe to say that this year's 65th National Day celebrations may very well go down as one of the most memorable ones in recent memory, what with the occasion made all the sweeter by the fact that this will be the first time in over two years that Malaysians have been able to return to the streets of Kuala Lumpur to spectate the grandeur and splendour of the Merdeka Parade in-person since the pandemic.
Soldier seen cuddling up to his dog after Merdeka parade in touching photos
And while many were captivated by the number of truly unforgettable instances that took place during the course of the parade, such as the iconic green MILO trucks from our shared childhoods making the rounds and hunky firefighters leaving the ladies feeling just ever so slightly flustered, another tender moment that transpired behind the buzzing excitement of teeming crowds has since also gone viral across local social media.
As shared in a series of endearing images by Facebook community group Panggilan Pertiwi, a soldier with the Malaysian Armed Forces could be seen taking a break presumably sometime after the parade while still clad in his camouflage uniform and face-paint with his dog. As he did so, the photographer managed to capture a number of touching stills as the soldier cuddled up to his pooch, who lay itself over his lap in a languid show of comfortable affection.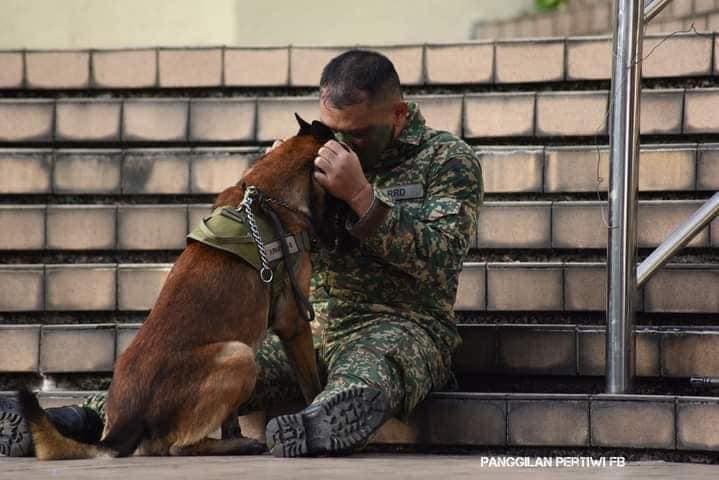 The series of images sparked nationwide attention among Malaysian netizens, many whom were touched by the display of fondness between dog and man. But the moment was made all the more heart-rendering when the soldier in the photo explained his side of the story.
He has since explained the bittersweet moment
Taking to the comments section, a man known as Micro Junior identified himself as being the very same soldier seen in the photos and introduced the dog as Loki.
"This is our last independence celebration, because we will be parting ways soon. We have faced the minefields of life together over the years and he is my true friend.

I will be resigning because my service is coming to an end." he said.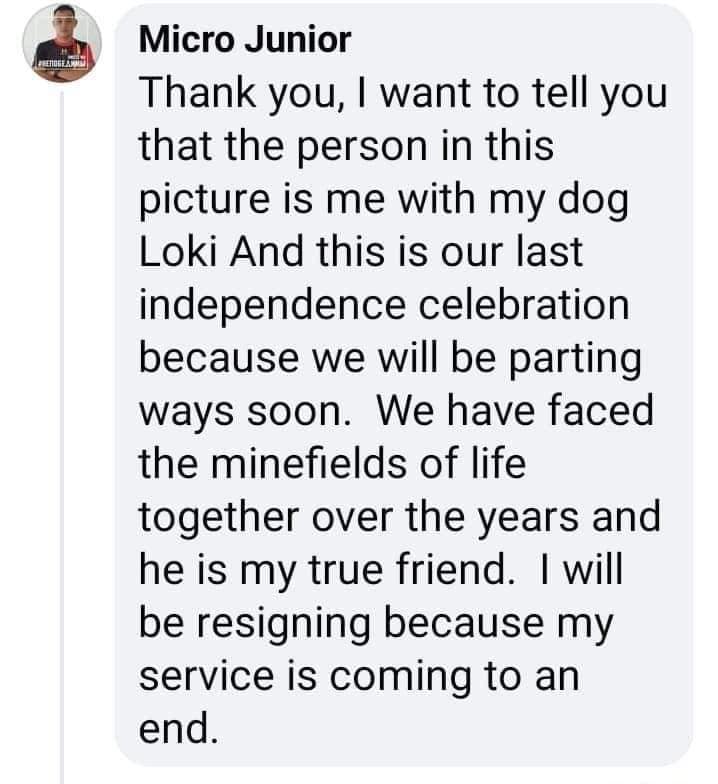 Needless to say, his bittersweet tale has since left pretty much everybody a sobbing mess and has even reached the ears of the Malaysian Armed Forces, who took to sharing the post across to their own social media channels while thanking the soldier for his contributions to the country.
Now if you'd excuse us, we need maybe six packs of tissues right now.
Tap here to give us a 'Like' on Facebook and stay up-to-date on the latest news!
Also read: PDRM's K9 dogs don adorable tiny paw-boots during Merdeka parade rehearsals to protect from the heat