Sometimes, you may be surprised to realise how a small but sincere act of kindness can truly go on to help change a person's entire outlook on their day, sometimes even their lives. And one such incident has recently gone on to prove that to be true after two university students recently went out of their way to lend a single mother travelling with two kids a hand.
Two SG students volunteer to help a single mother of two
A Singaporean mother of two children, Siti Zulaiha shared on her TikTok how she met two kind strangers during her journey passing through the Johor-Woodlands immigration checkpoint. She was on her way back to Singapore on 25 September after she stayed in Johor with her two children: one 11-year-old boy and a 7-month-old baby.
On that day, the hectic border checkpoint was filled with people queueing up to clear customs, and the small family had to wait 2 hours for their turn. The large slow-moving crowd was not convenient for a single mother with two small children, especially with one of them coming down sick. However, Zulaiha did not complain about the situation since it was inevitable and remained positive throughout the queue.
"We took it as a way to create memories so we were okay with the queue," she wrote in the video.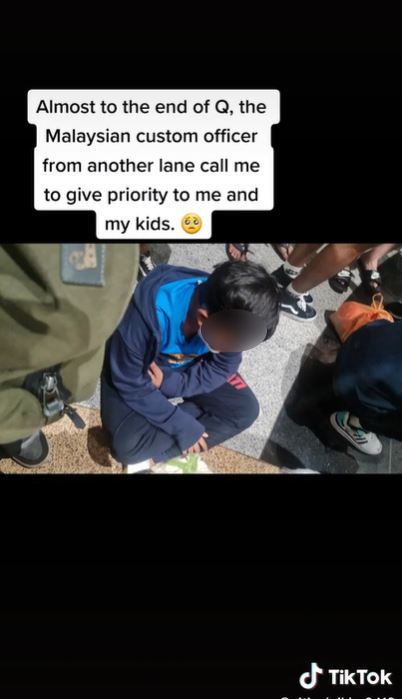 For an hour, the tired mother had to carry her baby while looking after her other son who was sitting on the ground, but then two young adults behind her noticed her condition and decided to provide her with some help. They offered to carry her sleeping baby for a while so she can rest her arms which she accepted. She agreed with their proposals to oblige because they looked like genuine people who only wished to help.
They continued to help her all the way back home
After making some conversations with these two youths, they realized that they live close to one another, and the two boys were kind enough to give her a lift in their taxi since it would be near midnight when the process was finished.
Later on, Zulaiha and her kids were called by a Malaysian customs officer to a priority lane. After they were done, the family waited for the two youths to pass the checkpoint.
"I didn't want to be selfish after accepting their help."
Then, the five of them boarded a bus that will take them across the bridge with the two youths carrying Zulaiha's baby. They even tried to calm the infant down when they were temporarily separated while getting on the vehicle.
At the checkpoint entering Singapore, the boys even waited for her to pass through customs after they had completed their turn. They then called for a taxi and shared the ride back home. The single mother was so grateful for their assistance throughout the journey that she agreed to pay for their taxi fare, despite their insistence to split the bill. What's more, one of them helped her unload her luggage although he already had a few shopping bags in hand.
"They are 18 and 21-year-old youngsters, taking on the responsibility of men," she commended them in her post.
Zulaiha was touched by the help she was given by these two new-found friends, who were later revealed to be students from the Institute of Technical Education, Singapore. She thanked them profusely for their help and praised their parents for bringing up such kind gentlemen.
Kudos to these two university students for helping out a mother in need! Here's to wishing them more successes on their future endeavours.
Tap here to give us a 'Like' on Facebook and stay up-to-date on the latest news!
Also read: S'porean stage 4 cancer patient opens hawker stall to help wife support herself when he's gone