Being a stay-at-home mum has its own challenges as they take on multiple roles at once. Not only do they need to supervise their children, but these amazing mums also need to clean the house, cook meals, buy groceries, calculate finances etc. Some are even willing to go the extra mile to earn supplementary income to help out with the family expenses.
Stay-at-home mom works as a Grabfood Walker as side income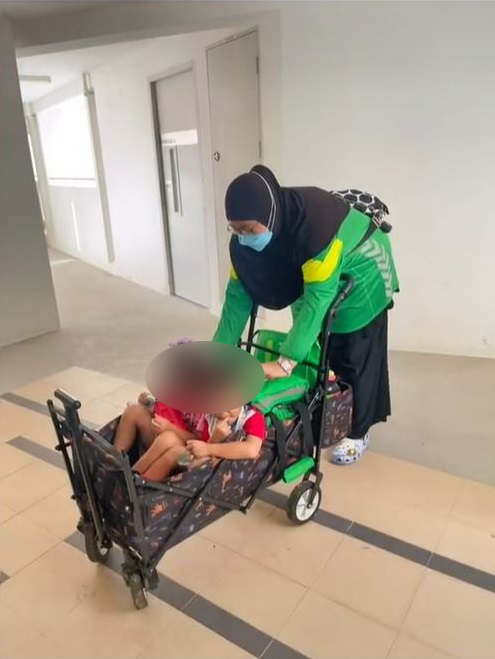 Mommy Dee, a stay-at-home mom shared on TikTok her experience working as a GrabFood Walker. She wanted to earn some extra income while still being able to take care of her children. What made it cuter was that she would bring along her children while she was carrying out deliveries.
"It is a job that I can do and bring the kids along at my own time and target." she wrote in the caption.
In the video, Mommy Dee could be seen pushing a wagon with her two kids, Aisha and Ammar sitting in the front. Her customer's food would then be placed into the Grab delivery bag behind them. She would push the wagon while making deliveries, allowing both mother and children to spend some quality time together while she worked.
Moreover, she clarified that this was just a part-time job, and part of her daily routine to bring the kids out for some fresh air while earning some income.
"This is fun for me, and I enjoy doing it."
The heart-warming TikTok clip went viral
The adorable clip warmed many netizens' hearts as it has now garnered over 930k views and 86.4k likes on TikTok. A lot of the comments praised Mommy Dee for her spirit and efforts in spending time with her children.


One even thanked her for the idea of how stay-at-home mothers can do deliveries as a side income.
"Thank you for the idea! I used to deliver for Grab too but I had to stop when I was pregnant with my 2nd child and had to take care of my toddler, but you proved that anyone can still do Grab deliveries even with children. No excuse."
Like a true mother, Mommy Dee puts her children above all and is willing to spend every moment with them. Furthermore, she likes to document and upload adorable moments like this on her TikTok account, so feel free to check it out here!
Tap here to give us a 'Like' on Facebook and stay up-to-date on the latest news!
Also read: After 578 days in SG, M'sian mum finally returns home to surprise her 2 daughters & family in heartwarming reunion