The realm of comedy is typically bisected into two distinct contrasts: high-brow cerebral humour, and its low-brow, 'everything and the kitchen sink' counterpart. And as is the case with all dualities, there cannot be one without the other, with both tangents appealing to their own respective niches.
In the case of Singaporean comic Kumar, he has easily built an enviable reputation by banking hard on the latter end of the spectrum, with the added novelty of his vivacious drag persona being brandished with a bold irreverence in full-view of the typically conservative region of Southeast Asia.
No hostages, only laughs at 'Rowdy Kumar'
Two years on from a desolate absence of live performances across the board, the sequined major domo stages his Malaysian return with his latest production entitled 'Rowdy Kumar', that saw him filling out seats for a two-day stint in Kuching and Kota Kinabalu, before hightailing over to Kuala Lumpur for a final round of three shows.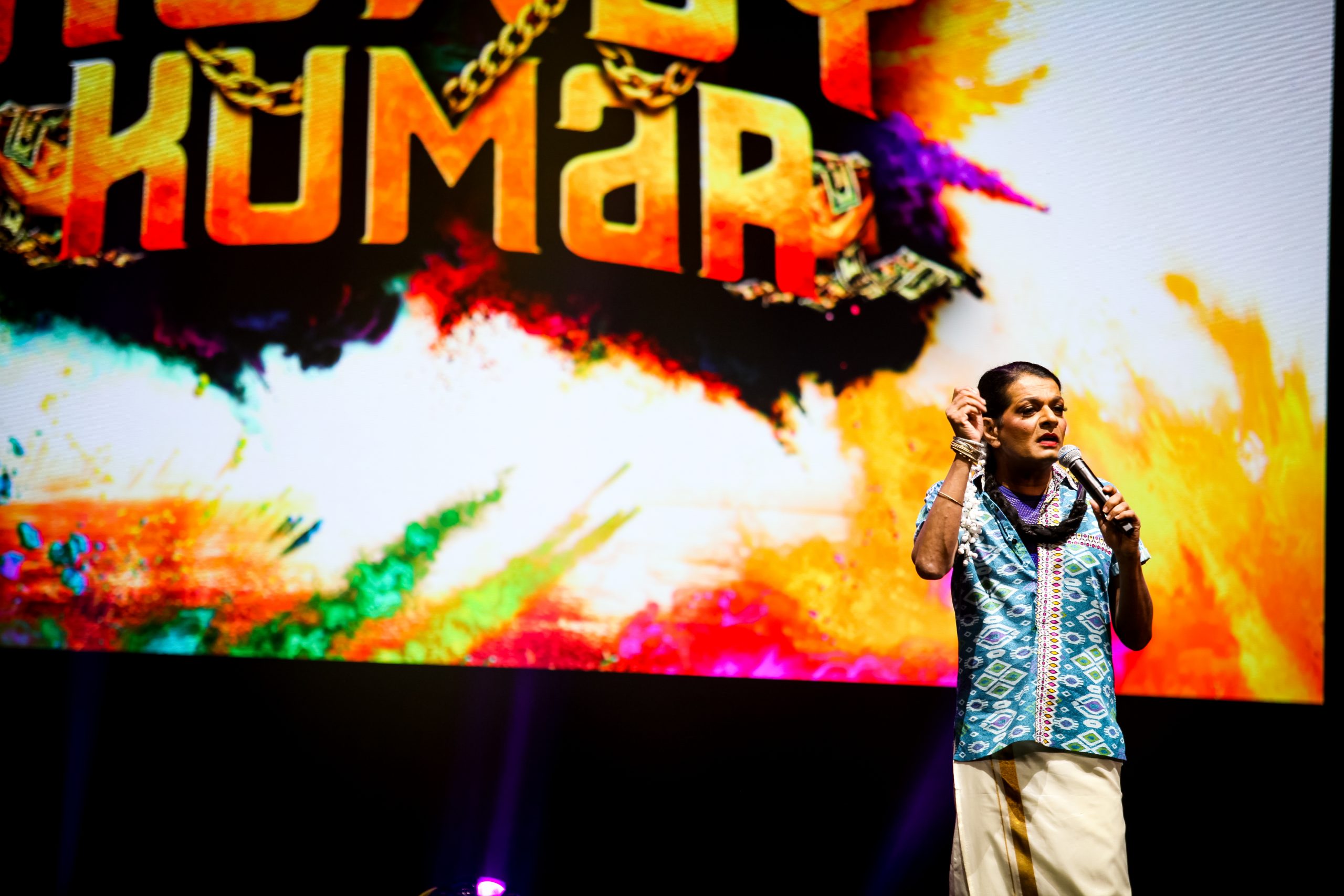 Organised with support from LOL Asia, the 90-minute glitz and glamour extravaganza kicks off in high style with a Bollywood dance troupe that spilled out over the stage in a flurry of shimmering sparkle. With moves performed against a rap track recorded by Kumar himself, the opening number's lyrics cleverly serve as an introduction to the comedian's greatest hits by way of venues he has performed in, while also setting the tone for an unapologetically rambunctious good time as the siren of the hour finally makes her appearance.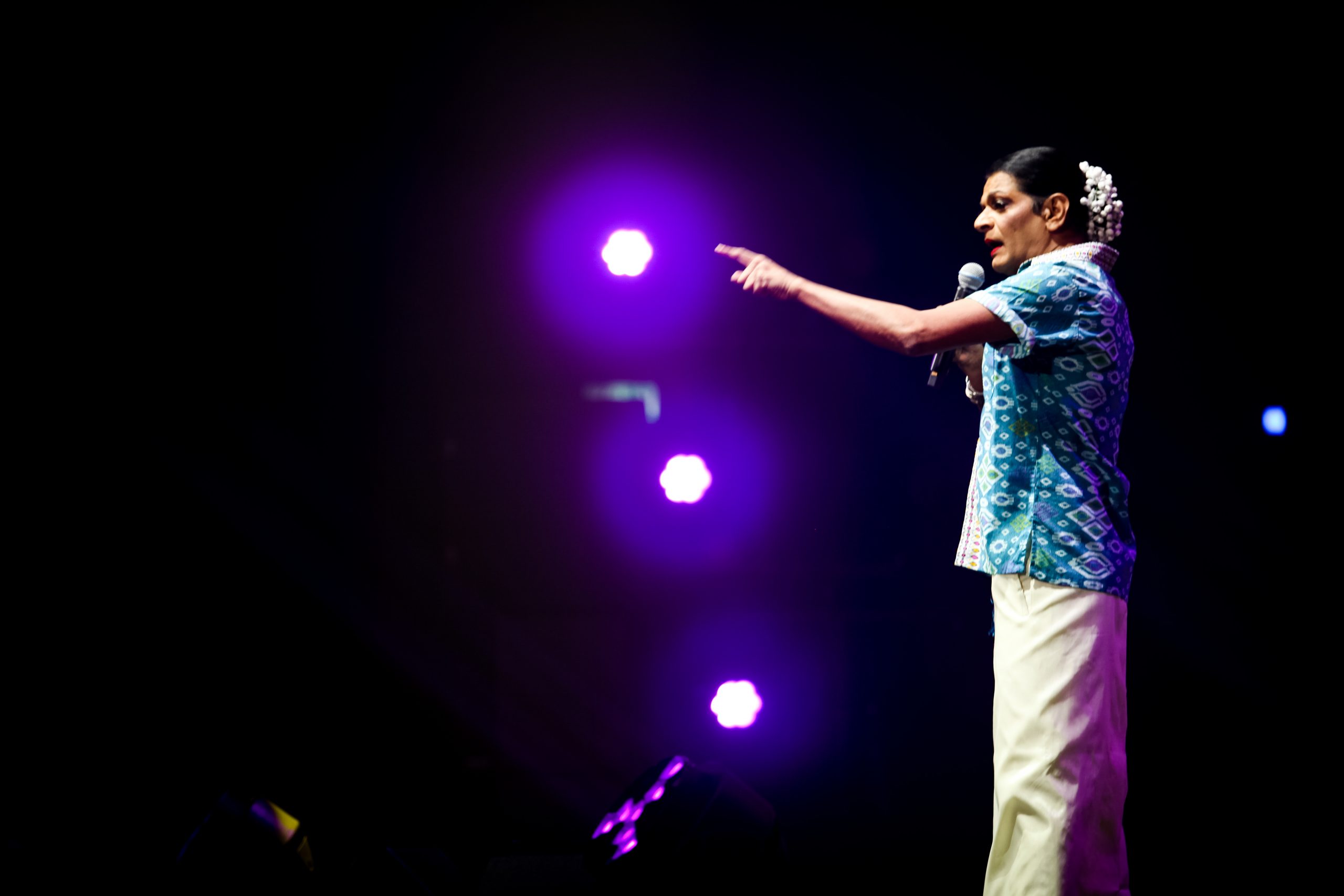 Delving right into the thick of things without any preamble, Kumar remains faithful to what most audiences come to expect when they pay for a ticket to his shows: local colloquialisms, scintillating observations of current events, and personal anecdotes from growing up as an openly gay man in Singapore.
Mass market humour; fun, fun, fun across the board
Taking a few moments to explain rowdiness on his terms, Kumar's set then segues into a smattering of reliable favourites: pot shots at authority, promiscuity that teeters on the brink of crassness, and of course, heavy punches on established stereotypes, If there ever was a cardinal trifecta that represented going against the grain of populist political correctness, this may well take the cake.
A mid-show performance also saw him lip-syncing to the Gloria Gaynor karaoke staple, 'I Will Survive' in true drag cabaret tradition, complete with a glitzy costume change.
Kumar makes no concessions for the sake of likability throughout his show, and it is likely that nobody in attendance that evening expected him to, judging by fits of screaming laughter by late adolescents and middle-aged adults alike between sharp barbs.
Some may describe his brand of comedy as off-colour, profane, and downright crude in its intentional avoidance of all sophistication. But he isn't meant for thinkers who enjoy ruminating on a punchline served with a side of discourse. You don't go to his shows to have your intellect challenged.
Instead, one could argue that he speaks to the everyday layperson, one with a thickly hewn hide toughened by the rough and tumble from the School of Hard Knocks who is ready to leave their sensitivities at the auditorium door and cut loose without expecting for more than a 'rowdy' night out on the town. Where that's concerned, Kumar continues to deliver with reliable cheek.
For the latest news and community stories, follow us on Facebook by tapping here! 
Also read: S'porean comedian supreme Kumar set to sashay onto M'sian stages come this October!