If you're a Malaysian driver or have been behind the wheel along Malaysian streets at any point in time, you will no doubt share the frustrations of dealing with double-parked cars. And while the practice is illegal and can land you with a fine by the authorities, the issue has grown to become such an endemic part of living in Malaysia that many of us have learned to turn a blind eye and live alongside it.
Man double-parked his car along street in Pandan Indah
However, it would appear that not all Malaysians are quite so forgiving of drivers who double-park, as a woman was recently caught vandalising a Perodua Myvi that had been double-parked along a street in Pandan Indah. According to China Press, the car had belonged to a 21-year-old real estate agent who had claimed that he had driven to his company's office at the time to handle some emergency matters.
Alleging that he had circled around the area a few times to find a parking spot in vain, he wound up double-parking his vehicle alongside what he said was his friend's white Honda, and had left his contact information displayed on his windscreen before leaving.
Woman vandalises his car, leaving scratches & breaking off his side mirrors
While he was gone however, a woman who had spotted his car proceeded to vandalise it seemingly in a fit of rage, going so far as to damage his car's exhaust by kicking at it repeatedly while using what appears to be keys in her hand to scratch up the paintwork. And if that wasn't enough, surveillance video footage obtained from shops located along the street show the woman going so far as to drag an old mattress over before laying it atop the man's car.
Armed with a broken broom, she then broke off one of the car's side mirrors before snapping the rear wiper off and leaving the scene in a huff.
According to the 21-year-old real estate agent, his car sustained a pretty heavy beating as a consequence. Both side mirrors were apparently broken, as well as wiper blades and his exhaust. He had also found a number of scratches on his vehicle, in addition to the tattered old mattress resting atop it.
The man has since lodged a police report over the matter, admitting that he was at fault for double-parking in the first place and said that he wouldn't rule out being issued a fine by the police for doing so. However, he has called upon social media users to help identify the woman in hopes of being able to provide an explanation for her behaviour.
Social media users are divided
Responses over the incident have been divided, with some arguing that the man only had himself to blame for double-parking in the first place.


"Double park is a very selfish behaviour, and to do it for 4 hours is totally ridiculous. Don't make it sound like you did nothing wrong. While that woman may also be at fault, she had the guts to do what we never dared to do. I have one thing to say: you deserved it!"
On the other hand, others argued that the woman had no right to damage another person's property under any circumstances.
"He may be at fault, but she is in the wrong too. It looks like it wasn't even her car that was being blocked off."

"Regardless of what had happened, you have no right to do something like this. If you damage someone's car, you have broken the law. Why would you damage another person's property? I hope you get punished by the law."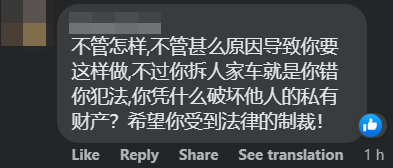 For more stories like this, follow us on Facebook by tapping here!
Also read: M'sian road bully with RM8k in unpaid samans tries to intimidate driver, flees when he realises he was video recorded