It goes without saying that parents will truly go above and beyond to ensure the safety of their children remains paramount at all times. This is especially true in the case of younger children, such as toddlers and babies, who are more prone to injury due to their young age and propensity for unbridled curiosity.
Baby seen tumbling out of moving car in Rawang
A video clip that was recently shared across social media had gone viral among local netizens, after it showed how an infant child had shockingly tumbled out of a moving car in Rawang, Selangor. According to the footage, the driver of the vehicle could be seen moving past the front of a school after what appears to be the end of a school day, with buses and private cars picking students up from the front gates.
As the driver travels further up along the road to make a U-turn at an intersection, they brought their car to an abrupt stop after realising that a baby from the car ahead had suddenly fallen out from the backseat and landed out on the open road. The incident was said to have taken place at Bandar Tasik Puteri.
Thankfully, the baby did not appear to have sustained from any major injuries, and the driver of the dashcam car immediately got down to scoop the baby off from the tarmac. A woman who is presumed to be the driver of the car which the baby had tumbled from rushed to the scene after to cradle the child in her arms, and appears to thank the dashcam driver profusely for his help.
Netizens raise concern over the safety of the baby
The video has led to many reactions among local netizens, many who have raised concerns over the child's safety.
"Had it been a lorry behind them, I doubt they would have noticed any objects underneath. Thank goodness nothing happened. The child has a long life."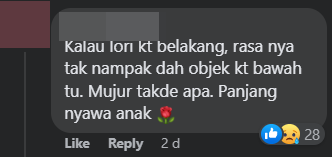 One has reminded parents that they should always remember to keep child safety locks on in their car, which prevents car doors from being opened from inside the vehicle, to circumvent such incidents from recurring.
"Let this be a lesson to all parents in the future. This is completely avoidable. It may be troublesome to do this, but at least we won't lose any lives."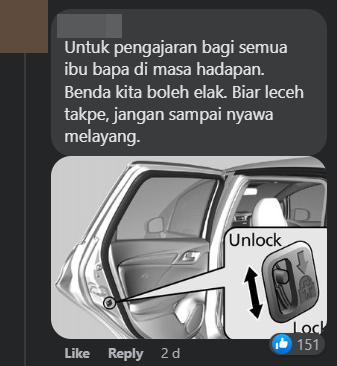 Another has urged the authorities to investigate the mother of the infant over alleged negligence.
"#PDRM, I hope that you will take action on negligent parents such as these. God knows what could have happened to the baby."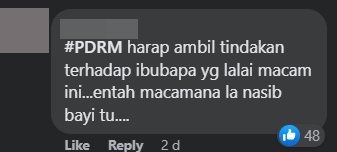 For more stories like this, follow us on Facebook by tapping here! 
Also read: M'sian netizen shares how driver of a car she hit by accident consoled her instead of yelling at her over the damage