When we think about things that inherently instill a sense of pride in us as Malaysians, we typically refer to a few usual aspects, whether it be our undisputed status as a food haven (sorry Singapore), the vastness of our natural heritage by ways of rainforests rich in some of the world's most unique biomes. or the uniqueness of our shared histories.
M'sian netizen shares how his colleagues secretly helped him when his mum suffered a stroke 
But beyond that, we can also be proud of the sense of goodwill that we Malaysians all inherently share among one another, especially in times of difficulty. Whether it be a minor inconvenience or a major crisis, we can always come to depend on each other's support to get through it together. And this has most certainly proven to be the case in a touching story that was recently shared by netizen @akuSyahrel on Twitter.
Look at what my company did to me while im not in the office and balik sabah jaga my mom due to stroke.

Bangsa tu just bangsa, tapi kebaikan hati?

Thanks for the Doa and wishes.

Semoga Allah membalas jasa korang semua. 🥺 pic.twitter.com/3qiOcAXiOJ

— ЯΣL (@AkuSyahrel) November 22, 2022
Speaking to WauPost on the incident, he explained that on the morning of November 10th, 2022 (Tuesday), his mother had suddenly fainted when they were both in the middle of a video call. Concerned for her wellbeing, he immediately informed his boss that he needed to take a leave of absence to return to his home-state of Sabah to check on his mother's condition.
Arriving at the hospital in the evening of the very same day, he was informed that his mother had suffered from a sudden stroke and was bedridden.
Pooled money together to help pay for some of his mum's medical bills
Given the circumstances, he decided to stay on and take care of his mother for a little over a week, before returning back to work on November 22nd 2022.
"While I was busy doing my work, my boss came over and handed me an envelope filled with money along with a list of names. I didn't know anything about it!" he said.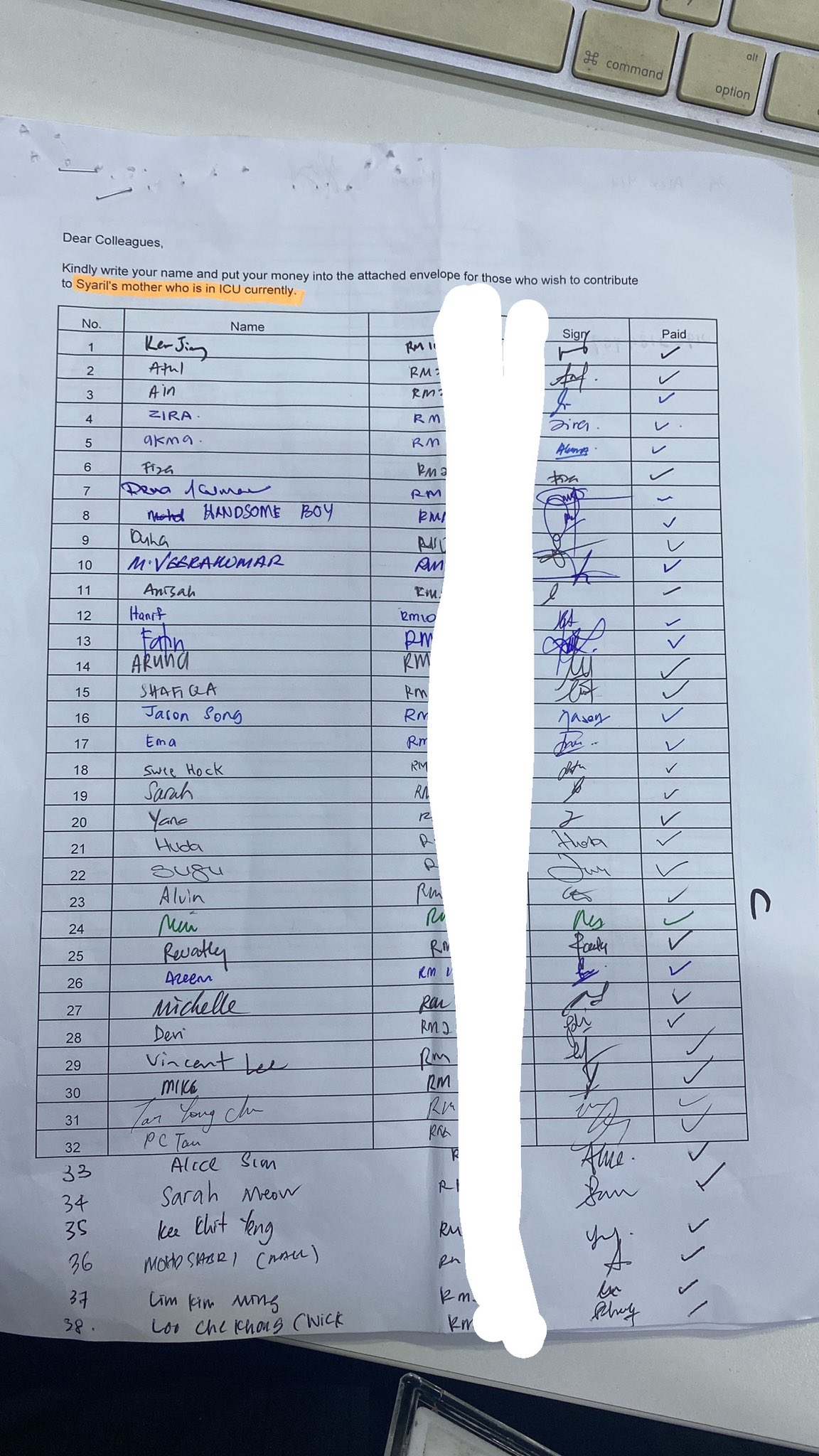 As it turns out, the colleagues in his office had taken it upon themselves to pool some funds together, in order to help him pay off some of his mother's medical expenses in a truly heartwarming gesture.
Thankfully, Syahril said that his mother's condition is now stable, but she still remains bedridden for the time being. Adding on to that, he has urged Malaysians to be kind to one another regardless of their race or age, as his mother used to teach him, and to always remember to be humble.
We wish Syahril's mum a speedy recovery!
Tap here to give us a 'Like' on Facebook and stay up-to-date on the latest news and stories!