The Perodua Myvi is arguably one of the best value-for-money propositions when it comes to buying a car. Whether if it's in terms of space, safety, and style, the B-segment hatchback can do it all and do it well. And with it's generally affordable entry price-point, it's no wonder that the Myvi has easily become the de-facto car of choice for many Malaysians.
Woman's mother advises her to get her boyfriend to buy a car
However, it's ubiquity has also led to some naysayers to disparage the Perodua Myvi's reputation, including a young woman's mother who has recently gone viral after allegedly making denigrating remarks about those who own the car. In a Twitter post that was recently shared to @TwTmalaywedding, which serves as a platform for local Malaysians to share problems faced in their household anonymously and receive advice from the public, a local woman explains how her mother had always been insistent that her future son-in-law owned a car of his own.
Saying that she had spoken about the matter previously on the Twitter page, the woman now reveals that her partner has since expressed his interest to buy a car of his own after they sat down and had a discussion. This comes after she had shared her own car with her partner for some time.
"Okay lah, he decided to buy a car of his own before marriage. He said he wanted to buy a Myvi."

"But when I spoke to my mum about this, she responded with a 'Hm,', before saying that Myvis were only meant for students, bla bla bla, they have no class, bla bla bla, and said I wasn't taking care of my own image if I had a partner who drives a Myvi."
Boyfriend agrees to buy a Myvi, but her mother finds it 'low-class'
Exasperated, the anonymous woman expressed her frustration over her mother's comments, especially given how her partner had already agreed to one of her earlier conditions and agreed to buy a car of his own.
"I know that I'm the one who is getting married, not my mother, and quite frankly I don't really care whatever car he drives.

But my mother told me that I should do as she tells me to, or I will wind up regretting it later."
Netizens chime in
Stuck at a crossroads, she has ask netizens for their opinions on her dilemma, wondering if she should try convincing her mother to accept her partner's decision or to ignore her words altogether. Many have since responded, advising both the woman and her partner to live within their means while pointing out that there was nothing wrong in owning a Myvi.
"Kid, my salary is RM5,000 + RM1,000 allowance every month with my only commitments being my rent, my parents, my phone bill and my WiFi and yet I am still just driving a Proton Saga. Let people say what they want to say, as long as we have financial freedom. There's no point in following other people, if that comes at the cost of you and your partner struggling by the end of the month."

"My aunt only bought her first imported car when she started earning RM8,000 in salary, and even then she only did so after she bought a house worth half-a-million. If nobody told her to buy another car (import car), she might have just stayed on with her Perodua Axia Advance. It's really comfortable, having to only pay off a Perodua Axia on an RM8,000 salary."

"Sister, my husband has been using his Myvi for 14 years. I've been using my Myvi for 10 years. Alhamdullilah, we are now free of our car loans. Not long ago, we bought a home. So now we have a mortgage. Alhamdullilah, we're comfortable and have never faced any monetary issues. We need to plan our own financials properly, sister.
People say that we are stingy as we refuse to change our cars, what our siblings say we just turn a deaf ear on. We are the ones paying after all, we are the ones who will feel the pinch in our pockets eventually. What's most important is that you're not suffocating just to try and pay off your car. They are meant to serve as a form of transportation, which is considered a need. If you buy beyond your means, then that's just desire.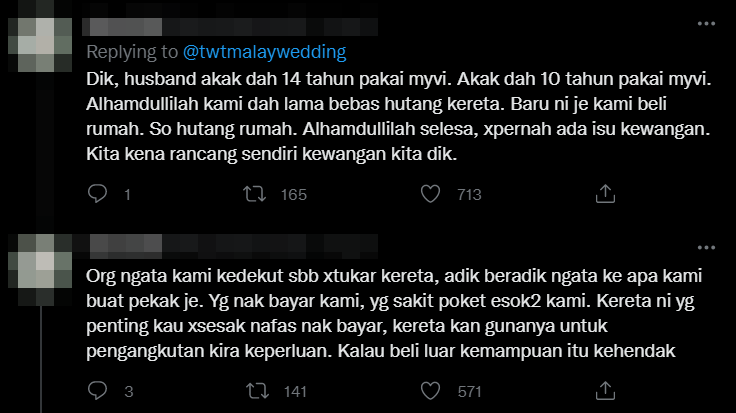 "I have met a woman once when I was selling cars. The woman said that her child only wanted to buy a Myvi, but she told her child to buy a better car. Yaris or whatever, she's willing to support a little. But yet, they only wound up paying RM3,000 in downpayment. I feel bad for the child as they will have to wind up paying a substantially higher monthly repayment. And that's on a contract employee's salary, too."
"Hi sis, I just wanted to share that my brother and his wife used to share his wife's Myvi until they got two kids of their own. Then gradually, he bought a motorbike so he could travel to work. Then after that, he bought a Proton Persona when they had more kids. Now that their kids are all grown up, he has upgraded his Persona to another car. They have even changed the Myvi with another car too. Just take it slow, sis."
Tap here to give us a 'Like' on Facebook and stay up-to-date on the latest news!
Also read: M'sian woman leaves 27yo BF after finding out he 'only' has RM50k in savings, says she 'doesn't feel financially secure'