With the ongoing COVID pandemic leaving many Malaysians feeling the burden of economic slowdown and rising unemployment, many of us are doing our best to make every Ringgit truly stretch. But what if we told you that you may actually have unclaimed moneys waiting for you?
Unclaimed moneys with the government 
Yes, that may actually be the case, as according to Sin Chew Daily, Malaysian finance minister Tengku Zafrul states that Malaysians have as much as RM12.8 billion in unclaimed moneys currently held with the Accountant General's Department of Malaysia for safekeeping. These amounts, known also as Wang Tak Dituntut (WTD), can come from a multitude of different forms, including:
1. Monies that are legally payable to the owner but have remained unpaid for a period of not less than one year.
Examples include:
Salaries, wages, bonuses, commissions, and other payments due to employees;
Dividend;
Profits declared for distributions;
Insurance claims which have been approved for payment;
Bank draft, cashier's order, and other documents of similar nature which validity period have lapsed;
Fixed deposits (without automatic renewal instructions) which have matured;
Tender deposits for which the intended purpose has been fulfilled;
Sundry creditors or sundry debtors with credit balance.
2. Monies standing to the credit of an account that has not been operated in whatever manner by the owner for a period of not less than seven years.
Examples include:
Savings account;
Current account;
Fixed deposit (with automatic renewal instructions).
3. Monies to the credit of a trade account that has remained dormant for a period of not less than two years.
Examples include:
Trade creditors account;
Trade debtors account with credit balance.
How to claim your money via eGumis
In which case, you're probably now wondering just how exactly it is you can check if you have any unclaimed monies still held with the government. Well, you'll be glad to know that you won't even need to leave the comfort of your own home to do so! Forget long queues and parking, all you have to do is log on to the eGumis portal here and follow the steps below:
1. If you haven't already registered for an account, click on 'Registration' in the top right corner.
2. Fill up the requested information as indicated in the form.
3. Once you have submitted your information and activated your account via email, login to eGumis!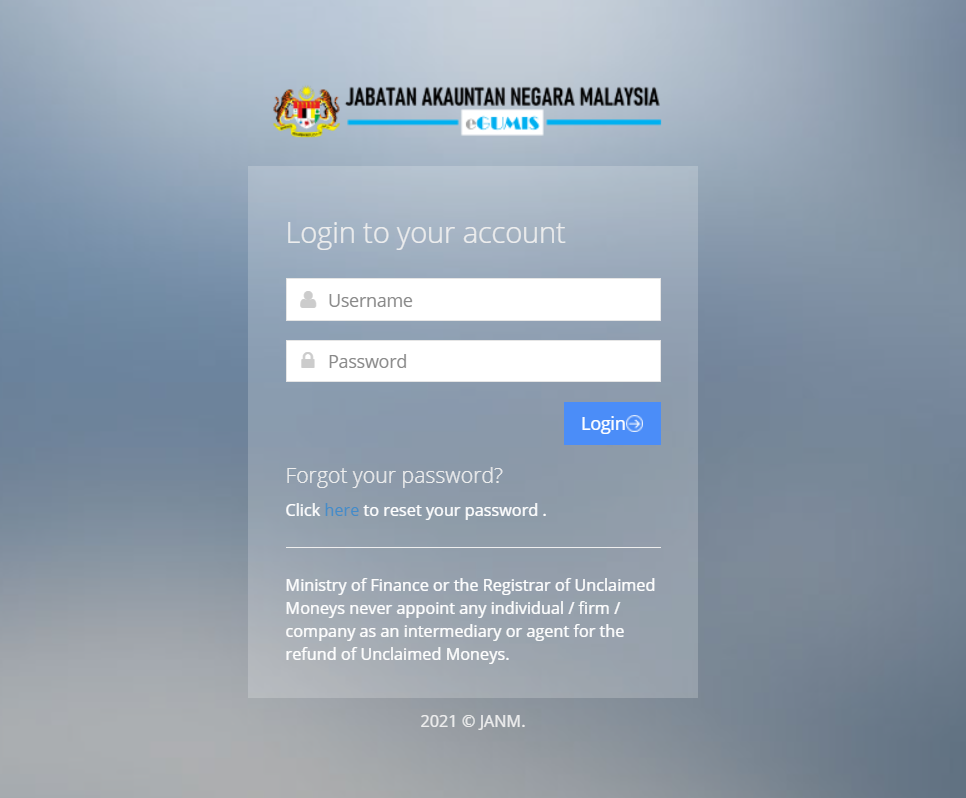 4. Upon logging in, click on the big purple button marked 'Search For Unclaimed Moneys'
5. Input your IC number and hit search!
6. You will then be showed if you have any moneys that are unclaimed.
7. Tick on the amounts that you want to claim, before clicking on the blue 'Proceed to Application' in the lower-right corner.
8. Fill in your details, including your bank and bank account number. Make sure all your information is correct before submitting!
9. You will then be requested to provide supporting documents for your application. This includes a copy of your IC as well as a copy of your latest bank statement as proof.

Once you're all done, hit 'Submit' and wait approximately 30 days for your unclaimed moneys to be wired into your account. It's that simple!
For more stories like this, follow us on Facebook!
Also read: 200% increase in vegetable prices? Domestic Trade and Consumer Affairs Ministry says no such thing.