In a stage where the COVID-19 pandemic is gradually being treated as an endemic virus in Malaysia, the importance of adhering by strict Standard Operating Procedures (SOPs) and maintaining good hygiene habits has never been more paramount. This is especially true of those of us who have begun frequenting communal places such as shopping malls, cinemas, and restaurants, where the risk of transmission can be much higher.
Malaysian Twitter user tests positive for COVID
But part of living in the endemic stage of the COVID pandemic is also acknowledging the fact that the virus is now all around us, and that we may potentially be infected without even realising it. This was the case of one Malaysian Twitter user, who had unknowingly contracted the virus and tested positive later on, but not before having spent the day out and about in various locations.

According to the Twitter user, she had only tested positive on Monday (8th November 2021), after realising that she had exhibited symptoms of the virus. In conducting both a self-test kit and an RTK test with her local clinic, she was confirmed to have contracted the virus.
She listed down the locations she visited as a precautionary measure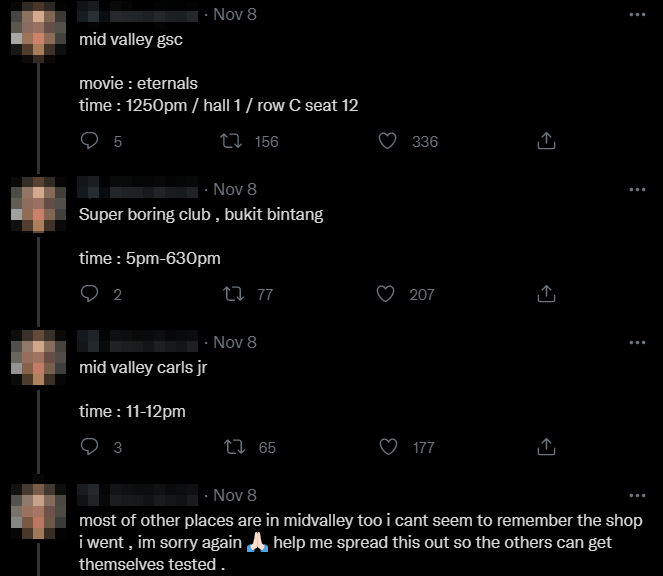 As a precautionary measure, she has taken to revealing that a day prior (7th November 2021) to obtaining her positive test results, she had visited a number of locations around KL with her partner, and had listed them down according to place and time for ease of contact tracing. She had also expressed her deepest apologies for having potentially exposed anybody at these premises to COVID, and urged those who were at the locations to get tested.
The locations and timing, as per her Twitter thread, are as follows:
Carl's Jr, Mid Valley Megamall: 11:00am to 12:00pm, 7th November 2021
Hall 1, Row C, Seat 12 @ GSC Cinemas, Mid Valley Megamall: 12:50pm, 7th November 2021
Super Boring Club, Bukit Bintang: 5:00pm to 6:30pm, 7th November 2021
She also notes that she had visited a number of other places in Mid Valley Megamall, but was unable to recall where. As she was with her partner at the time, she has also included a screenshot of their MySejahtera history for added reference. She mentions that she is fully-vaccinated.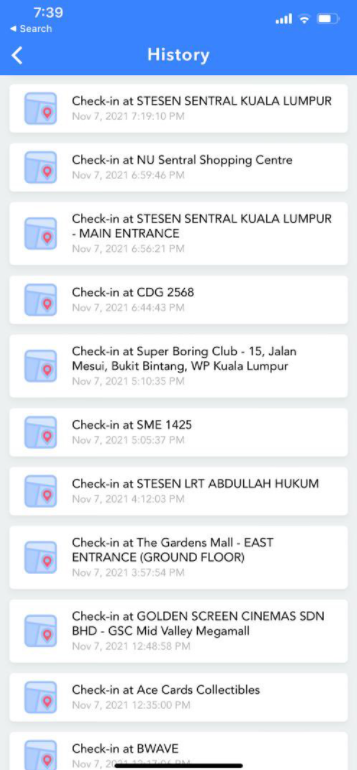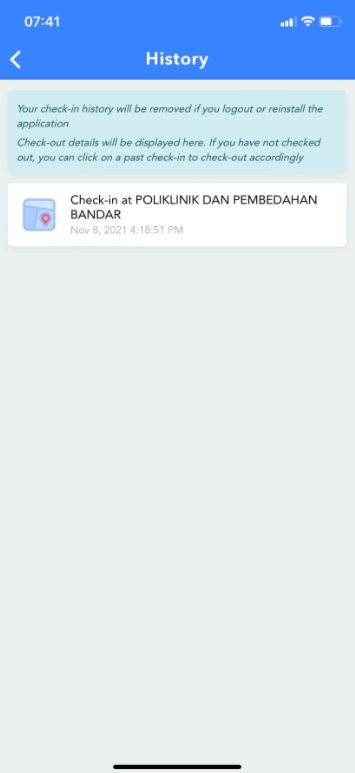 So if you've been to any of these locations at the same time, please do make an effort to get yourself tested! We applaud this young woman for being accountable for her circumstances, and hope that she will make a speedy recovery.
For more stories like this, follow us on Facebook. 
Also read: WATCH: M'sian parents encourage child to respect & treat garbage collectors with kindness