As children grow into adults, many tend to focus on their careers or building a family of their own. And while there's nothing wrong in doing so, it is also worth remembering to keep our aging parents in mind as well, and spend as much time as we can with them while we still have the chance to.
After all, it's always the little things that we often take most for granted, and only lament their loss when they're well and truly gone.
Lady diner approached a netizen's mum and asked for a hug
LinkedIn user Anis Ramli shared the heartbreaking story of how a stranger approached her mother and asked to hug her. At the time, the editor was having a meal with her parents at Petaling Jaya where the family, especially Anis' mum, had been thoroughly enjoying the food.
All of a sudden, a woman noticed how Anis' mother was dining at the table, and decided to curiously approach their family.
"Auntie, I really enjoy seeing you eat. You really enjoy, ah," the lady said.

"Ya, ya. The food was good. That's why I enjoy it," Anis' mother replied.
The lady seemed to be happy to see Anis' mother eating well, which then prompted her to ask the mother an astonishing request.
"Auntie, sorry but can I hug you?"
After hearing her question, Anis' mother was taken aback but recovered quickly and said yes. While she gave her a big hug, the lady suddenly burst into sobs in the embrace.
She then revealed that her own mother is now 93-year-old and she requires tube-feeding to survive. She said that Anis' mum reminded her of how her mother also used to eat like that.
"That's why I enjoyed seeing you enjoying your food and eating.

I remembered my mom," the lady said in between sobs.
Netizens shed tears over the lady's story
Her post has garnered a total of 7.3k likes at the time of writing, with many netizens commenting that they relate to what the lady was going through. A lot of them mentioned that their loved ones are also in their golden years, while some had already passed away.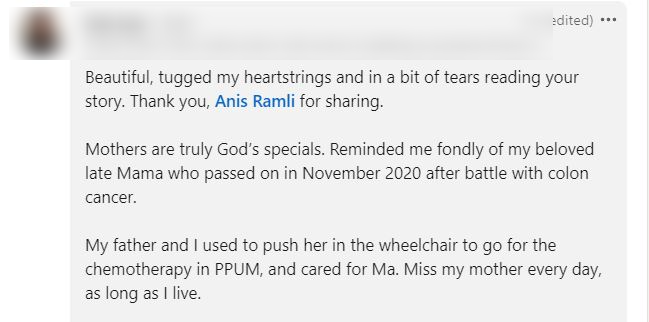 A few of them furthermore commented that this is the true form of unity Malaysians should be going after, and they commended both the lady and the mother for cheering each other up despite the difference in their ethnicities.

It should be a top priority to take care of the ones you love and make as many memories as we can with them, especially our parents, as time is always fleeting.
Tap here to give us a 'Like' on Facebook and stay up-to-date on the latest news!
Also read: Subang single mother selling fruits by roadside to survive appeals for public help to support son with kidney disease