Cases of cybercrime and identity theft are on the rise with the surge of digitalisation over the past years. And while they may have overshadowed the fact that snatch theft and robberies still exist, though not very often nowadays, it is also just as important to be wary of such instances. More so now, especially when it may appear that the tactics used by snatch thieves have become more creative as alleged by this Facebook user.
A possible new yet revolting snatch theft tactic
Facebook user Michelle Tan took to social media to share a terrifying experience that happened to her mother. Her mother's car's door handle was apparently smeared with some dog poo which she believed to be a set-up for a snatching. 
On August 13, Michelle's mother was working late at Melaka Raya with her meeting ending at around 11 pm. Her colleagues then decided to go for supper while she chose to return home.
When she approached her car and opened the door, she was shocked when she realised that the door handle was rubbed with dog faeces. She looked around to see if the culprit was nearby but the street where she parked her car was quiet with no people around. 
Michelle's mother felt something was amiss, and instead of cleaning her hand or door handle, she jumped into her car immediately and drove off. 
"My mom was worried that a snatch thief would suddenly attack, so she quickly entered her car and locked the door. She decided to wash off the poop from her hands and door handle at home instead," Michelle wrote in her post. 
She warned her followers to be careful of this newly-discovered theft tactic if they often visit Melaka Raya. 
"These thieves will take advantage of the time when you are cleaning the poop off your hands and door handle to come up from behind and rob your belongings."
The situation has left Michelle and her mother speechless. She furthermore revealed that her mother still could not get rid of the odour no matter how many times she washed her hands. 
Netizens distressed by this "sticky" situation
The post amassed 315 comments and 1.5k shares, with netizens praising the mother as vigilant. 
"Thank goodness your mother was alert enough."
Some shook their head at the fact that these snatch thieves are coming up with more cunning ways of tricking unsuspecting victims. 
"Even snatch thieves are thinking of new tricks… Great."

"We have to be really careful, especially girls who are alone outside. If can, try to find a friend or family member to accompany you for safety measures."

One of them even shared a similar experience which also happened in Melaka. 
"A few months ago, my husband parked across a hotel lobby and we went inside to check-in. After dropping our luggage off, we were going to fetch our car to head over to Jonker Street, but then we realised that someone spat on the passenger seat's door handle. I don't know if this may be a similar snatch theft tactic, but I was just grateful that I noticed it right away. My husband tried asking the hotel for the CCTV footage, but unfortunately, the surveillance camera did not cover that area."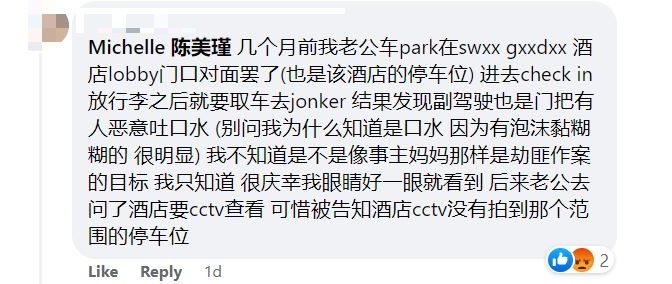 Do take notice of any of these suspicious occurrences so you would not be a victim yourself.
For more stories like this, follow us on Facebook by tapping here!
Also read: Klang man throws himself against oncoming car, escapes when he realises he got caught on dashcam