Much of Kuala Lumpur has been caught in a state of chaos over the past few days after the recent announcement of 16 station closures along the Kelana Jaya LRT line for a period of seven days. And on the day that the closures were announced, pandemonium struck among commuters who were struggling to find alternative routes or means to reach their intended destinations.
M'sian walks 26km between LRT stations after Kelana Jaya line shutdown 
In the case of local netizen @adameji7, this would eventually turn into a 26km journey to get back home, which he took to documenting in a clip that has since gone viral over TikTok. Speaking on the ordeal, Adam explains that he was travelling from the Universiti Malaya campus, which is located in the Petaling Jaya area.
And while the trip back home would have been a relatively straightforward one if he was able to board the LRT at the nearby Universiti or Kerinchi stations, that was far from the case that day. At that point, he then decided to head over to the KL Sentral station from Kerinchi's LRT stop on foot.
"Treat it as cardio, guys." he jokingly suggested.
With a brisk pace, he managed to head through Abdullah Hukum, then Bangsar, before arriving at KL Sentral. Upon his arrival, he described the situation at the transit hub as pure chaos, before boarding the Monorail inter-city transit system to head to Dang Wangi. From that point, he legged it over to KLCC.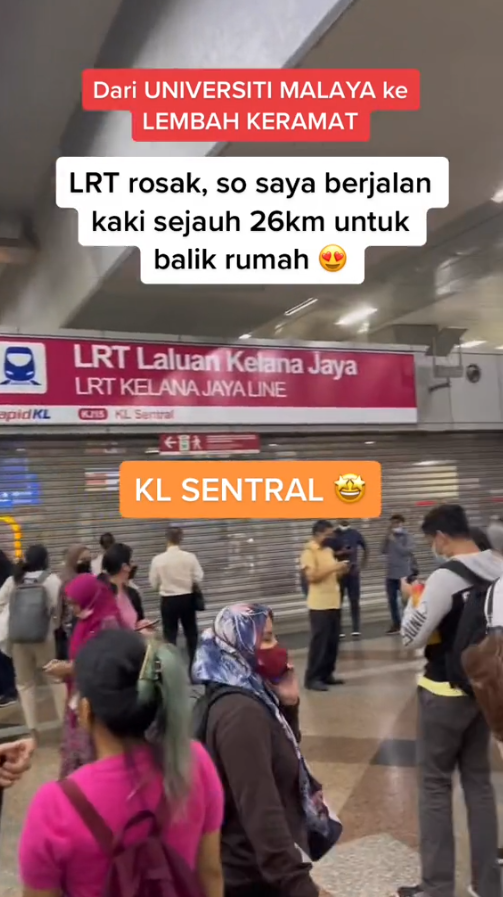 Unfortunately midway during his walk, monsoon-season weather gradually started brewing and a downpour eventually broke over the city, leaving him drenched. Expecting to finally be able to board the LRT at KLCC, he discovered that both the KLCC and Ampang Park stations were both closed.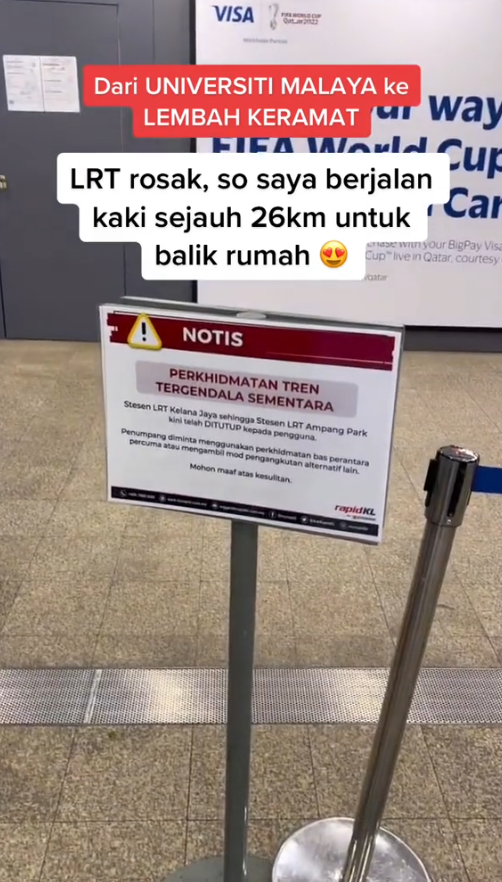 Having walked to Ampang Park by then, Adam then took a bus that dropped them off outside Gleneagles Hospital. Once again on foot, he eventually managed to make it to the Jelatek station, before eventually reaching at his stop. In total, Adam walked a whopping 26km in one trip.
Netizens wowed by his stamina
His video, which has been viewed 441,000 times as of writing, has left many netizens impressed with his stamina.
"You could join a Half Marathon after this! Stay strong, bro!"

"Kerinchi to UM, that's not a problem, I'm used to it. Kerinchi to KL Sentral, you really are extraordinary kid. Do be careful, the route for pedestrians isn't very safe."

"If there are proper sidewalks for pedestrians, I would be willing to walk but that's the problem."

However, others have voiced their frustrations against the management of the LRT system for their lack of concern for commuters.
"It's alright kid. The CEO of RapidKL doesn't ride the LRT, so they won't know how we feel."

Tap here to give us a 'Like' on Facebook and stay up-to-date on the latest news and stories!
Also read: LRT commuters forced to walk to Glenmarie LRT station at 9pm after free shuttle bus drops them along highway