A Malaysian loklok vendor has recently received a barrage of criticism from local social media users, after she allegedly berated customers for snapping skewers that were used to serve various bite-sized ingredients on. This came after she took to expressing her frustrations in a post on the popular Facebook community group KL娱乐站 by sharing a photo of some of the snapped bamboo skewers she found at her stall presumably while cleaning up.
Loklok stall owner berates customers who snap her bamboo skewers 
For those who are not familiar, loklok is a popular genre of street food typically seen in a number of Southeast Asian countries, including Malaysia. Its name can be directly translated from the Cantonese character used to describe boiling. As the phrase suggests, loklok is similar to steamboat in the sense that diners are meant to select from a range of food ingredients such as fish balls or fish cakes served on bamboo skewers, before boiling them in a simmering broth prepared by the proprietor.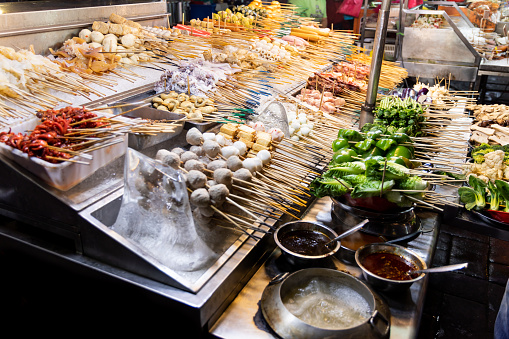 As an unspoken rule, some diners will chose to break these bamboo skewers after eating to prevent them from being reused by store proprietors. This loklok stall owner however, clearly didn't take too well to the practice and in a scathing diatribe, said that she would have to make a point to tell customers to return the skewers to her when they were done with their meals.
"Don't simply break other people's property, as they aren't free, they cost money! For those complaining about hygiene, may I ask you how often you will wind up sucking on the skewers?"

"Isn't it normal to just set the skewers aside after you've bitten the fishball? Since when do people start biting on the skewers? Nobody does that, ok!" she said.
'Do you smash the pots after finishing your meal at a steamboat restaurant?'
The proprietor then goes on to ask if these customers also make a habit of shattering the pots belonging to steamboat restaurants or breaking the cutlery of Western restaurants after their meals to prevent future diners from reusing them.
"Please don't break our property! We are just a small business!" she reiterated.
The photo she uploaded alongside her post also included three captions sharing similar sentiments.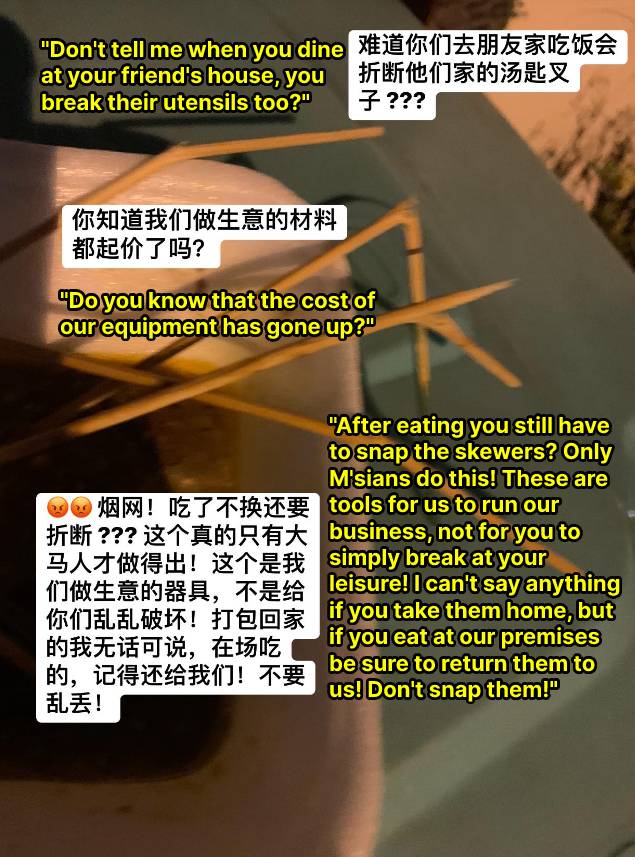 Netizen reactions have been swift, with many condemining the owner for her lack of concern regarding the hygiene of her establishment.
"Whatever I paid money for belongs to me. What I want to do with it after is my business. I'm glad so many people are berating you for this."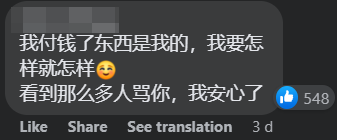 "Do you know the difference between what is a single-use item and what can be reused? You really have too much time on your hands." 
"The whole point of snapping them is so that you can't reuse them again! These skewers were meant to be a single-use item to begin with. To keep reusing them over and over again, don't you find it dirty? Where has your sense of hygiene gone? These are cheap items? Don't be disgusting!" 
"Believe it or not, some people use those skewers to pick their teeth after their meal. I know this because the elderly people in my family do that."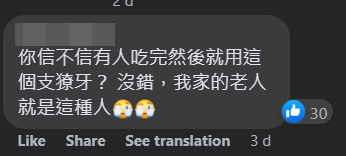 "Business owners like these are funny. Don't tell me the price we pay for satay or loklok doesn't already include the price of the skewers? It's already unsanitary the fact that you reuse it, but do you rebate us the money of the skewers when we return them to you?"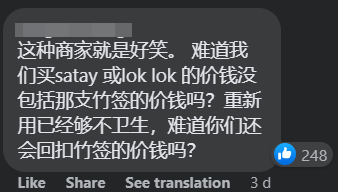 For the latest news and community stories, follow us on Facebook by tapping here! 
Also read: "We had to remove most of his teeth," M'sian dentist shares how patient suffered gum disease due to fake dentures