Malaysia has never been short on talents, that much we all know to be true. From the sporting arena to the global entertainment, as well as in fields of science, engineering and beyond, many of our local talents have graced the world stage and brought pride to the nation. And this has once again proven to be true in the case of a local private karate team who brought home Malaysia's very first gold karate medal in a world championship event!
M'sian team scores country's first ever gold medal in a global karate championship 
As reported by Free Malaysia Today, the nine-member team had travelled on credit from a local travelling agency to Lyon, France, to participate in the French Karate International Open. Led by president of the International Okinawan Shorin-Ryu Sei-bu-kan Karate Do Association of Malaysia (IOSSKAM), Minalochuni Pathmanathan, the team had initially faced difficulties in accumulating the required funding to compete abroad after facing discrimination from some local organisations.
The international meet, which was also participated by teams hailing from 12 other countries, including India, Japan, Ukraine, Romania and Italy, saw the Malaysian contingent making a successful splash, with each of the nine members bagging at least one medal for themselves.
"The icing on the cake was the gold medal won by 17-year-old Nivashini Sivaraman in the Kata category for the 15-17 age group. I believe this is the first ever gold medal in a world karate championship for Malaysia," she told FMT.
26-year-old Minalochuni cited the team's fierce determination to succeed, as well as their collective team spirit and discipline, as the main pillars behind their success at the championships. She adds that the team had managed to raise only RM18,000 in total ahead of the competition when they needed four-times the amount to participate.
"They said they did not have the confidence as the team was too young and also being managed by a woman.

We only managed to raise about RM18,000 when we needed four times the amount. The team has proven them wrong,"
Faced discrimination & empty promises from local sponsors
In fact, some sponsors had even left them empty-handed with hollow promises, leaving the team with little choice but to scrape together personal funds while taking out loans to finance the trip. Local airlines had also turned them down, citing the challenging economic climate. Thankfully however, Turkey's flag-bearing airline, Turkish Airlines, offered to fly the team out on credit.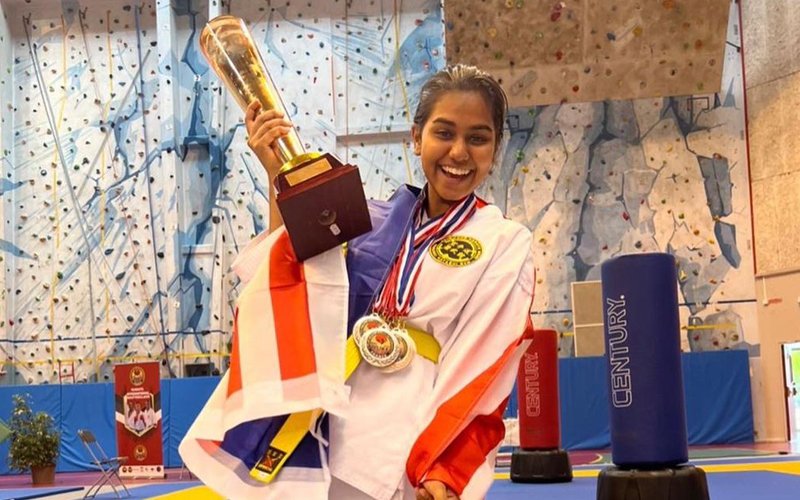 Team manager A. Yasodharan took the opportunity to thank the Malaysian Indian Congress (MIC) for their contribution of RM10,000, as well as the local travel agency that they had liaised with who paid for their travel expenses in advance. The team was due to return to Malaysia yesterday (11th May 2022).
The winners are as follows:
Nivashini Sivaraman: Gold in Kata Female Junior;
Thavanishwary Muniandy: Silver in Kata Female Junior, bronze in Kumite Female Junior;
Praveen Elancheran Dharmalingam: Silver in Kumite Junior Male, and Male 70kg and above;
Shachiidanantha Guberan Pathmanathan, Mugeshvaran V. Ganesh, Praveen Elancheran Dharmalingam, Prakash Muhammad Arjuna: Bronze in Rotational Team Kumite Male Open
Paveedra Devi V Ganesh, Nivashini Sivaraman, Thavanishwary Muniandy: Silver in Rotational Team Kumite Female Open
While many Malaysians have congratulated the team for the win, they have also criticised the Malaysian government for their inaction regarding the team's funding situation.




Tap here to give us a 'Like' on Facebook and stay up-to-date on the latest news!