Small good deeds are rare these days, but they never fail to leave a big impact on others. There is no need for big gestures, for example jumping in front of a train or chasing after a thief, just a simple act of kindness such as returning a missing wallet would do.
Losing a wallet inside the taxi
Facebook user Joan Chong recently encountered a kind act when she and her husband were at Johor Bahru and the latter lost his wallet. They were enjoying their meal at Johor Bahru Kam Long Curry Fish Head, then decided to shop at Paradigm Mall. The two former Johoreans were about to hail a Grab, but they came across a line of taxis and decided to ride in that instead.
After reaching their destination, the husband Fedtrick Chua took out his wallet to pay for the fare and went on their way into the mall. However as they were about to enter the first shop, Fedtrick realized that he had dropped his wallet in the taxi. Therefore, the couple quickly returned to the drop-off, but unfortunately, the taxi had left.
Both Joan and Fedtrick were unsure what to do, then they decided to hail another cab to go back to their original pick-up point and try their luck at finding the first taxi there. Inside the car, the second cab's uncle asked them what was the first taxi's license plate number, but they replied that they did not notice it. Next, he asked whether the roof topper was red or white, but they were also unaware of that.
"I could feel the uncle was about to take off his slipper and hit us with it, but that did not happen because he was wearing covered shoes," Joan joked about that comedic moment.
On their way back to the pick-up point, Fedtrick took the time to make some calls to cancel his bank cards.  After 15 minutes, they reached the curry fish head spot, but much to their dismay, the first taxi was not there.
The driver drove over 30km to return the wallet
The couple then returned to Singapore to lodge a police report to report the missing wallet and identity card. When it was their turn at the counter, they were already halfway through the report when suddenly, they received a call from their neighbour claiming that there was a taxi driver here returning a small green wallet.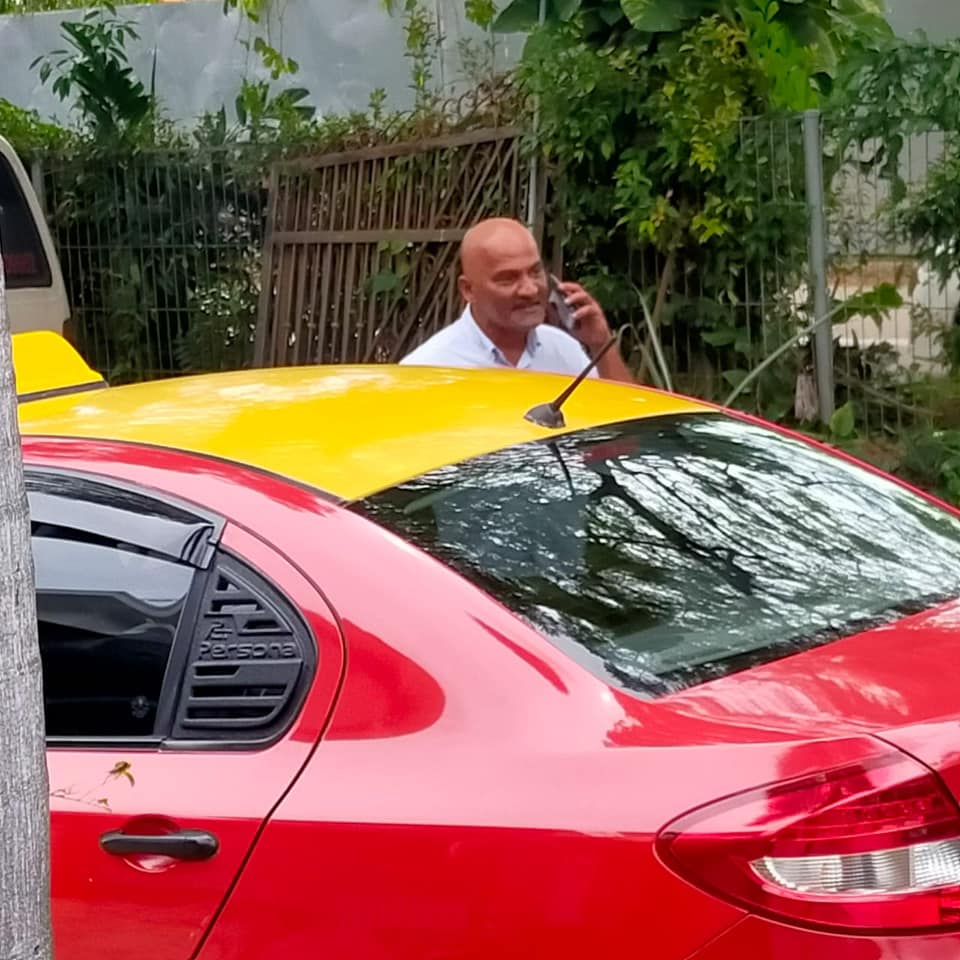 After that, the driver called Fedtrick upon asking the neighbour for his phone number and informed him that he has his wallet. Fedtrick then asked the driver to pass the wallet over to the neighbour for safekeeping.
"We were so touched because the taxi driver drove all the way from Johor Bahru to our address on the identity card, just to return us the wallet," Joan wrote.
The incident motivated Joan to share this heartwarming experience on Facebook to commend the taxi driver for his kind act, and to prove to her friends and family that there are still good people in this world.
"That uncle has saved us from a lot of trouble, so we are truly grateful to him."
Tap here to give us a 'Like' on Facebook and stay up-to-date on the latest news!
Also read: Kind M'sian woman taps her T&G card for Honda driver who was stuck at toll booth so they could pass