Where employment is concerned, there are a number of jobs that are fall into a category known as the 3Ds, namely: dirty, dangerous, and difficult. And in many situations, there are those in society who continue to hold misguided preconceptions concerning these jobs and the people who make an honest living from them.
Malaysian shares his experiences working as a garbage collector in Singapore
However, one Malaysian man has since spoken up about his decision and experience working in one of these jobs. Meet TikTok user @ezzaiky7, who works as a garbage collector in the neighbouring city-state of Singapore. And just recently, he has gained attention from across the local social media space after he had revealed his average income from his work cleaning out garbage bins day-to-day.
In one video which shows him dutifully clearing out rubbish bins into a trash compactor truck, an audio clip from a newsreader segment can be heard explaining in Malay that public sector workers such as cleaners and garbage collectors who were working in Singapore could earn anywhere between RM6,000 to RM9,60.
"As such, many locals in Malaysia are now seeking to cross borders in hopes of earning a higher income by ways of Singapore Dollars.

But it isn't easy, as they have to face a number of challenges." the newsreader adds.
Despite the stigma with his job, he says he is not ashamed
Of course, a number of social media users have taken to pointing out that due to the current conversion rates, his salary would naturally be much higher compared to what he could earn working in the same position here in Malaysia. Cordially responding to one such comment, he said that in the case of Malaysia, those who are capable of earning high salaries are often highly educated, whereas he was not.
"If you know of any jobs that pay well, let me know. I'd want that too, to be able stay in your own country while earning RM8K, RM9K, RM7K.

I know livelihoods can be made anywhere, both in Malaysia and Singapore, but my fate led me here (in Singapore). So I accept it.

But working here means I need to be tough, I have to face traffic jams and all, no choice. But I can't complain, as I am blessed with a job. So I accept it." he said.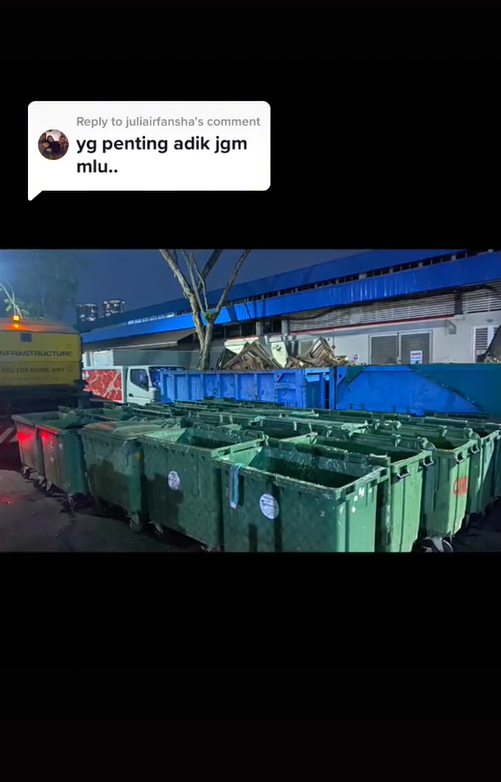 And in spite of the stigmas associated with his job, he remains transparent about the realities of working as a garbage collector, and says he does not feel ashamed of his profession as he too is earning an honest living.
""Our fates are different. Allah SWT has already planned the best for us. As long as we don't steal or ask from others."
According to local paper Sin Chew Daily, the man lives in Johor Bahru and would commute to Singapore on a daily basis. His story comes after Singapore's Ministry of Manpower had announced that a Progressive Wage Model (PWM) wage increase would be implemented between 2023 to 2028 for waste management employees working in the public sector, according to CNA.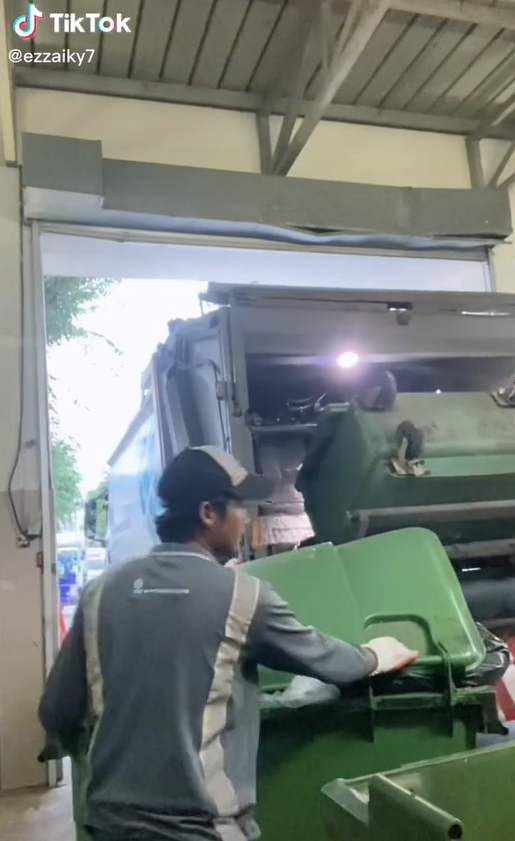 Beginning from July 1st 2023, this will see the gross wages for entry-level waste collection workers who are Singaporeans or permanent residents increase from S$2,210 (RM7,123.54) to S$3,260 (RM10,488.31) by 2028, at increments of S$210 (RM676.90) per annum.
Tap here to give us a 'Like' on Facebook and stay up-to-date on the latest news!
Also read: WATCH: M'sian parents encourage child to respect & treat garbage collectors with kindness