From getting from Point A to Point B, Malaysia's network of highways has made connectivity across the country a little more convenient for those behind the wheel. And it goes without saying that making use of these major expressways often necessitates the payment of a small fee by means of a toll fare. However, that clearly didn't sit too well with one Malaysian driver, who habitually skipped out on paying toll charges.
Honda City driver who skipped toll 59 times held by highway personnel 
The culprit was eventually flagged down and stopped by highway personnel working with Projek Lintasan Kota Holdings Sdn Bhd (Prolintas), who managed to catch sight of the offending vehicle along the Kajang SILK highway on Saturday (October 15th, 2022).
Kali ini, pemandu kereta Honda pula kantoi selepas 59 kali terlepas bayar tol, dgn tunggakan bayaran sejumlah RM256.20 termasuk caj pentadbiran.

Kejadian berlaku mlm tadi di Lebuhraya Kajang SILK. Amaun kerugian telah dikembalikan pada masa & lokasi sama oleh si pelaku. #Kantoi pic.twitter.com/5ttTffmELR

— PROLINTAS Kajang SILK (@SILKHighway) October 15, 2022
Behind the wheel of a white, late-model Honda City, the errant driver was said to have somehow managed to skip on paying their toll fares for a total of 59 times, before their lucky streak was cut short. Upon being held by the authorities, the driver was instructed to immediately pay off RM256.20 in arrears, which also included administrative fees.
The company had also taken the opportunity to remind road-users not to skip out on paying their toll fares, and points out that they routinely carry out operations to keep track on those who attempt to do so.
Netizens demand harsher punishment
And while their efforts to stamp out such behaviour on the road has been met with commendation, some netizens say that these drivers should be met which much higher penalties, or even potentially jail time, for their offenses.
"They should be fined or sent to prison. My car has been tailgated so many times because of thieves like these."
"By right they should be fined 5x times the amount that they owe, then only would it make sense. If they don't want to pay the toll, use other roads. They are endangering other road users by tailgating." 

"Fine them in court."
"Why aren't they slapped with higher fines? For example, 5x times or 10x times the amount they owe. Only then will they realise and repent. Paying off the amount that they owe plus administrative charges that probably cost no more than a few Ringgit."
"Right? They do it on purpose. At least bring his ass to court. Don't they have any Acts for this?"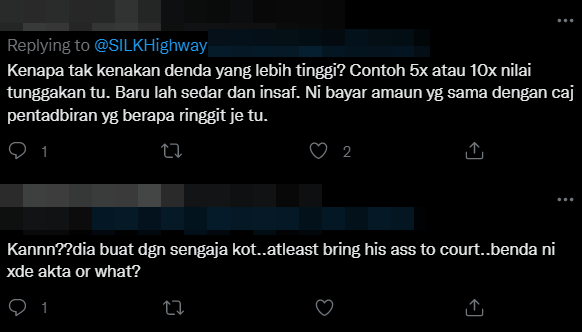 Tap here to give us a 'Like' on Facebook and stay up-to-date on the latest news!
Also read: 2 motorcyclists wait for cars to pay at toll booth so they can pass for free, glares when honked at by driver