Do you have any experience in tossing and flipping roti canai dough? Are you open to the idea of living in Australia? Well if you are, then you may want to consider giving this vacancy with Melbourne-based Malaysian restaurant RotiBar a look! As shared through job listing site Seek 24-days ago, the restaurant is now on the hunt for a 'Roti Canai Chef' given their recent expansion plans, and is willing to pay anywhere between AUD$60,000 to AUD$63,000 per annum for the position.
AUD$60,000 to AUD$63,000 per annum salary for 'Roti Canai Chef'
If you break that down, you'll be looking at roughly AUD$5,000 (RM15,981.69) to AUD$5,416.58 (RM17,313.23) per month. Seek's own salary estimates show that this matches the current market rate offered for chefs working in the Melbourne area, with annual salaries ranging between AUD$55,000 to AUD$70,000.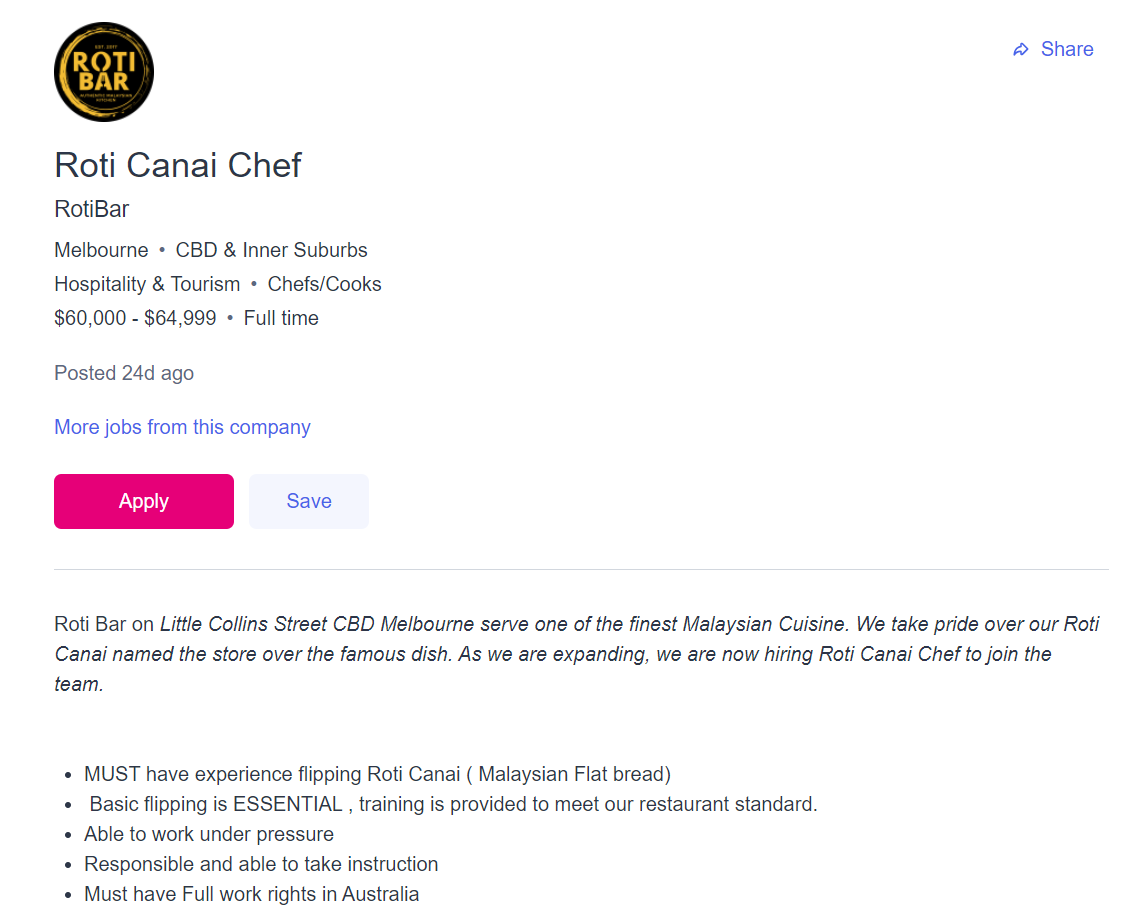 But that's not all! The restaurant will even provide accommodation and staff meals, while also offering potential sponsorships to qualified applicants. According to the listing, candidates should ideally have experience in 'flipping roti canai', a skill which the restaurant stresses as being essential. Given the job scope, that's understandable. Training will be provided to enhance the applicant's roti-making expertise, so that it may reach 'restaurant standards'.
Restaurant is well-received by locals for authentic Malaysian fare
Claiming to serve some of the 'finest Malaysian cuisine' along Little Collins Street, a quick check on their Instagram page shows that they offer a panoply of local Malaysian favourites, including Banana Leaf Rice and even Nasi Minyak Ayam Merah for the Ramadan season this month.
The restaurant owners, who appear to also be Malaysians, have even taken it upon themselves to share local food culture here in Malaysia with Australians abroad through livestream sessions, with one featuring the Canai 15 Cafe located in Petaling Jaya's SS15 neighbourhood where one of their chefs had formerly worked in.
Customer reviews have also been overwhelmingly positive, with the restaurant currently sporting a 4.5/5 star rating on Google reviews. Many have apparently praised the food as being authentically Malaysian.

Tap here to give us a 'Like' on Facebook and stay up-to-date on the latest news!
Also read: SG-themed restaurant in China features waitresses in SIA lookalike uniforms & hilarious menu translations