A couple from Batu Pahat, Johor have become the talk of the local social media space, after it was recently reported by local newspaper Sin Chew Daily that they decided to surprise their daughter with an incredible birthday gift to commemorate her turning 21-years-old. While many of us may be accustomed to birthday surprises with cakes and balloons, the doting parents decided to dial things up to the nines and buy her a bright-yellow Porsche Cayman sportscar for the occasion!
Malaysian parents deliver brand-new Porsche sportscar for daughter's birthday
Instead of just stopping there though, they took another step further and had the lavish present delivered to their daughter's workplace on the back of a lorry, with the car encased in a transparent plexiglass box. Photos and a video clip of the car being delivered outside a local supermarket in the neighbourhood have since gone viral across the local social media space.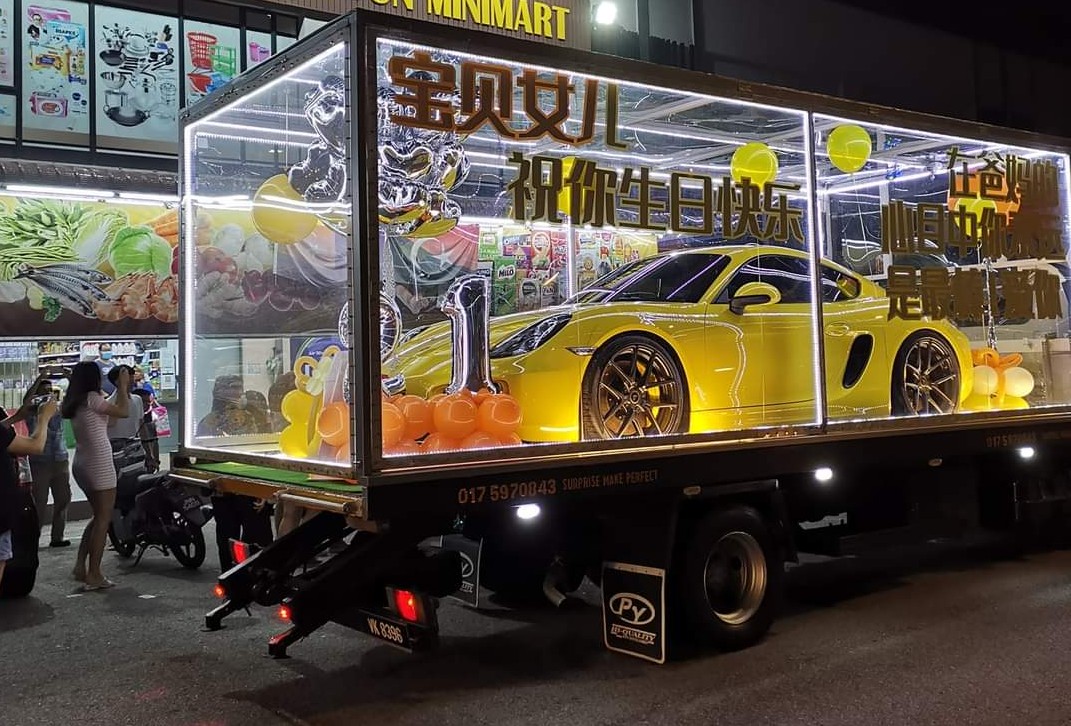 In speaking with the media, the young woman's mother, 39-year-old Mrs Wen (transliteration) explained that they decided to gift their second daughter a sportscar for her 21st birthday to fulfill a promise they made to her when she was a young girl. They never once forgot their promise, and said that they have always been on the lookout for the perfect car for the occasion.
"It was a father's promise to his daughter. And since now that we are capable, we decided to honour the promise." she said.
Gifted it a month ahead of her birthday as an added surprise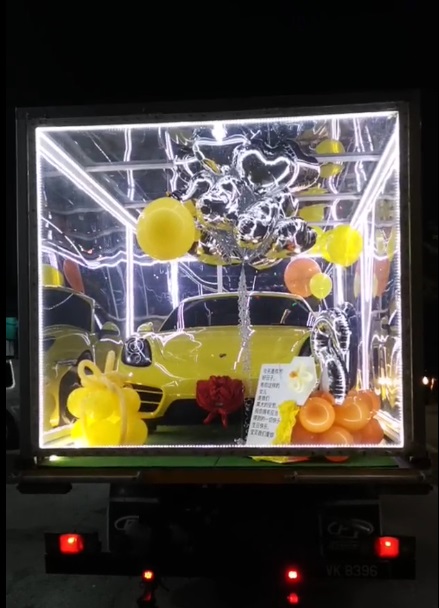 And while her daughter always knew that they would wind up gifting her a sportscar for her 21st birthday, she did not know what make, model, or colour the car was going to be. To add to the surprise, the couple decided to have it gifted to her a month ahead of her birthday.
"Actually, her birthday is in December. But we already selected the car two months earlier, and found it quite suitable for her. So we arranged a special way for it to be delivered to her."
The car would arrive at around 8.00pm outside her workplace, leaving the lucky young woman both surprised and predictably elated. In fact, she was left speechless by the entire gesture and could only hold on to her parents while beaming with joy.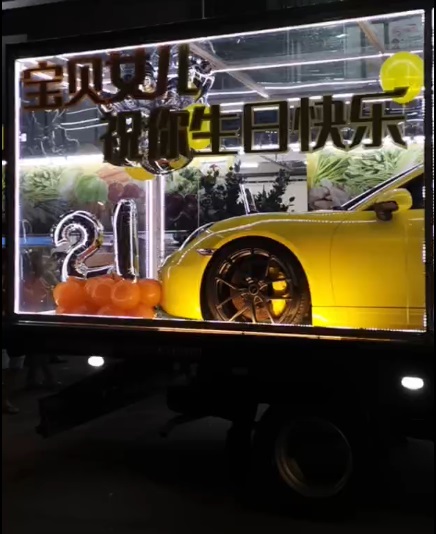 Mrs Wen adds that they have four children in total; two sons and two daughters, and that they treat all of their children equally. Similarly, their eldest son had also received a gift from them on account of him turning 21-years-old prior to this.
The Porsche 718 Cayman sportscar retails for RM555,000 according to the official Porsche Malaysia website.
Tap here to give us a 'Like' on Facebook and stay up-to-date on the latest news!
Also read: M'sian students pool money together to buy their beloved teacher a RM70,000 car for his retirement!