It always pays to be extra mindful of your surroundings when you're out and about. This is especially in light of the new and inventive ways that less than scrupulous individuals may have in attempts to fleece you out of your hard-earned money, or worse. In fact just last week, a Facebook netizen took to warning others of men who are now masquerading as policemen who may accost individuals outside bank teller machines.
M'sian netizen encounters a group of men while making a cash deposit late at night
According to Hao Lu Lee's post, he explained that he had been at a Maybank branch located in Sri Petaling, intending to make a cash deposit. At the time, he had got out of his car and was about to approach the bank outlet, when he noticed three men in plainclothes arriving by motorbike. At the time, only one from the three men entered into the bank, presumably to make a withdrawal. His two other cohorts waited outside the bank.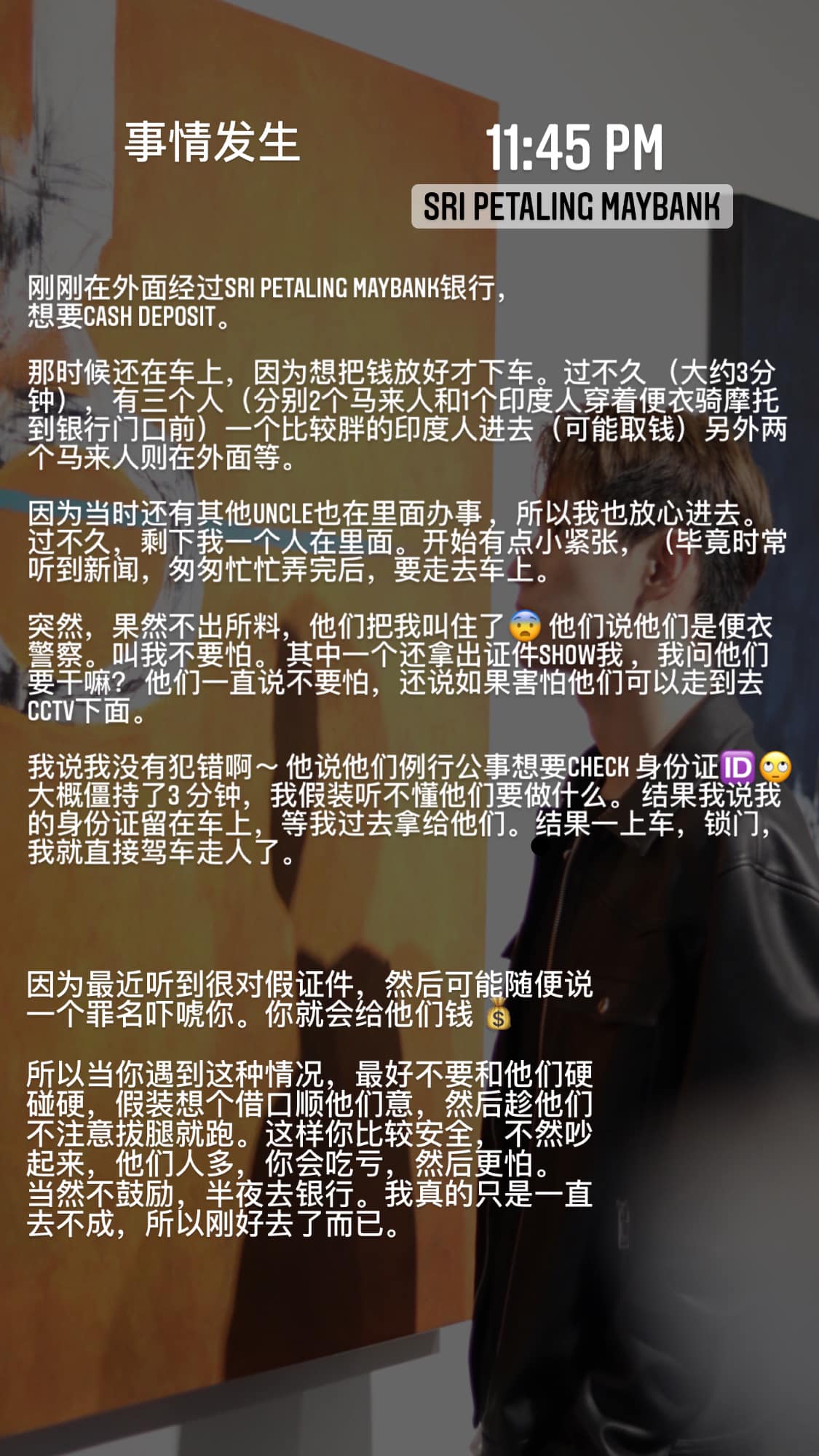 Thinking nothing of it, especially since there was another 'uncle' was also in the same bank minding his own business, Hao decided to head in all the same. But after a while, he noticed that he was left alone with the suspicious man. Not one to linger, he said he made a point to finish his business in a hurry before trying to head back into his car.
The group of men stopped him and claimed to be plainclothes policemen
But as he had expected, the group of men stopped him from entering his own vehicle, claiming to be plainclothes police officers.
"They even showed me their paperwork and told me repeatedly not to be afraid. I asked them what business they had with me, but all they told me was not to be afraid.

They even told me that if I had any concerns, they could all stand in full-view of the CCTV." Hao added.
Knowing that he had not committed any crime, he proceeded to state his innocence. But according to one of the men, all they had wanted to do was a routine identification check and requested for Hao to show his I.C.
"I pretended not to understand what they wanted me to do at first, before telling them that I left my I.C. in my car and had to go and retrieve it.

But the very moment I entered my car, I immediately locked my doors and drove off."
Hao warns netizens to be wary of such incidents, and to leave immediately if possible
Hao further goes on to claim that one of the latest schemes employed by criminals is to approach unsuspecting victims as 'plainclothes police officers' asking for identification, before accusing them of committing a crime and demanding for a bribe after.
He advises those who find themselves in the same situation as he did against confronting the men and instead, to find an excuse to play along with their charade before seizing an opportunity to escape when they do not notice.
"It is safer that way. If it comes down to a quarrel, they will always outnumber you and you'll wind up losing anyway."
But of course, the best way to avoid running into situations like these would be not to make late-night trips to the bank to begin with, Hao concludes. Understandably, the experience has left many netizens more cautious than before, with many glad for the fact that Hao made it out safely.
"Thank you for sharing! Next time, it's probably better not to visit the ATM in the middle of the night. It really is very dangerous."
"Thank you for sharing. Luckily, you didn't wind up losing any money from the incident. We really have to be careful. If we can avoid going to the ATM late at night, that would be for the best."

"Policemen don't go to ATMs to conduct random checks. It's probably advisable not to deal with them."

For more stories like this, follow us on Facebook by tapping here!
Also read: Two robbers break into Klang 7-Eleven store & blow-up ATM machine to steal cash, local police now on the lookout