For many young adults, the prospect of owning, or at least renting a space of your own can be plenty exciting in its own right. And while many of us may be caught up in the thrill of apartment or house hunting, it is worth keeping in mind that there are always unscrupulous, opportunistic individuals who are looking to take swindle prospective tenants out of a quick buck.
M'sian netizen gets scammed while looking for a room
Unfortunately for Twitter netizen @amirahqisthinx, this is exactly what had happened after she had been searching for a new room to rent before encountering a promising listing that was uploaded to popular local classifieds marketplace, Mudah. According to her post, Amirah explained that she had contacted the owner of the apartment to ask if the room that was being listed was still available for rent.
The story of how i got scammed. This is just one of my ways to spread an awareness to everyone. Hope everyone stay safe and always take extra precautions. pic.twitter.com/W76HoQ9ajQ

— qisthina🅰️ (@amirahqisthinx) June 12, 2022
The alleged owner of the property proceeded to reach out to her using a number that was different to the one listed on the listing, claiming that she had faced technical difficulties with the previous one. Sensing nothing amiss at the time, Amirah proceeded to strike up a conversation with the other woman, hoping to learn more about the listing in question.
"At first, there was nothing too fishy about the scammer and we talked nicely. Then it came to the deposit part."
Scammer introduced herself as a doctor to gain trust
After the usual round of questions such as her preferred move-in date, the 'owner' of the property introduced herself as an alleged former neurosurgeon attached to the University of Malaya Medical Centre, and claims to still be practicing medicine. In hindsight, Amirah said that she could have brought this up in order to gain trust with prospective tenants.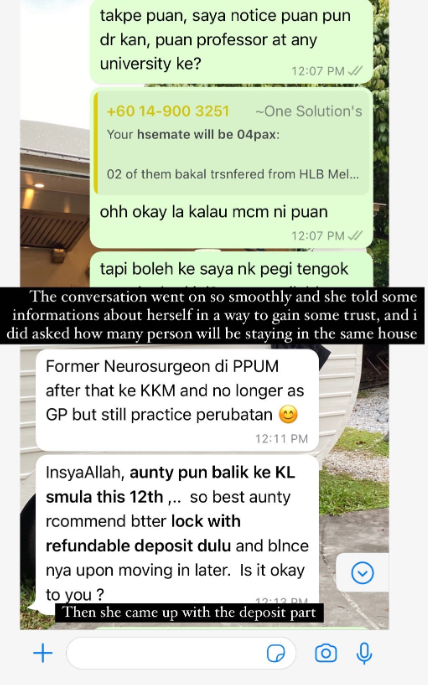 She was then asked to secure her interest with the room by placing a 'refundable deposit' ahead of time, with the balance to be paid upon her moving into the room. While she did find the request to be puzzling as she hadn't even had a chance to view the room in person, Amirah agreed as she was in fact trying to find a new place to stay.
"The price was well within my budget, so I said 'yes' (my mistake)."
Left waiting for almost an hour on the day of the viewing
Upon the agreed day of viewing, she was told by the 'owner' to wait outside the apartment for her arrival. However after almost an hour of waiting, the 'owner' never once showed up and ignored her calls and text messages, cementing her suspicions that she had been duped by a scammer.
According to Amirah, checks on the scammer's contact information showed that they were also running other businesses, such as selling clothes and even Haji pilgrimage packages, both of which she suspected to be other means of scamming prospective buyers.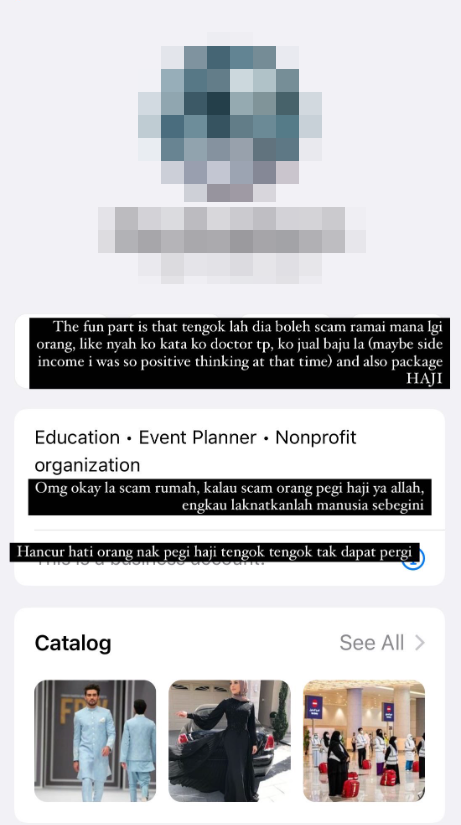 As a consequence of her experience, Amirah wound up losing over RM900, which while may sound like a negligible amount for some people, can prove to be a large sum for those who are just beginning to join the workforce.
Tap here to give us a 'Like' on Facebook and stay up-to-date on the latest news!