As children, many of us are brought up to remember the importance of filial piety, especially in the case of those of us who have elderly parents to care and tend to. After all, given all that they have sacrificed to ensure that they can put food on the table and a roof over our heads, the least we can do as our parents grow older is to care for them as they have for us, and afford them with the same respect and dignity that they deserve.
M'sian netizen catches woman yelling at her elderly mother over a spilt drink
However, Malaysian netizen @ev.4444, otherwise known as Aifaa Evafazreen, took to sharing a rather disconcerting encounter between a middle-aged woman and her elderly mother on her Instagram Stories, after running into them both outside Masjid Dato' Klana Petra in Putra Nilai yesterday (28th February 2022). At the time, Eva had been visiting a vet from across the street when she had caught wind of the commotion.
According to her, the altercation had involved a middle-aged woman who was apparently the owner of the car, and her elderly mother. In speaking with Wau Post, she adds that the middle-aged woman also had her children with her at the time.
"This woman literally shouted, like she looked like she was in her 50s. So imagine if she was in her 50s, how old must her mother have been?

"Anyway, she literally shouted at her mum in public in front of a mosque, and everyone was watching." she said.
Completely defenseless, all the elderly woman could do was sit in silence as she was berated over the mess she made.
Even resorted to using expletives to scold the elderly woman in public
Apparently, the entire argument had been set off after the woman's elderly mother had accidentally spilled a drink in the woman's car and created a mess. Eva points out that the elderly woman appeared frail, and had to rely on the aid of a walking stick for mobility.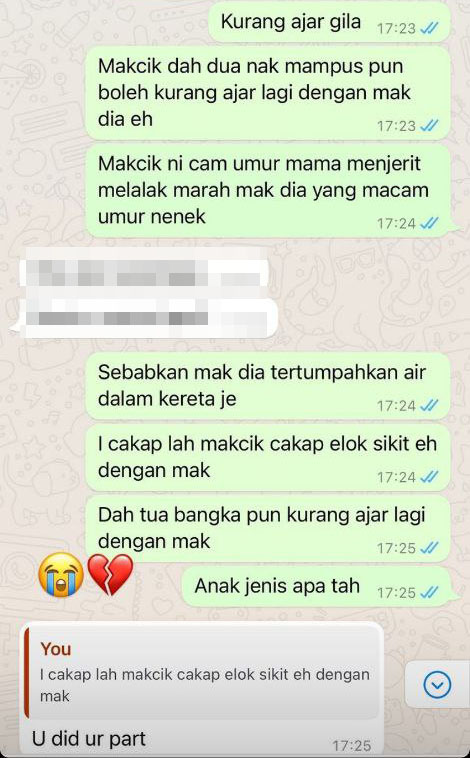 And despite the fact that Eva had attempted to dissuade the woman from yelling at her own mother, the woman ignored her chiding and had even used expletives in her verbal tirade directed at the elderly senior citizen. What's more, before leaving the scene, the woman even littered on the street by leaving the spilled drink by the side of the road before driving off.
Shaken by the incident, Eva said that regardless of what might have transpired between them, the woman should not have resorted to yelling at her own elderly mother over such a trivial matter, more so in public where it eventually turned into a spectacle.
For more stories like this, follow us on Facebook by tapping here!
Also read: WATCH: Kind food delivery riders stop to clear traffic & escort old lady across a busy street, wins netizens' hearts