For many couples, wedding ceremonies are often meant to be the most tangible expression of their union between one another. Which is why it is understandable why so many newlyweds are willing to go the full nine yards to ensure that it would be truly a moment to remember for a lifetime, whether it be by organising destination receptions, or getting creative with their wedding photographs.
Interracial couple celebrate wedding with cross-cultural customs 
For one Malaysian couple, they decided to make their wedding ceremony all the more memorable by incorporating a mixture of cross-cultural customs that would best reflect their own respective heritages, while celebrating the love that they shared together. As reported by local paper Sin Chew Daily, the wedding between Selangor-based Amin and his wife, Chen, from Miri, has delighted Malaysians throughout the country for showcasing unity among locals.
Travelling all the way to East Malaysia where the wedding ceremony took place, Amin adopted many traditional wedding customs such as travelling to the bride's family home to pic her up, and serving tea to the bride's family in a traditional ceremony.
The couple were also seen dressed in traditional wedding garb, which Amin's wedding entourage did all the same. What's more, Amin even addressed Chen's family in Mandarin, and belted out the Teresa Teng classic, 'The Moon Represents My Heart', much to the family's delight. And of course to top things off, a lion dance was held to mark the happy occasion.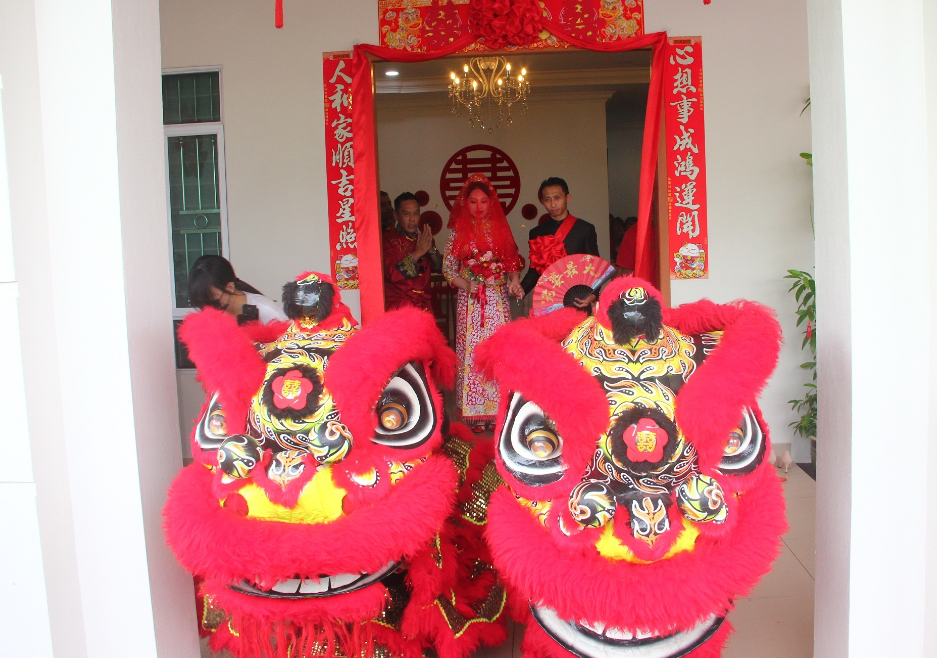 Their union was initially met with hesitance
In speaking with the press, Amin explained that they already held a traditional Malay wedding back in Selangor with his family, and were now celebrating their union with a Chinese ceremony with Chen's. Initially, the couple had met at a gym when he was practicing wrestling, and she was training in Muay Thai. They eventually started dating and grew close over a period of five years.
Their relationship was initially met with some hesitation from Chen's mother, who did not approve the prospect of an interracial relationship at the beginning and took three years to warm up to the idea. However upon inviting Amin to join their family for the Lunar New Year celebrations in Miri for two weeks this year, she came to find that her son-in-law to be a kind and warm-hearted man with a good character, and blessed the couple's relationship.
Chen's father, who used to work in Brunei, said that such interracial marriages were common there and was not opposed to his daughter's relationship. In fact, he adds that such marriages may help build a stronger nation by promoting integration between communities, and that what is most important is that the couple remain happy and care for one another.
Tap here to give us a 'Like' on Facebook and stay up-to-date on the latest news!
Also read: Johor Chinese couple celebrates wedding with Malay-styled kenduri, wins hearts for showing M'sian unity