Connecting both Malaysia and Singapore together, the Tuas Second Link is perhaps one of the busiest Causeways, second only to Woodlands in the country. And that comes as no surprise, given the amount of people from both nations who often cross between borders for work and leisure alike. With that being said, the Tuas Second Link has also been recently put under the spotlight after a rather infamous traffic incident that has spawned equal amusement and derision on both sides of the Causeway.
Woman encounters unruly M'sian man at Tuas Second Link
And it looks as though yet another such occurrence is set to do the same after a Malaysian man was recently seen confronting a female driver along a stretch of road leading to the Second Link. In a series of dash-cam videos that was shared by netizen Joanna Loh to her Facebook page on Saturday (August 6th 2022), she explained that traffic was especially heavy last weekend due to many Singaporeans taking advantage of Singapore's National Day holidays to spend some time in Malaysia.
Leaving home at seven in the morning, they managed to eke past the Tuas checkpoint at eight before being caught up in a four-hour congestion. However while behind the wheel, they eventually encountered a Malaysian man trying to maneuver his car into their lane. Pointing out that he wasn't using his signal indicator at the time, Joanna said that she wasn't obligated to give way to him.
"But if you had been polite, we would have let you cut into the line." she adds.
Flashed his passport at her before pointing at his M'sian numberplate
Seemingly angered by the fact that he wasn't able to properly merge into the lane due to Joanna's car, the man in the graphite Honda proceeded to then wind down his window before flashing his red Malaysian passport at her.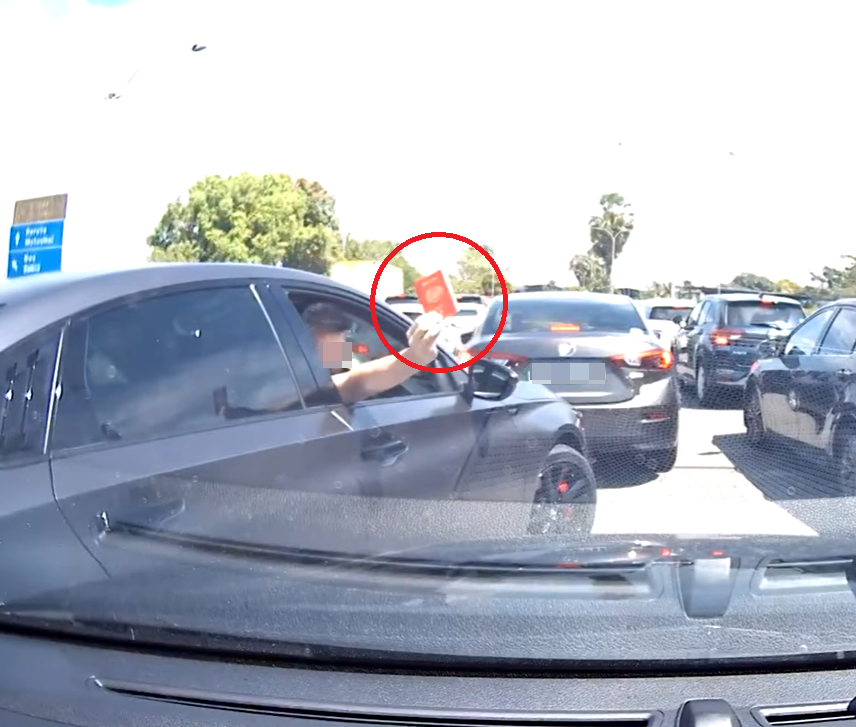 In a subsequent clip, he then proceeds to stop his car completely, holding up the roadway ahead, before getting down to point at his Johorean numberplate and show his smartphone as though he were issuing a warning.
"Did you decide to bully us because you saw only two women driving a Singaporean registered car?" she asked.
Joanna adds that both she and her sister were in fact Malaysians as well, and expressed how ashamed she was of the man's behaviour, which reflected poorly on other Malaysians as well.
Netizens from both sides of the Causeway react
Her post has since gone viral across local social media, with many users mocking the man for showing off his passport after cutting in line.
"So this is how you use a Malaysian passport."
"Who said that the Singaporean passport is the best? Malaysian passports are even more powerful. You can use it to cut queue anywhere."
"The next time I cut queue, I'm going to show my passport too."

One has advised her to leave it in the hands of the authorities should anything untowards happen.
"Miss, the next time you encounter with people like this and they hit your car, just leave it to the insurance company to settle. Let's see who winds up with a headache after. Just take photos and keep it as evidence. If he knocks into your car while cutting queue, that's his fault. Plus, you have video evidence to prove it."

Another speculates as to why he flashed his Malaysian passport.
"The way he flashes his passport, if not mistaken I think he might have seen the rightmost lane which is marked 'Lane Malaysia Kereta Sahaja' (Lane for Malaysian cars only), which is why he tried to drive towards it. What he didn't know was that Malaysian cars can drive on any lane. Must have been his first time driving through customs."

One netizen even drew comparisons between this and a separate viral incident involving a woman and her son, which also occurred on Tuas.
"He's about to turn into that woman in the red car."

Tap here to give us a 'Like' on Facebook and stay up-to-date on the latest news!
Also read: Woman and son involved in viral 'license plate' road rage incident on Tuas Second Link arrested by M'sian police