On August 16, Twitter user Farah found the courage to share how she experienced sexual harassment during her university life when she was asked by her lecturer to answer obscene research questions which covered masturbation and other sexual experiences. Many students also approached her, revealing themselves to be victims of the same scheme orchestrated by the lecturer.
Recently, her case has resurfaced as she received a letter from her perpetrator, demanding a public apology. 
A letter of demand for public apology or a lawsuit will be filed
Farah wrote an update on Twitter stating that the lecturer has apparently sent her a letter of demand claiming a public apology from her. The letter addressed the previous issue and the Twitter thread written by Farah, stating that they will file a lawsuit against her over alleged defamation. 
Lepas 1 tahun lebih kes ni . Baru harini ada keberanian nak cerita dekat public. Selamani diamkan diri serahkan semuanya dekat polis&uitm. But till now still nothing. pic.twitter.com/25e9b7qdeR

— Farah azuin (@awwinnn_) August 16, 2022
She was also asked to pay compensation for libel against the lecturer. 
According to her tweet, Farah said that her lawyer will look into this matter and reply according to the notice. 
"All I ask is that everything proceeds smoothly since there is no turning back after this. Wish me luck!" she wrote. 
Petition created to fire the lecturer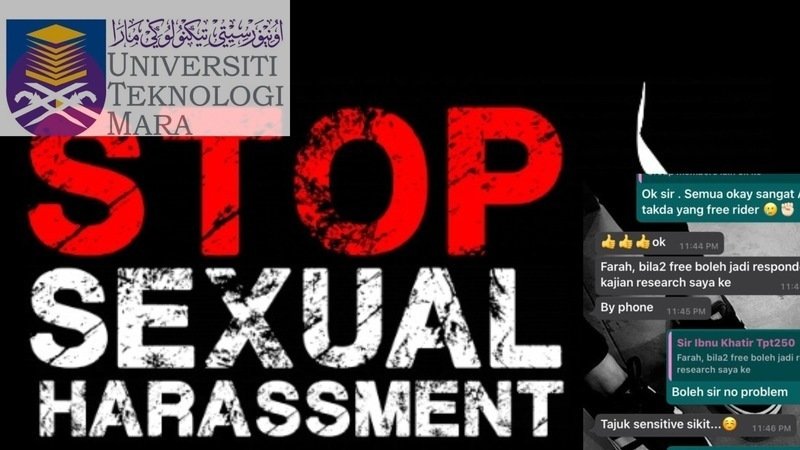 After not receiving any updates from the investigation, Farah started a petition on change.org to urge UiTM, which is the workplace of the said lecturer, to dismiss him from his position. The petition requires 10,000 signatures, and 8,588 signatures were accumulated at the time of writing. 
In the petition details, she once again shared how she was misled into responding to the series of obscene survey questions. Although she has lodged a report for almost over a year, no actions have yet been taken against the perpetrator, and he still remains a lecturer teaching at UiTM. 
"Despite mounting evidence of this lecturer's abuse of power and sexual misconduct, UiTM Johor continues to employ him and has not reprimanded him for his actions."
It is Farah'a hope to more female students from potentially falling victim to similar incidents, and to bring her case to justice.
Tap here to give us a 'Like' on Facebook and stay up-to-date on the latest news!
Also read: M'sian university student faces sexual harassment after lecturer asks her to fill up obscene survey questions