Being multilingual has always been a good trait of being a Malaysian, as many were provided with the chance to learn more than one language based on the country's education system. The mandatory learning of Bahasa Malaysia and English, along with some vernacular schools that teach students other languages as the main medium moulded many graduates to be fluent in different languages.
And just after one local mak cik had recently gone viral for being able to speak fluently in Japanese and five other languages fluently, netizens have found yet another Malaysian woman who not only knows how to speak various languages but was also fluent in the Hokkien dialect!
Mak cik from Kedah speaks Hokkien like a true native speaker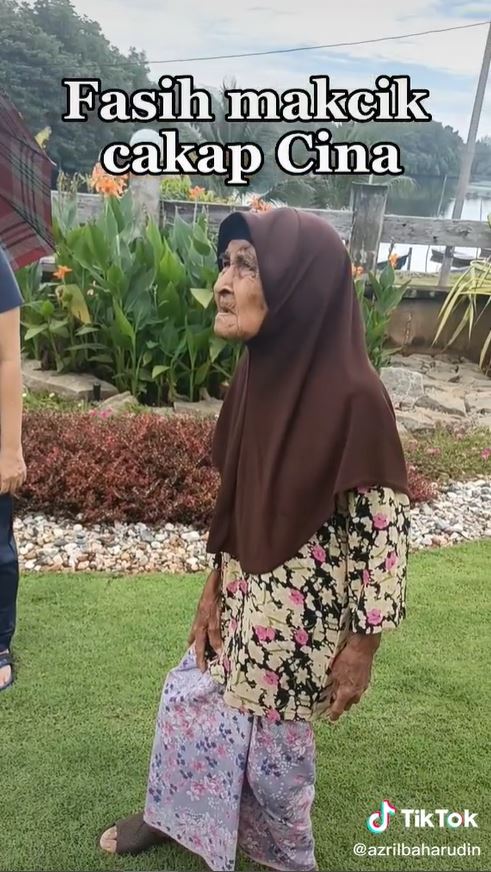 TikTok user Azril recently shared a clip which features a Malay auntie speaking fluent Hokkien with a Chinese woman. Her tone and pronunciation were so on point that it put many Chinese netizens to shame.
According to Azril, the 90-year-old makcik also knows how to speak Bahasa Melayu, English, Tamil, and even Thai! He furthermore clarified that this woman was not a relative of his, but she is a friend of his mother's. 
It was also revealed that the lady was well-known in the Kedah community, which was unsurprising given how she asked about the condition of another elderly during the conversation. 
Netizens were left amazed by her fluency in the Chinese dialect
This makcik's multilingual talents shocked many netizens, leaving them in awe of her Hokkien speaking ability. Most of them praised her for her precise pronunciation and accurate accent, even though it was not her first language. 
"This smart grandma knows how to speak the Hokkien dialect."
"How old is her? She is still strong enough to walk and has such solid memory."
One Chinese netizen admitted that she still could not speak the dialect well even though she listened to her grandmother speak Hokkien every day.

Some wrote that this reflects the true spirit of Malaysia as a multicultural country. 
"So smart of the grandma to understand the Mandarin language. This is the unity of Malaysia we talked about. Hope she stays healthy. "

Another netizen revealed his regrets for not mastering the Mandarin language, which can be put to good use in this country.
"I have passed my Mandarin writing and speaking tests but now I have lost my fluency after not using it for too long. What a waste!"
Be careful the next time you're thinking about talking behind someone's back in another language. You may be surprised to know that they may be better at it. 
Tap here to give us a 'Like' on Facebook and stay up-to-date on the latest news!
Also read: M'sian cleaner mak cik dazzles netizens with her fluent Japanese while teaching foreign delegates to speak Malay