How time has changed. It has never been easy to find a job but to actually get a chance, first impressions go a long way. Sadly, most of the younger generations today can't even introduce themselves properly to their potential employer. Which is why this job seeker gets an earful for being too nonchalant with their job application.
Job seeker gets schooled by potential employer for nonchalant introduction
It is a common understanding that we should always present the best version of ourselves when applying for a job. However, it seems that a lot of young job seekers are not very well informed about this. As shared by @Nafies Afkhory, after giving a very casual reply to a job vacancy post on Facebook, this applicant gets a lengthy reply from the company on how to properly apply for a job.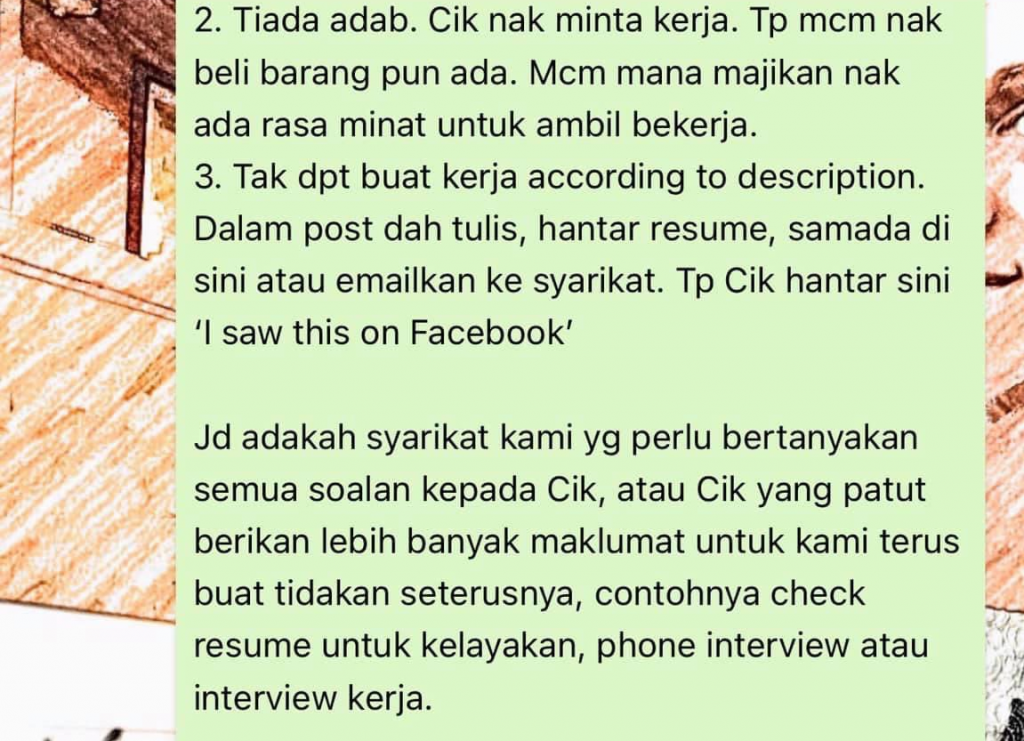 To put things simply, the employer was triggered when the applicant demanded a RM2500 salary when they didn't even introduce themself properly. Here are some flaws that were pointed out to the applicant:
"1. No introduction. Who are you, which position are you applying for, where are you from
2. No manners. You are applying for a job but talked as if you want to buy something. No employer would be interested in taking you in.
3. Unable to do work as assigned. We have clearly stated in the post; send your resume to this number or to the company's e-mail address. But you only replied here "I saw this on Facebook"

So are we supposed to ask you for all of the information or you are the one who is supposed to give it to us so that we can take further action. Such as checking your resume for qualifications, or calling you for interviews."
And to be honest, a lot of people agreed with the employer.
Sharing advice on how to properly introduce self to potential employer
The little slap of reality may seem a bit harsh but it is for a good cause. Not to mention that they even give the applicant some life-saving advice on how to properly apply for a job in the future.
"Proper manner when applying for a job:
Start with greetings.
Give simple introduction.
Provide details on the position that you are going to apply.
Find more information about the company. What type of business they are running, their locations, etc.
Send a complete resume, by e-mail if possible. Unless the company itself stated that other methods are allowed.
For example:
"Hi Assalamualaikum, My name is ________, from Shah Alam (for example). I saw your job vacancy post on Facebook for the Sales Admin position and I am interested to apply for it.
I have attached my resume here for your reference.
For your information, at the moment, I am still working at ______ / unemployed.
(If you are unemployed)
With that being said, if you are looking for a worker in a rush, I will be available at any time.
(If you are employed)
With that being said, I will be available by at least 1 month to send a notice to my current company.
I am hopeful that your company can provide speed responses to my application.
Thank you."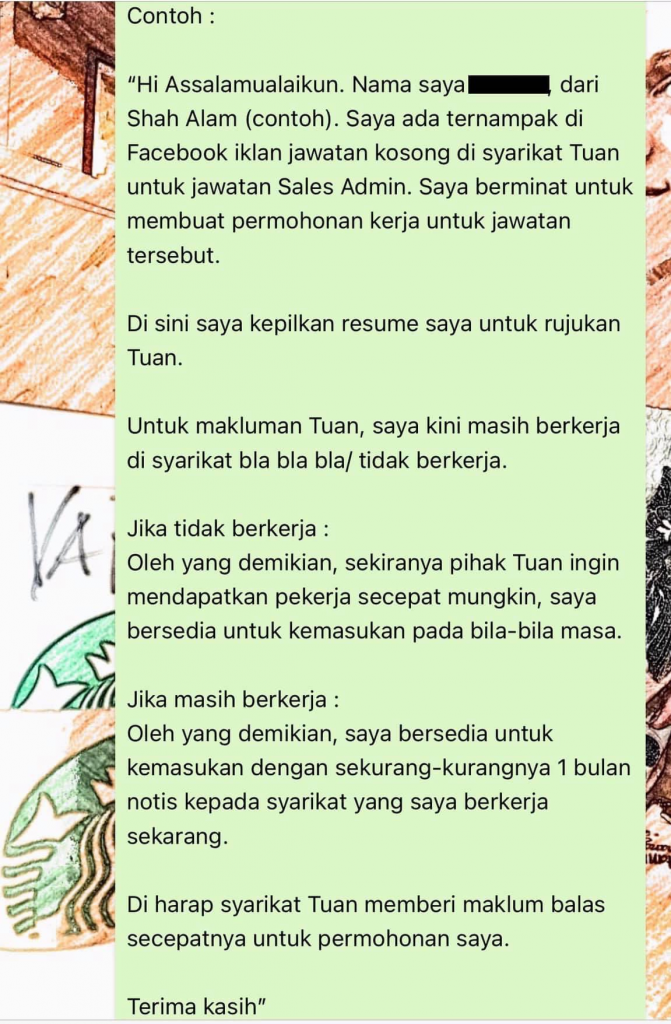 Be the best version of yourself
As the saying goes, applying for a job is like selling yourself so you have to put your best foot forward okay? Remember to do a lot of revision and practice before going into an interview to give yourself a better chance at getting the job.
Also Read: Malaysian Student lost RM500 in a laptop scam, shares list of potentially fake computer sellers