Food delivery riders from across some of Malaysia's most prominent gig-economy operators are said to be ready to go on strike today (August 5th 2022), as per announcement circulars that have been widely shared across the local social media space. Termed as a 'Food Rider Blackout', the picket is set to be staged in the heart of Kuala Lumpur and will last for 24-hours, beginning from 12.00am.
A food delivery rider strike is taking place today 
In quoting Persatuan Penghantar P-Hailing Malaysia (Penghantar) president Zulhelmi Mansor, Berita Harian reports that while the picket was not organised by the association, they will be showing their solidarity for it in hopes that it will draw the attention of major operators within the industry as well as government officials to the issues faced by those working on the ground.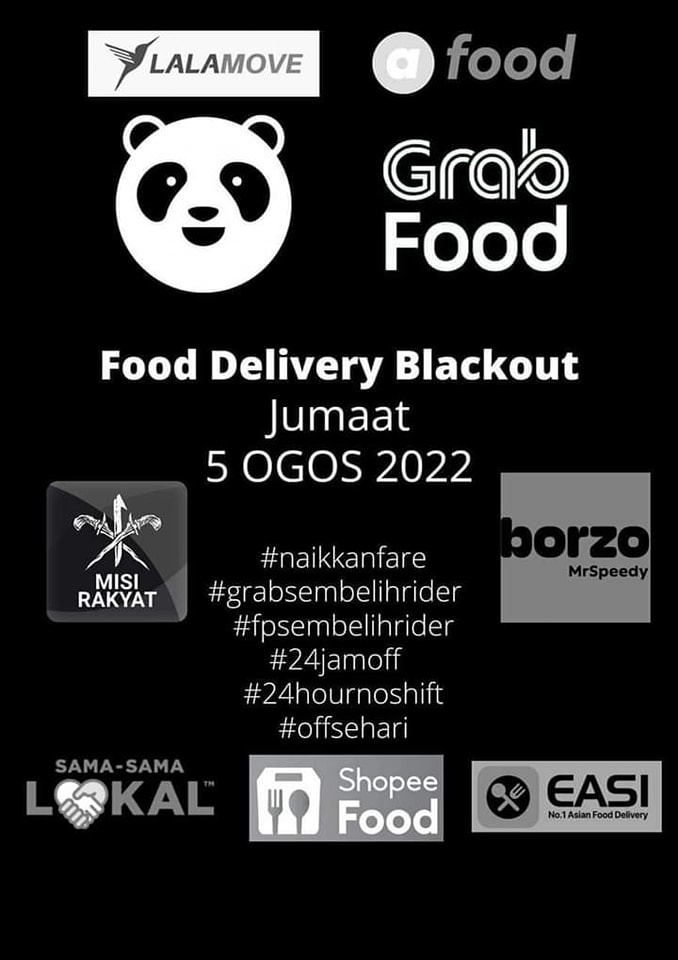 Chief among them being the matter of pay, with riders claiming that delivery rates are now lower than they have been previously.
"The problems faced by food delivery riders is a recurring one that our association has helped defend against before.

"This includes the irregular and manipulated wage rate and delivery fares issue. Maybe in doing this (go on strike), it will pressure food delivery companies." he said.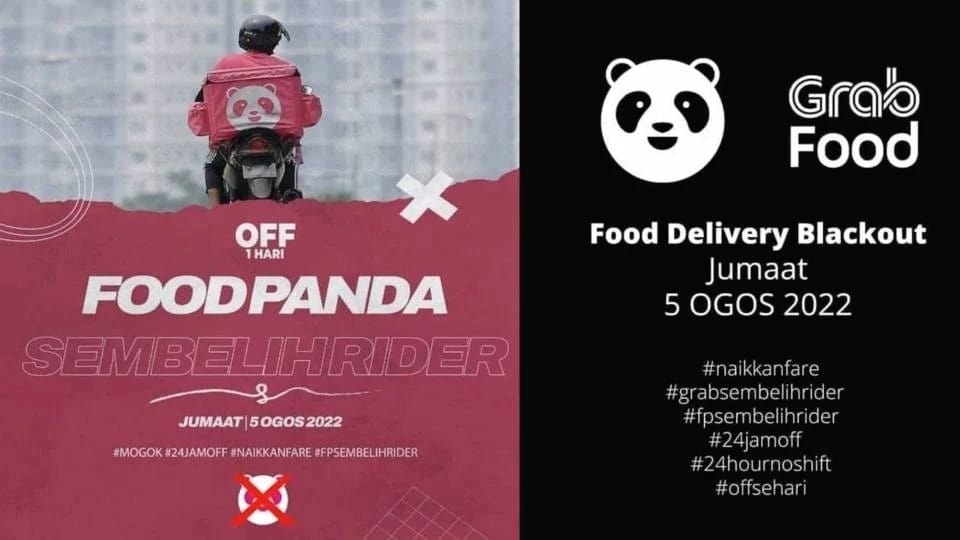 To his knowledge, the strike has been planned for a period of two to three weeks prior, and he expects food delivery riders working for all major service provider platforms to join in.
"What our association and food delivery riders want from this strike is to ensure that service providers don't take our welfare lightly, and are sensitive to our plight.

Asides from that, we also want the government to be made aware of the issues we are facing, and to take action against it." he said.
He adds that he hopes consumers will understand the actions of food delivery riders, should they experience service delays or disruptions today.
A number of demands have been outlined
According to The Vibes, Bryan Ng Yih Miin, strategy director of PKR Youth, said that the group is also growing increasingly concerned over the unchecked number of new riders joining the industry, which has led to reduced incomes and increasingly stiff competition.
"(The effect) is not small, but it is to the extent that they are said to be unable to cover the cost of living, especially with the current increase in the price of goods," he told the news outlet's Malay-language portal, Getaran.
They are also demanding delivery platforms to begin contributing to EPF and Socso on their behalf, as they are currently not entitled to either benefit due to the fact that food riders are currently considered contract employees, and not full-time ones. This is in spite of how they are risking life and limb when out making deliveries every day.
"In Malaysia, we have one of the highest (road) accident rates in the world and when they (the riders) get involved in an accident, what happens is that they do not have insurance and medical coverage. And if they are unable to work, they will lose their source of income.

"If they are unable to work for a long period of time, there is no compensation or protection that should be protected by Socso," Bryan explains.
Tap here to give us a 'Like' on Facebook and stay up-to-date on the latest news!
Also read: Kind food delivery rider rescues lost elderly woman in Puchong, reunites her with family at police station