For those who are born differently-abled, completing everyday tasks that may appear trivial to able-bodied individuals can often prove to be challenging in their own right. Which is why many public spaces now have been equipped with a number of facilities aimed at making life for differently-abled individuals a little easier. The most common of which are parking spaces allocated for differently-abled persons, typically located closer to entrances and exits for their convenience.
M'sian father of differently-abled child told to move car from OKU spot by food vendor
And despite that fact, Facebook netizen Isma Nizam Norahman, who is also the father of a differently-abled child, recently took to sharing his dismay after encountering food stall operators at a handicapped parking spot. According to a Facebook post that he had written about the incident, Norahman said that he had been bringing his son, who suffers from cerebral palsy, out for a stroll at the park at the time when he arrived at the designated parking zone.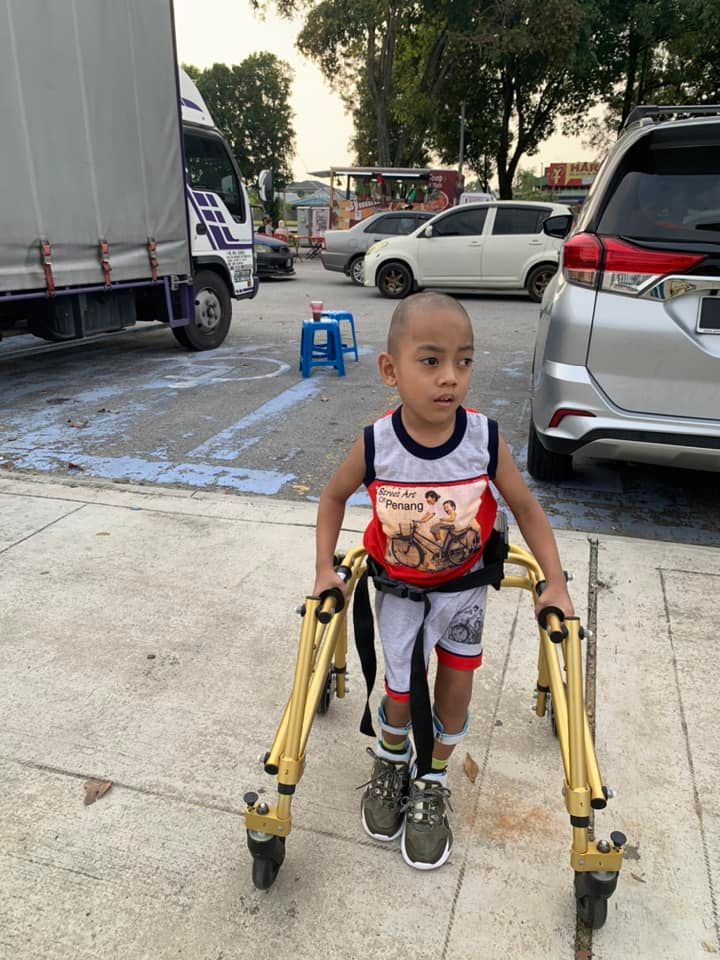 Intending to park his car in the handicapped spot, he was surprised to find that local food stall vendors had already 'reserved' the spot by placing a chair in it! Moving the chair out of the way, Norahman proceeded to maneuver his car into the handicapped spot. But as he did so, a man came up to him.
"Hey brother, we were going to park our van here and unload our things. Could you move your car someplace else?" the man said.

"I have a differently-abled child with me." Norahman pointed out as he brought down his son's walker from his car.
Even with that glaring fact that Norahman had every right to park his car in the handicapped spot as intended, the food stall vendor continued to ask him to move his car later once he was done!
Food vendor remained adamant, until he explained his child's condition
Exasperated, he proceeded to point out to the food stall vendor that the handicapped spots were intended to help provide added convenience to the mobility of those who were differently-abled.
"I have a differently-abled child. this is a handicapped spot. I even have a sticker issued to differently-abled persons by the Selangor state government displayed on my windshield.
If I hadn't been bringing my son along with me, I wouldn't have parked here to begin with. Able-bodied people should feel ashamed of parking in places where we have no right to be." he replied.
In response, all the food vendor could muster up was an apology.
"Son, sometimes some people will want to take advantage of our weakness. We need to defend our rights. When you're older and this happens to you, report to the authorities immediately," Norahman told his son.
Netizens have rallied behind Norahman
His post, which has since gone viral, has attracted many reactions from netizens, most of whom commended him for standing up for his son while also sharing similar experiences when faced with handicapped facilities being exploited by able-bodied individuals.
"It really is like that, sir. I too have experienced problems when bringing my mother who is wheelchair-bound. Not all places have OKU parking. What is more sadistic is that some cars would park very closely to the wheelchair ramp. 
Another differently-abled friend of mine had also expressed their dismay at how the OKU parking spots at the LRT station near their home are always fully-occupied. They tried going early once, at 5.15am in the morning, and yet there are already cars in the OKU spots. They've made reports to the management, and it's still useless. 
And we haven't even touched upon the matter of OKU toilets either."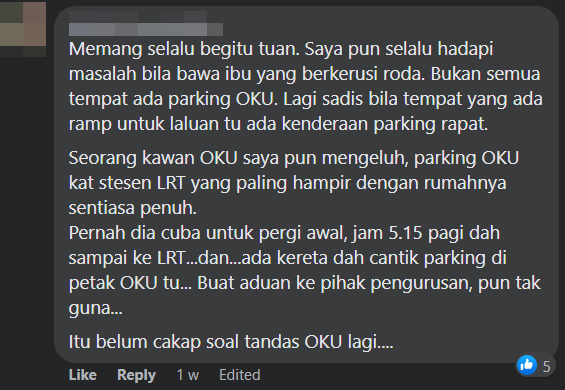 "I understand completely. As I used to bring my late-mother out shopping, but the OKU parking spots will always be occupied by able-bodied persons who do not have an OKU sticker displayed."

"That's true, Isma Nizam Norahman, we need to defend our rights. Some people who are physically capable forget, and some deliberately chose not to care about handicapped facilities for those who need them the most, as they don't know what it's like to have to depend upon them."

In speaking with Malay daily mStar, Norahman adds that he hopes that local authorities will look into this matter more seriously, pointing out how the denial of basic rights to differently-abled individuals is in itself a 'cancer on society'.
For more stories like this, follow us on Facebook by tapping here! 
Also read: Disabled M'sian who lost both hands continues to earn an honest living as delivery rider to support himself