A local family has called upon Malaysian social media users for help to afford their son's much-needed medication, after it was recently discovered that his cancer condition had relapsed. In a lengthy post recounting the journey they have had with their son, Jarvis, Ms Karen Ong shares that he was first diagnosed with stage 4 neuroblastoma all the way back in March of 2017 at the age of just three years old.
Young M'sian boy suffers from Stage 4 neuroblastoma cancer
Described as being the 'Monster of Children Cancers', the disease is developed from immature nerve cells found in a number of areas throughout the body, most typically in and around the adrenal glans, according to Mayo Clinic. In many cases, it is known to predominantly affect children under the age of 5, but may also be witnessed in older children in rare cases.
A patient enters stage 4 of neuroblastoma when the cancer has been found to spread into other parts of the body, such as distant lymph nodes, the skin, bones, or in bone marrow. In Jarvis' case, he has been receiving continuous treatments in Hospital Tunku Azizah, Kuala Lumpur, with the hope of controlling and eventually treating the cancer.
Among some of them include rounds low dose chemotherapy, surgery for tumor removal, 12 rounds high dose chemotherapy, autologous stem cells transplants, radiotherapy and oral medication for maintenance. Understandably, this has taken a toll on the young boy's health given the severity of the treatments. In order to attend to her son, Karen said she wound up quitting her job to become a full-time mother and wife to Jarvis and his younger brother.
And with a lot of perseverance, Jarvis was eventually declared NED – no evidence of disease in 2019.
Relapsed recently in October
Unfortunately, his condition would eventually bite back when a PET-CT scan that was conducted on Jarvis in October of this year showed that his left jaw bone had signs of lesions. Upon conducting a biopsy, it was confirmed that his neuroblastoma had returned. In speaking with their Oncologist, they were offered a series of possible solutions:
Hemimandibulectomy surgery, which involves the removal of the left jaw and subsequent reconstruction, in addition to radiotherapy.
Chemotherapy + Immunotherapy (Qarziba), the latter of which involves a prescription of the medication Qarziba, in order to reduce his chances of suffering from another relapse.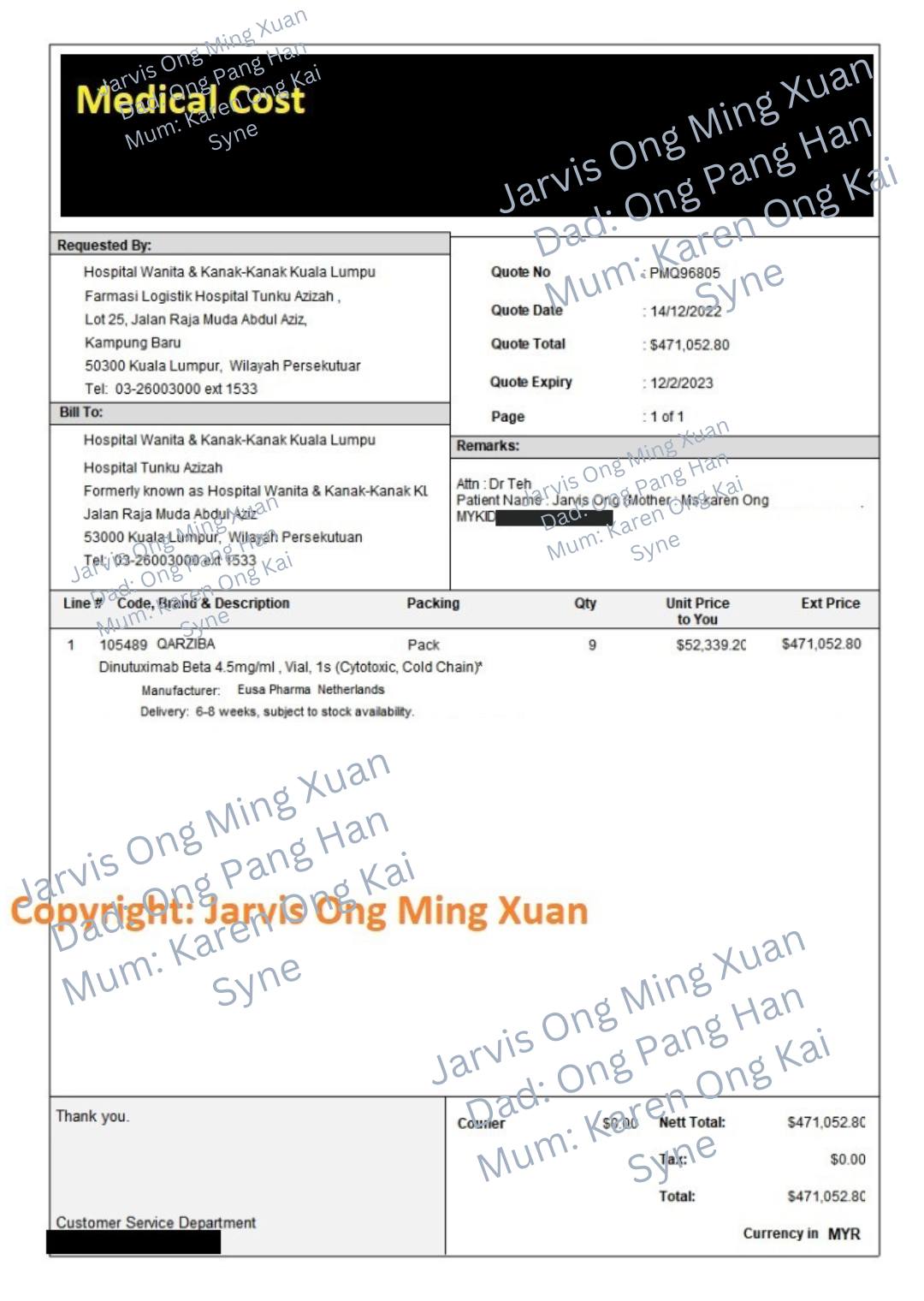 While the family has received a generous subsidy on the cost of Jarvis' treatments, they will still have to bear for the cost of the medication on their own. As an imported drug, the required prescription of Qarziba that Jarvis will need to take set the family back an eye-watering RM471,052.80.
And in spite of the odds, Jarvis remains incredibly tenacious during his hospital visits, while balancing his academics.
"Jarvis never gives up at all, he knows he have to return to cancer treatment again but he not afraid on it, meanwhile he is still trying best to pick up his study." Karen adds.
The family will need to muster up the sum before March 2023, and hopes that there will be interested parties who could lend their aid to them in this time. If you would like to contribute, you may do so at the following bank details:
ONG PANG HAN
Maybank
505104033686
We wish Jarvis a smooth and steady road to recovery!
Tap here to give us a 'Like' on Facebook and stay up-to-date on the latest news!
Also read: S'porean stage 4 cancer patient opens hawker stall to help wife support herself when he's gone