The old saying tends to suggest that two wrongs don't make a right, which is to say that just because someone has done something unjust or wrong, doesn't mean that you should have to act in kind. And this is especially true when it comes to getting behind the wheel in Malaysia, where so many instances of road rage have left no victors, but only victims and heavy traffic penalties for the offender.
Mercedes driver damages Perodua Viva in road rage incident despite parking next to fire hydrant
One such recent case was recently shared to local community Facebook page 我们是马来西亚人 We are Malaysians, which showed how the driver of a luxury car trashing another vehicle for double-parking next to him. The 46-second clip, which appears to be taken from the dashcam of a car parked across the street, shows how the black Mercedes-Benz C Class Coupe had to reverse out of its parking spot after it was blocked in the front by a Perodua Viva.
However, a bright-red fire hydrant could then be seen up on the sidewalk from where the Mercedes had moved away from, which suggests that it had not been parking in a proper parking space to begin with.
And yet despite not being in the right himself, the driver of the Mercedes decided to let the Perodua Viva's owner have a piece of his mind. Getting down from his vehicle, he then ripped off its number plate before smashing up what appears to be the compact car's side mirror.
The incident was believed to have taken place around the Kuchai Lama area, which is notorious for lacking any available parking spots.
An eye for an eye, makes the world go blind
Having since gone viral, the video has led to a number of reactions from netizens, many of whom took to condemning the Mercedes driver for acting out in aggression when he himself was also in the wrong.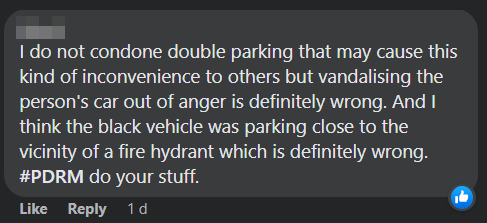 Tap here to give us a 'Like' on Facebook and stay up-to-date on the latest news!
Also read: M'sian man flashes his passport, points at Johor car numberplate in road rage case on Tuas Second Link