Malaysians are generally considered to be a very charitable lot, and are often willing to go above and beyond (within reason) to help those that are in need. This has been proven true time and time again, whether it be during dire periods of natural disaster or when an individual down on their luck could use a hand. Despite that, locals living around the Klang Valley have been warned against donating to a beggar operating in the local vicinity recently, owing to his alleged violent behaviour.
Beggar seen around the Puchong area
Quoting a local netizen on the matter, China Press reports that the beggar would typically be spotted loitering around the Puchong area, begging for alms from passing pedestrians and cars. He was said to often praise those who could find it in themselves to spare him some generosity.
On the flipside however, many well-informed locals familiar with the beggar have strongly advised against giving him any money at all, and to simply walk away. This is apparently due to the fact that the beggar would resort to acts of violence when people refuse to offer him any alms.
A video clip of the beggar was also shared online, showing how he would kneel by the road in a praying position, before laying down on his stomach.
Often resorted to violence when pedestrians refuse to give him alms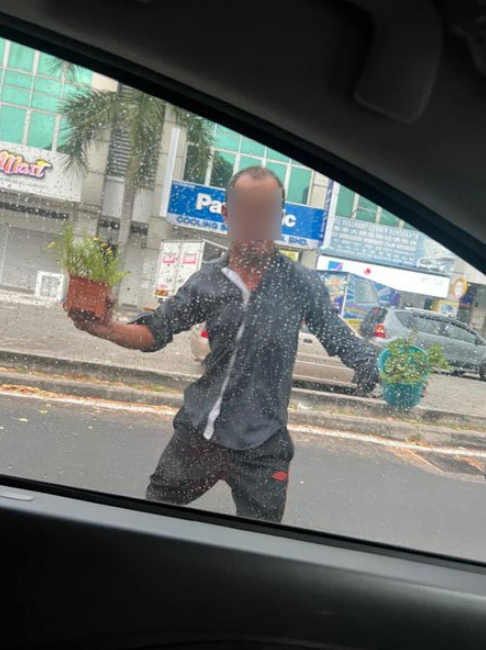 One netizen had even shared her encounter with the beggar, explaining that she had once stopped along a traffic intersection to wait on a stop light when he approached her car. At the time, she could see him holding two flower pots, one in each hand, and assumed that he was trying to sell them to drivers who stopped at the intersection.
Waving her hand to indicate that she wasn't interested, the netizen assumed that would be the end to the incident. To her horror, the beggar reacted aggressively to her dismissal.
"He kicked my car door and then hurled the flower pots at me. Luckily, the flower pots were made out of plastic."
Upon lodging a report with the local authorities, the netizen was told that the man is believed to be suffering from mental health issues. He has been spotted in other locations such as Old Klang Road and Taman OUG.
For more stories like this, follow us on Facebook by tapping here! 
Also read: Kind M'sian guides 2 blind men around KL to look for sporting goods, even helps them home on MRT