The Public Works Department (JKR) found itself in the centre of online furor recently after it was discovered by a local netizen that they had awarded a contract worth an eye-watering RM519 million to a local investment holding company for the upkeep of Istana Negara.
Local company awarded RM519 million contract for maintenance of Istana Negara
The company, which appears to dabble in field of construction and integrated management services, has listed it in the 'Current Projects' section on their official website, describing it as being the 'Comprehensive Management of Facilities for Istana Negara.'
What's more, it would appear that the same company had also completed the very same project in 2015 for the sum of RM82,308,790.
As one can imagine, the large sum has since led to a firestorm of criticism from netizens across social media, many of whom have questioned how the Public Works Department (JKR) could justify the amount when so many Malaysians are struggling to survive.
"Hmm, how sadistic. The people are suffering, and yet that is how our national coffers are being emptied."
"What kind of facility management costs half a billion? There are so many Malaysians who don't get to eat, who can't afford to go to school, people with homes who are on the verge of crumbling."

Some have speculated that the some of the amount could have also gone into the pockets of crooked politicians or business people due to cronyism.
"I feel like it shouldn't be mandatory for us to pay taxes to Malaysia anymore. Most of it goes into the stomachs of cronies anyway, it's not like they're used to help bolster national income or the economy. 
For example: it's better to pay income zakat than it is to pay income tax."
"A suggestion alone costs RM151 million. I wonder how much has gone into the pockets of politicians. And how many millions have the middle-men earned."
"I had a friend who once invited me to their uncle's house in Wangsa Maju. When I entered his uncle's home, ya Allah SWT, it was filled with expensive furniture. And he even had three to four luxury cars. 
I asked his uncle what he did for a living, and he told me that he is a contractor who helped build Istana Negara."

Others have pointed out that the money could have been better used elsewhere, such as in building schools or improving local infrastructure.

"They don't have money to build a clinic in USJ 1, and neither do they have money to operate a hospital in Cyberjaya. Lolll."
JKR has since responded with a statement
In response to the criticism, the Public Works Department has since issued a statement to clarify the matter at hand. According to them, the amount spent was meant to cover a 7 year period that will be slated to end by this month, with a scope of work that covered an area of 241.3 hectares.
The project is split into 3 main components with a gross floor area of 89,525 square metres. They point out that maintenance works carried out have been in accordance with stipulated government guidelines, and that the expenditure was determined based upon operating needs. JKR adds that such maintenance works are necessary as Istana Negara represents the sovereignty, identity, and culture of the nation.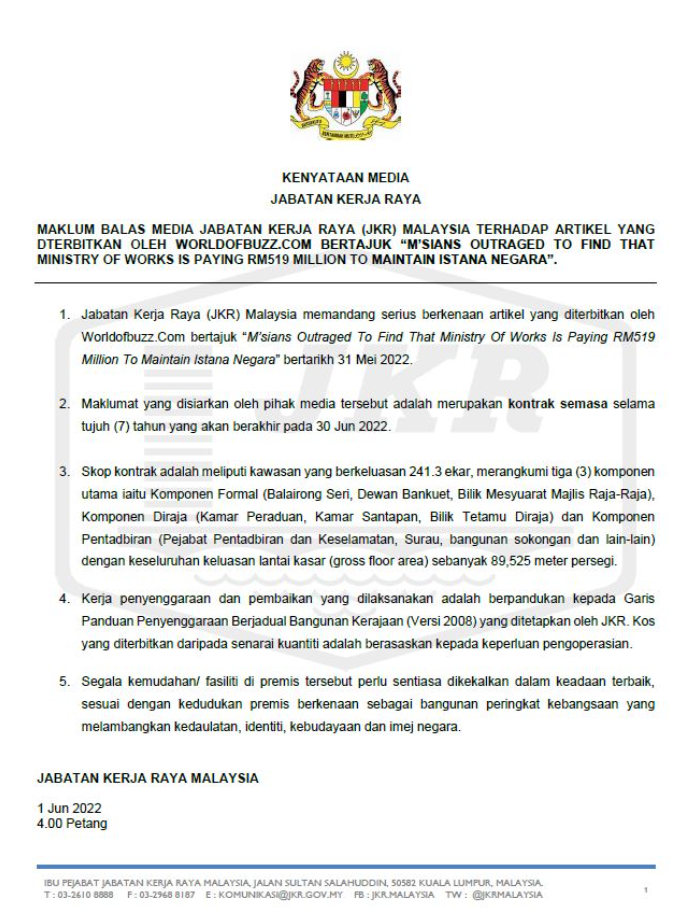 However, their response seems to have only exacerbated the situation, with netizens pointing out that this only reaffirms the fact that the exorbitant amount was spent on maintaining the palace.
"Thank you for confirming that the amount listed is actually TRUE."

"The cost to maintain the palace brings no benefit whatsoever to Malaysians, as opposed to the cost to maintain hospitals, clinics, schools, which are clearly needed by the people."

"Represents the country's image. Then if ordinary citizens die during floods, when the prices of goods are allowed to increase without impunity and others, doesn't that also represent the country's image?"
"The cost of repairing a palace for the wealthy can amount to half a billion. And yet when there is a dangerous pothole on public roads, ordinary citizens need to get injured or die first before they're willing to step in and make repairs. And even then, that's thanks to Lando Zawawi who has always taken swift action at JKR."
Tap here to give us a 'Like' on Facebook and stay up-to-date on the latest news!