Hardly a day goes by when we Malaysians don't hear about how the prices of pretty much everything has gone up by a considerable margin. From the strain caused by a two-year long pandemic that has stagnated the global economy, to an ongoing Russo-Ukrainian conflict leading to inflation, stretching our Ringgits has never proven to be quite as challenging as it is today. And this is especially true with regards to eating out.
But despite that, some businesses have endeavoured to keep prices as low as possible for the sake of consumers, and are willing to make smaller profits if it means more are able to enjoy a hot meal.
Kelantan vendor keeps roti canai prices at 50 sen a piece 
Among them include a Kelantan roti canai vendor, who has recently won over the praise of netizens for maintaining the price of his roti canai at a paltry 50-sen per piece for 32 years. As reported by local paper Kosmo!, 64-year-old store proprietor Md. Kamil Abdullah has insisted on keeping to the same prices he used to sell his food for in the 1990s, as he did not wish to add to the burden of consumers.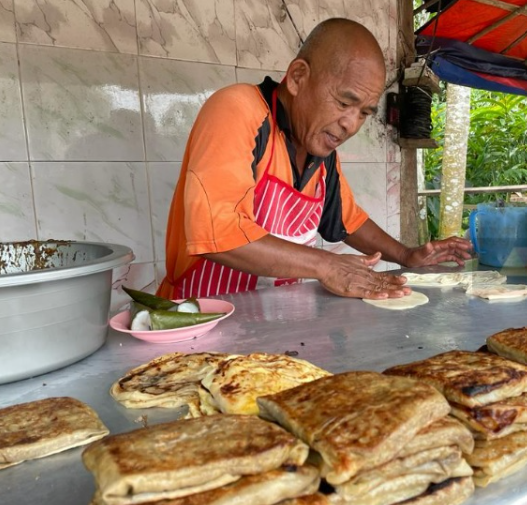 A former member of the Malaysian Royal Amoured Corps, Kamil said that he was still able to profit from his business, even if the margins are small.
"Every day, I am able to sell between 800 to 1,000 pieces of roti canai with the help of my four children.

While I admit that the rising prices of raw ingredients has been a challenge for us running a business, I don't think it's a justifiable reason to raise prices indiscriminately," he said.
His food has proven popular among locals and tourists alike
In speaking with the paper, he adds that he has been able to maintain his prices as the cost of many ingredients used in the making of his roti canai are still subsidised by the government.
Kamil says that many of his customers are tourists who frequent the Jeram Pasu waterfall, in addition to parents of students from the Sekolah Menengah Sains Pasir Puteh. There are others who have also placed in orders for his roti canai in bulk to be donated to religious schools and orphanages around the area.
"Orders from our customers have never stopped, to the point where we have two woks used to fry roti canai which are always full." he adds.
Asides from roti canai, Kamal also sells martabak for RM3 per piece. He hopes that he can continue keeping his prices affordable for as long as he is able to.
His stall can be found along the main road which leads into the Jeram Pasu waterfall, and is open from 3pm till midnight every day.
For more stories like this, follow us on Facebook by tapping here!